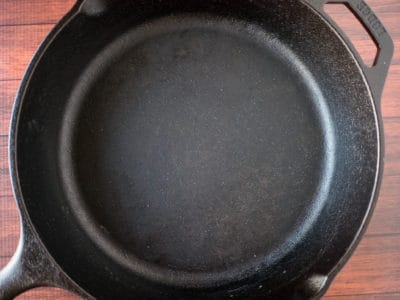 Cast iron care really isn't that difficult. The most important thing is to use the pan. If a pan is used regularly, with a light coating of oil, and a good cleaning every now and again, it will season itself.
Mike Vrobel, April 2014, Cast Iron Care, DadCooksDinner.com
Why don't I take my own advice?
The problem is, I want to be like Jeffrey B Rogers in his awe-inspiring cast iron YouTube videos. I see his collection of cast iron and think "What a great idea! I too should have a closet full of black iron pans!" Then, the next time I'm passing through Lehman's hardware, I pick up another piece. I mean, why not? It's only $15 for a 10.25 inch cast iron skillet.
Why can't I be like Jeffrey? Because it's not about the closet full of cast iron, it's about taking care of the cast iron. Jeffrey cares about his cast iron, and cares for his cast iron. Me? I care about my cast iron - once every couple of days, when I pull out a skillet to help with dinner. Then I'll clean it off and toss it back in the cabinet. I'm not an everyday cast iron user. That was OK when all I had was the 12 inch skillet. But, with multiple skillets, I don't use any one of them enough to really build up the seasoning. Sunday morning Sausage Gravy? Out comes the big 12 inch skillet. A side of shredded brussels sprouts on Tuesday? It fits perfectly in the 10 inch skillet. Tortilla pizza for the kids on Friday? The 10 inch griddle is the obvious choice. A week has passed and my 12 inch skillet hasn't been used again…after I weakened its seasoning with simmering sausage gravy. And if I go on a grilling binge or a pressure cooker jag, a couple of weeks may pass before I get back to my 12 inch pan. 1For a while, I two 12 inch skillets - one was mine, the other was from my brother. His needed re-seasoning, and I wanted to take pictures for the blog. I ran it through my seasoning process, and it came out good as new - but it was yet another pan that was used instead of my own 12 inch skillet…
A few weeks later, I pull out the big skillet and see discoloration on the surface. Why isn't it black and shiny? 2See the picture at the top of the post. The surface of the pan should be slick and dark black. What I have is leaning towards gray, with shiny silver points visible through the seasoning. Is that flaking? Maybe some shiny parts, or a hint of - gasp - rust? I scrub the pan down and run it through a seasoning cycle.
What I should really do is use the pan more. If I made the gravy, brussels sprouts, and tortilla pizza all in the same pan, I'd improve the seasoning, not weaken it. 3As a side note: don't let your kids clean your cast iron. Especially if they dishwash with attitude. I think they're doing chores; they think they're involved in a social action against injustice, and are staging a slowdown strike.
The right thing to do would be to get rid of one of my skillets, either the 10.25 or the 12, to force myself to use the same pan all the time. 4At least for a few years, until it had a truly awesome coating. But…oh, that's hard. I don't want to give one of them up. The 10.25 is perfect for side dishes; the 12 inch is big enough for main courses for my family of 5.
But I have to do it. So, I'm giving up my…sigh…10.25 inch skillet. I think. Ugh, this is hard. Wish me luck.
What do you think?
Questions? Other ideas? Leave them in the comments section below.
Related Posts
Things I Love: 12 inch Cast Iron Skillet
Why Use Cast Iron?
Seasoning Cast Iron
Cleaning Cast Iron
Enjoyed this post? Want to help out DadCooksDinner? Subscribe to DadCooksDinner via eMail or RSS reader, recommend DadCooksDinner to your friends, and buy something from Amazon.com through the links on this site. Thank you.