Q&A with a Commenter on my Quick Chili in an 8 Quart Pressure Cooker video:
COMMENTER: I'm surprised you don't drain your ground beef.

DadCooksDinner: What? Why in the world would you do that?

COMMENTER: To drain off the fat. After cooking. Everyone does it.
If everyone jumped off a bridge, would you jump too?
Every now and again I get asked "Why don't you drain your ground beef?". I was surprised the first few times I was asked. I had never heard of such a thing.
Do I drain my ground beef? No! Why would I? Sure, it may get rid of some of the fat. But I want that fat in the recipe - fat is flavor.
Speaking of flavor, I'm not just draining fat. I'm draining all the juices that escaped the meat - that's even more flavor down the drain.
If you worry about fat, buy leaner ground beef. "Ground Beef" is usually 70% lean, 30% fat. Maybe I could understand draining that. But, why not buy 80% lean ground chuck instead? Or 85% lean ground round (my favorite for chili), or ultra-lean 90% to 92% ground sirloin?
Why throw out all the flavor?
Ahem. Sorry. I'll stop ranting, and ask a question:
Reader survey: Do you drain ground beef?
So, it's time for a survey. My question to you, dear readers:
Do you drain ground beef? Yes or no. If yes, why? Why?? WHY!?!?!?!?
Please let me know in the comments. I promise I'll stop yelling.
---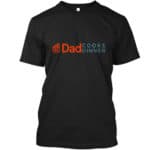 Today is the last day to order the DadCooksDinner limited edition t-shirt. Orders close tonight, Thursday, September 29th at 11PM EST. If you want one, this is your last chance!
Click here to check them out. [Teespring.com]
---
Related Posts
Pressure Cooker Quick Chili (with Canned Beans)
Pressure Cooker Frito Pie
Pressure Cooker Cincinnati Chili
My other Pressure Cooker Recipes
My other Pressure Cooker Time Lapse Videos
Enjoyed this post? Want to help out DadCooksDinner? Subscribe to DadCooksDinner via eMail and share this post with your friends. Want to contribute directly? Donate to my Tip Jar, or buy something from Amazon.com through the links on this site. Thank you.