Question from a reader: Have you tried a pressure cooker carrying bag?
Years ago, I bought a slow cooker that came with a travel bag. I used it a lot, especially for potlucks and my annual chili cookoff at work. Now that I have an Instant Pot, my pressure cooker is gathering dust in the cabinet…but I miss having that travel bag.
So, when I got this question, I went over to Amazon to see what was available. I found two pressure cooker tote bags: the $30 Pressure Chef, and the $40 Quick & Carry; I ordered them both to see what I thought of them. (The things I do for my readers…like order more stuff from Amazon.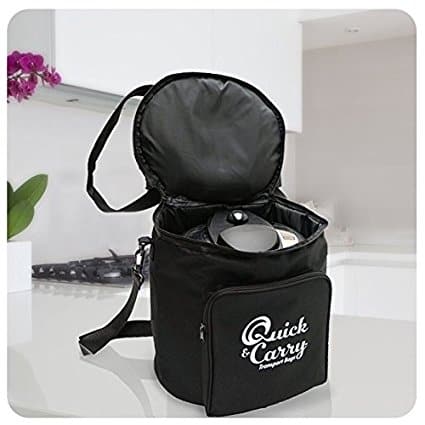 Quick & Carry Travel Tote Bag
The Quick & Carry is the fancier of the two bags. It has a main central pouch for the pressure cooker, with a zipper around the lid of the bag to lift the cooker in and out. It also has two zippered accessory pockets - one on the top of the lid and one on the front - to carry extra equipment. It has a shoulder strap on the sides, and a padded handle strap on the lid. The Quick & Carry is made of heavy, woven nylon, with padding in the sides and bottom. It is available in both 6 and 8 quart sizes. I bought the 6 quart, and it was a tight fit for my 6 quart Instant Pot Plus and Fagor Lux cookers.

Pressure Chef Storage & Tote Bag
The Pressure Chef is a more minimalist bag - nothing but a zippered central pouch and a handle. The other difference is the material - it is a smooth, insulated nylon bag. It is also a tight fit for my 6 quart Instant Pot Plus and Fagor Lux cookers. It is only available in a 6 quart size.
Which do I prefer?
Of the two, I prefer the design of the Pressure Chef. It feels more solidly built: the handle is sturdier, and the extra insulation protects me when I'm moving a pot full of hot chili. The zipper around the middle of the bag makes it easier to get the pressure cooker in and out, and the smooth sides will be easier to clean. It collapses down when not in use, so it's easy to store under my kitchen island. The Pressure Chef is the bag I'm reaching for when I need to take my Instant Pot on the road.
However…that doesn't mean the Quick & Carry is a bad bag. The extra zippered pouches come in handy if you want to keep all your pressure cooker accessories in one bag - you can fit a non-pressure lid and some pinch mitts in the top pouch. (When I'm traveling, I bring lots more equipment than just my Instant Pot accessories, so I already need a second bag.)
Also, if you want a tote bag for a larger 8 quart cooker, the 8 quart Quick & Carry is your only option - the Pressure Chef doesn't come in a larger size.
Taking your cooker on the road? Get a tote!
What do you think?
Questions? Other ideas? Leave them in the comments section below.
Related Posts
My list of suggested Pressure Cooker Tools
Which Pressure Cooker Should I Buy
My Pressure Cooker Recipes
Enjoyed this post? Want to help out DadCooksDinner? Subscribe to DadCooksDinner via eMail or RSS reader, recommend DadCooksDinner to your friends, and buy something from Amazon.com through the links on this site. Thank you.