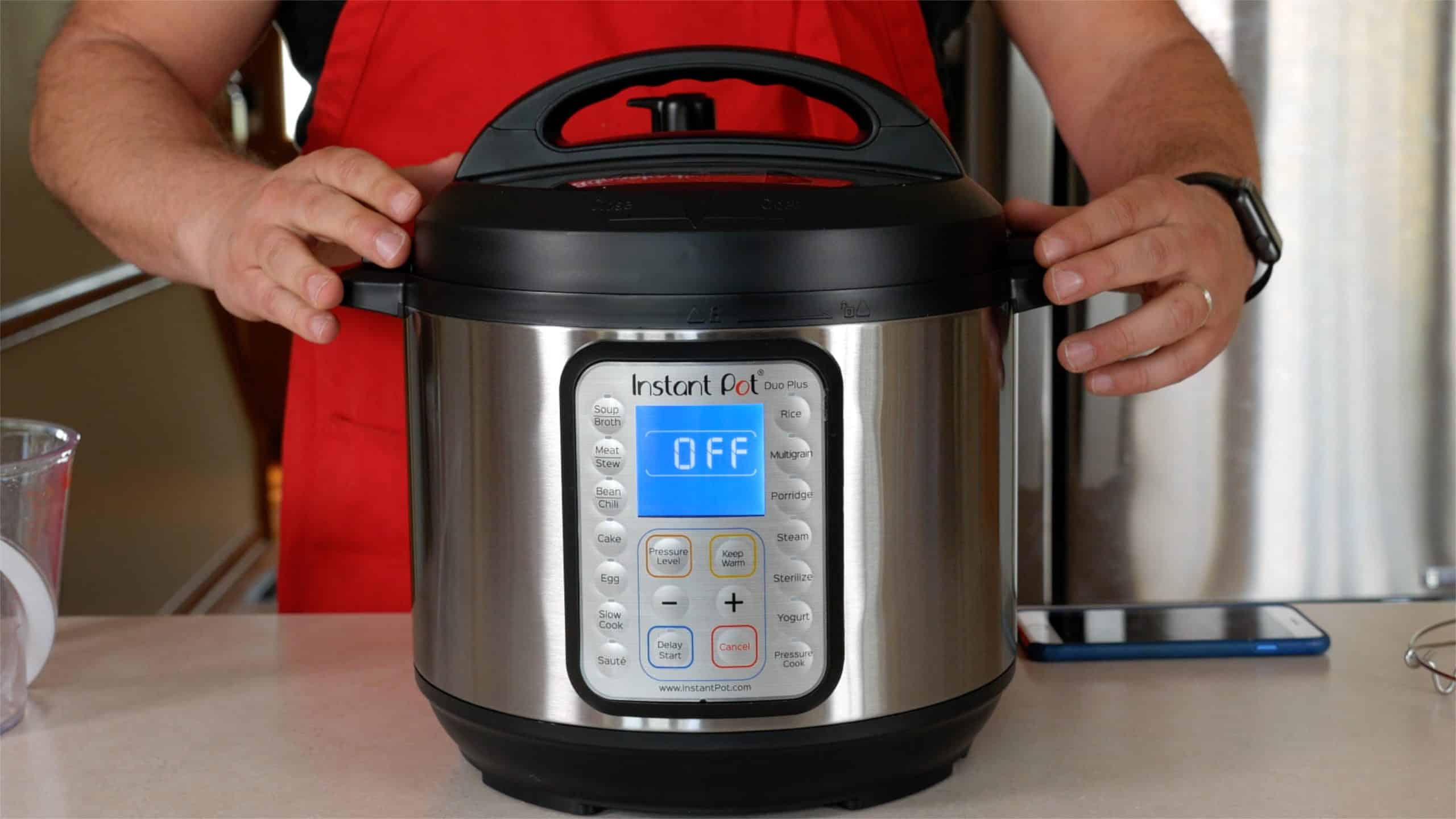 If you had to pick one pressure cooker, what would it be?
I get this question a lot, and, frankly, it's tough to answer. My response to "Which pressure cooker should I buy?" is "I only get one?" I own four five pressure cookers right now; they're that useful. But if I could only have one...
There can be only one
If I could only have one pressure cooker, I would choose…
The Instant Pot IP-Duo Plus 60 electric pressure cooker.
(I know, having a picture of an Instant Pot at the top of the post kind of gives it away.)
Now, this is a change for me. I used to recommend stove top pressure cookers. Nowadays, I reach for the electric pressure cooker first. Set it and forget it cooking is just too convenient. Once I lock the lid and set the timer, the electric PC takes it from there, and I can focus on the rest of dinner. The electric PC brings itself up to high pressure, levels off, maintains high pressure until the end of cooking, and then turns itself to a warming mode and lets the pressure start to come down naturally.
Why the Instant Pot? I prefer the durable, easy to clean stainless steel insert - I'm always worried about scratching the nonstick lining on my other pots. The bracket that holds the Instant Pot silicone gasket is built into the lid, making it easy to install and remove, and the silicone gasket is dishwasher safe. My favorite feature is a simple one - the lid holder in the handle on the body Set the tab on the lid in the slot on the handle. If I could keep only one pressure cooker, the Instant Pot would stay.
The IP-Duo Plus 60 is the latest in the Instant Pot line. I used the IP-Duo for years, and the IP-Lux 60 for a few years before that. The Duo Plus has an easier to understand electronics panel (a "Pressure Cook" button - hooray!) and a convenient handle/lid holder design. If you have an IP-Lux 60 or IP-DUO 60, it's not worth upgrading...but if you are getting a new for a new pot, get the IP-Duo 60 Plus. Also, for more questions and answers about Instant Pots, check out my Instant Pot Frequently Asked Questions.
Choices, Choices
Now for the nuanced answer. I don't have to restrict myself to one cooker, thank goodness. I own a few of them; different pressure cookers have different strengths.
My wife would be happier if I had only one…but the same can be said of fry pans, grills, chef's knives, and the countless kitchen gadgets overrunning our house. Yes, I have a problem.
What kind of pressure cooker should *you* buy? Read on, and pick the one that sounds best to you.
Electric Pressure Cookers
Advantages of electric pressure cookers:
More automated - set the time and it will beep when it is done
More convenient
Did I mention set it and forget it?
Disadvantages of electric pressure cookers:
Large electric pressure cookers (8 quart or larger) are less common
Lower pressure - Most top out at 11 or 12 PSI, so add 20% to the cooking time under pressure for published recipes
Confusing controls - read the f(ine) manual to figure them out
Only way to quick release pressure is to open pressure valve and live with hissing steam for a few minutes
As I said earlier, electric pressure cookers have one advantage, but it's a big one. Set it and forget it cooking. Once the lid is locked and the timer is set, the cooker takes care of everything else, and beeps at you when it is done.
Recommended electric pressure cookers
IP-DUO80: We already talked about the Instant Pot IP-DUO60 Plus. If it sounds good, get it. You won't regret it. Now, let's talk size. I said "bigger is better" above in the stovetop pressure cooker section - but I still recommend the 6 quart IP-DUO60 Plus over the 8 quart IP-DUO80. The 6 quart is large enough for 95% of my cooking for a family of five. If you're cooking for larger crowds on a regular basis, go with the 8 quart IP-DUO80 - the two cookers are very similar. Also, if you want a second pressure cooker, I'd get the big one. I use the IP-DUO80 as my backup pressure cooker, and I love knowing I have it available if I need the extra space.
Zavor Lux: If you don't want to buy an Instant Pot, I recommend the Zavor Lux line of cookers, available in a 6 quart and an 8 quart model. I like the Zavors, but they aren't quite as convenient as the Instant Pot. That integrated lid holder in the Instant Pot is a killer feature. (Note: These cookers used to be from Fagor; Zavor America rose from the ashes of the Fagor bankrupcy, saving these pressure cookers from an untimely death.)
Cheaper Options: If you are looking for the lowest cost possible, check out the Instant Pot IP-LUX60. It's the older model of the instant pot. It doesn't have the lid holder that the IP-DUO line has, but you can usually save about $30 by going with the IP-LUX.
If you want to save a few dollars, but want that lid holder, the older Instant Pot IP-DUO 60 is still a fine cooker, and one that I used for years. But, since the Plus is available, that's the one I recommend - the front controls are better, and if you're going to try to save money, the IP-LUX60 is cheaper. The IP-DUO is fine, but I'd go higher priced or lower priced, depending on what you're looking for.
(I use my pressure cooker many times a week, so I happily paid extra for the conveniences in the IP-DUO Plus. But, your judgement of value may be different.)
Bluetooth Instant Pot IP-SMART60: The IP-SMART60 is the same cooker as the IP-DUO, but with Bluetooth connectivity. I'm a gadget hound, so I bought one, but I don't use the Bluetooth connectivity; it's just an extra expensive IP-DUO60 to me. Get the IP-DUO60 Plus instead.
Instant Pot on sale at Amazon: Keep an eye out around "big purchase" holidays, like Black Friday, Christmas, and Amazon Prime Day in Mid-July. Amazon will almost always have a great deal on an Instant Pot - most years a 6 quart model, sometimes the 8 quart model. You can get a fantastic price if you wait for the holiday.
General advice: buy from a dedicated pressure cooker manufacturer
Regardless of what type of cooker you get, buy from a company that you can count on. Pressure cooker parts wear out, especially the sealing gaskets. Don't get stuck with a pot that you can't get fixed ten years down the road. I buy from companies that are dedicated to pressure cookers, companies that make it obvious how to get spare parts.
I check for two things. Can I find spare parts on Amazon? Or, can I order them directly from the company's website? If the only support they give is "call our 800 number or email us," I get suspicious; if they don't respond to emails asking about how to get spare parts, I move on to the next brand.
Stove top Pressure Cookers
Stove top cooker advantages
High pressure is 15PSI - slightly faster cooking times

Also - most published recipes assume 15 PSI

Wider pots (on some models) make browning easier
Quicker to heat up (on a powerful stove)
Quick pressure release - cold water pressure release is quicker (and quieter) than opening pressure valve
Can double as a regular pot
Stove top cooker disadvantages
Manual timing - the cook has to watch the pot, start the timer when the cooker reaches high pressure, and turn off the heat when cooking time is done
Manual heat maintenance - the cook has to adjust the burners on the stove to maintain pressure, and this can vary depending on how full the cooker is.
Recommended stove top cookers
For years, these were my only pressure cookers - first the Fagor (now Zavor), then the Kuhn Rikon. The K-R has a better pressure valve - no steam is released when it is at high pressure; it only vents when it is seriously over pressure. Also, the K-R is huge. Bigger is better with pressure cookers - you have to leave ⅓rd of the pot empty so there's enough airspace to build up pressure. A larger pot gives you room to cook more.
The Zavor's advantage? At 10 quarts it is bigger than most pressure cookers, and it costs about a third of the K-R price. The Kuhn Rikon and Zavor are also wide for pressure cookers - most cookers are narrow (about 9 inches diameter), but the K-R and Zavor are wider. A wider pot has more room to brown meat and saute aromatics before pressure cooking. (Note - if you don't want the extra size of these cookers, the 8 quart models are also very good.)
So, which should you get? If you can afford the best, get the Kuhn Rikon. I've never regretted switching to it. If cost matters, get the Zavor; it is the best value in pressure cookers, giving the most space for the least amount of money.
Other stove top cookers to consider
Some people swear by pressure skillets. (This includes Lorna Sass, author of my pressure cooking bible, Pressure Perfect). They're low, wide cookers that are best for smaller braises. I'm always pushing the "max fill" line on my 6 quart cookers, so I've never been into pressure skillets, but if you're interested, these are the models I recommend:
I need a really inexpensive stove top pressure cooker
If price is a big issue for you, this inexpensive Presto 6 quart PC is recommended by people I trust:
Street price is about $45. I'd save up and get an 8 or 10 quart model, but for such a low price, this cooker is a deal.
FCC Notice
I paid for all these pressure cookers with my own money - except for the Kuhn Rikon, which I was given as a review model years ago. I've used almost all the pots mentioned in my own kitchen, or a very similar model. None of these comments were paid for - I'm on my own. I get a small sales commission if you buy something through my links to Amazon. (And, if you do, thank you for your support!)
What do you think?
Questions? Other ideas? Leave them in the comments section below.
Related Posts
Instant Pot FAQ - where I try to answer all the Instant Pot questions that I can
Pressure Cooker Recipe Index
Things I Love: Pressure Cookers
Things I Love: Cuisinart Electric Pressure Cooker
Review: Kuhn-Rikon 12 Quart Family Stockpot Pressure Cooker
Instant Pot IP-DUO80: First Look and Longer Term Testing Notes
Enjoyed this post? Want to help out DadCooksDinner? Subscribe to DadCooksDinner via eMail or RSS reader, recommend DadCooksDinner to your friends, buy something from Amazon.com through the links on this site, or donate through my tip jar. Thank you.