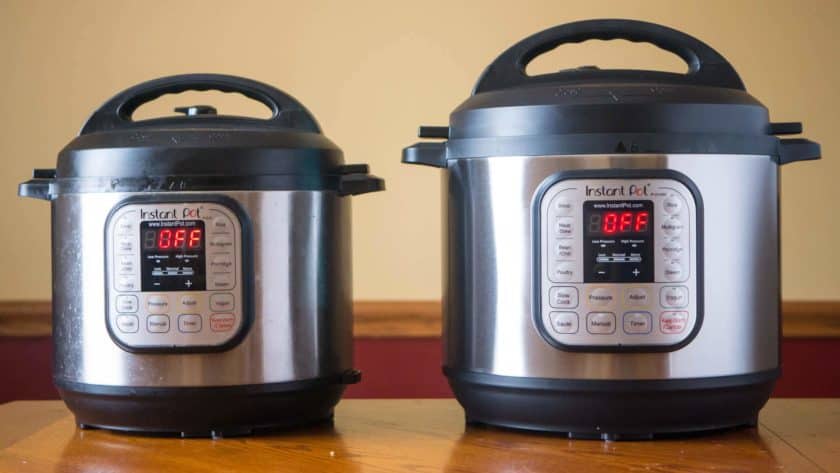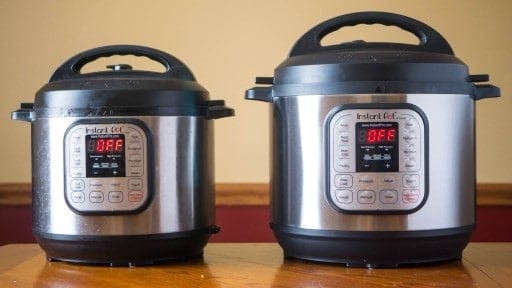 ---
My jumbo Instant Pot is here!
I've only had it since last Friday, but I want to share my excitement. The Instant Pot IP-DUO80 is the big brother of my favorite pressure cooker, the IP-DUO60. The main difference between the two cookers is size - they look almost exactly alike, but the 80 is scaled up. This is a good thing - the 80 has all of my favorite extras from the 60, including the one piece lid and silicone gasket holder, and the lid holder built into the handles. The only visible difference is the fancy red pressure valve, marked with lines so it is easier to tell when the cooker is pressurized. (With the 60, I had to use it a few times to know just by looking if the pressure valve was up or down.)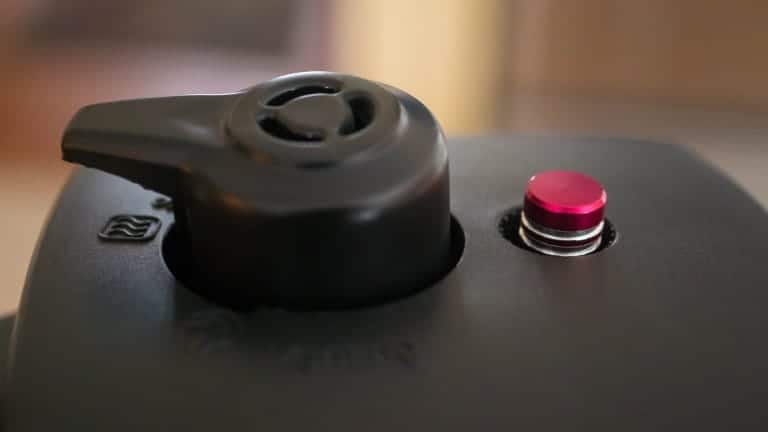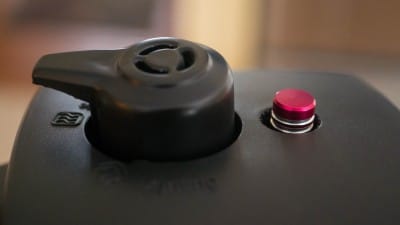 Dimensions:
Size differences
8 quart dimensions: 15 inches wide x 14.5 tall x 13 deep
6 quart dimensions: 13.5 inches wide x 12.75 tall x 12.25 deep
(Width is from side handle to side handle. Height is from counter to top of top handle. Depth is from front of control panel to back of drain.)
8 quart inner pot: 7.25 inches high x 10.3125 diameter
6 quart inner pot: 6.25 inches high x 9.5 diameter
(Size includes lip)
Why is bigger such a big deal? The extra large pot makes my favorite cooker even easier to use. That extra width has already come in handy; I store used chicken carcasses in the freezer, after we've picked all the meat off of them; when I want to make chicken stock, I pull the zip-top bag out of the freezer, open it, and dump the frozen bones into the cooker. This is where the size comes in - a lot of times, the frozen bird is just a little too long for my pot - the chicken's pygostyle 1The fancy, scientific name for chicken butt. is poking up above the max-fill line. I have to break apart the frozen carcass to get it to fit. As a test, I grabbed my bag of frozen carcasses from the freezer and made stock. The bones fit well under the max fill line in the wider pot of the IP–80.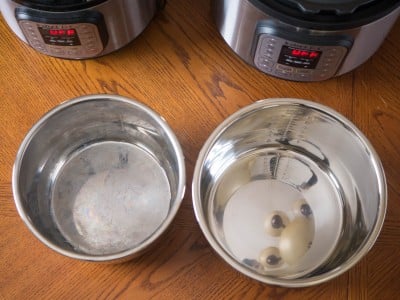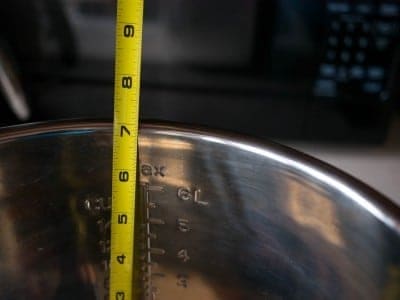 The other advantage, of course, is I can fill the 8 quart cooker with more stuff when I'm cooking. That really helps when I'm making a big batch of broth, but…most of my other recipes fit just fine in a 6 quart cooker, even cooking for my family of five. If you already have the 6 quart cooker, and it's working for you, don't rush out and get the 8 quart. If you've been eyeing a second pressure cooker for side dishes, or you're looking at your first cooker (and cook for bigger groups), get the 8 quart. I have multiple cookers, and in a couple days the 8 quart replaced my 6 quart as the "keep under the kitchen island for easy access" cooker. 2As opposed to all my other cookers that are on a shelving unit in the basement.
One more difference I noticed: the IP-DUO80 remembers your last timer setting. For example, the first thing I did with the cooker was do a water test - 2 cups of water, set it to Manual, 5 minutes under pressure. Everything worked fine, so I took it apart, cleaned it, and put it in the dish drain to dry out. The next day, I wanted to make some beef broth. When I hit the Manual button, 5 minutes was back - not like the old DUO60, which always reset back to 30 minutes as the starting time. I think this will be a change for the better…but I'm not sure. If I cook in the same general range of temperatures this feature is a good thing - but if I jump around, cooking a 4 minute mac and cheese one day, then a 75 minute beef broth the next, this won't be as useful. (Both options - remembering the last time set, or defaulting to 30 minutes, work better for me than some other pressure cookers that always start at zero and force you to count up. I make a lot of 30 to 60 minute recipes, so starting higher than zero means less button pressing.)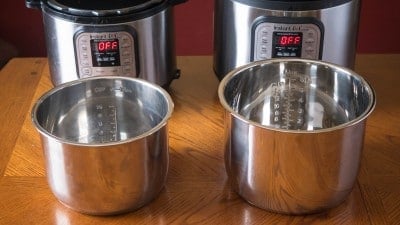 I have a new day-to-day pressure cooker.
I've used the IP-DUO80 every day since it arrived3I've cooked beef broth, chicken stock, beef stew, and black beans so far., and I love it. I'll keep using it, and report back if anything changes, but my old DUO60 has been rock solid, and I expect the same from this one. Highly, highly recommended.
[Update 2016-09-29...]
I still use my 6 quart IP-DUO60 day to day
I was excited about this cooker when it first came out, but over time, I drifted back to my 6 quart Instant Pot. Turns out, I don't need the extra space (in my day to day cooking for a family of 5.) The 8 quart now lives on my pressure cooker shelf in the basement4Doesn't everyone have a shelf full of pressure cookers in the basement?, where I go get it if I need the extra space. I still recommend the 8 quart if you're cooking for larger crowds on a regular basis. Or, if you want a second PC, then it's great to have the flexibility of the larger size. (That's what I use it for, primarily - when I want to pressure cook two things at once.) But, for most people, the 6 quart IP-DUO60 is a better fit.
(More thoughts on this: Longer Term Testing Notes: Instant Pot IP-DUO60 vs IP-DUO80)
What do you think?
Questions? Other ideas? Leave them in the comments section below.
Related Posts
Which Pressure Cooker Should I Buy?
Instant Pot FAQ
My pressure cooker recipe index
Enjoyed this post? Want to help out DadCooksDinner? Subscribe to DadCooksDinner via eMail or RSS reader, recommend DadCooksDinner to your friends, and buy something from Amazon.com through the links on this site. Thank you.