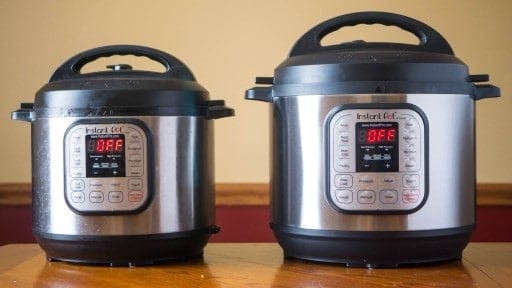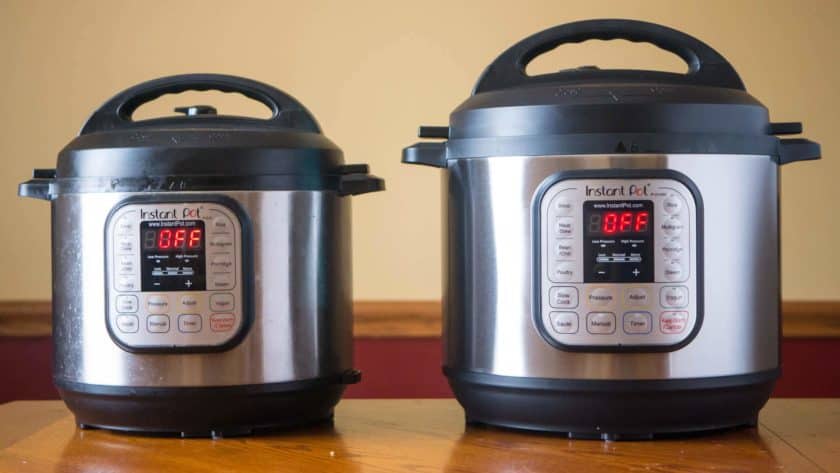 I was all excited when I got my Instant Pot IP-Duo 8 quart pressure cooker. It pushed my IP-DUO 6 quart out of the location of honor, under my kitchen island, ready to be pulled out at a moment's notice. My IP-DUO 6 moved to the basement, on the shelf of backup pressure cookers. (Next to the Fagor Lux 8 quart, the Instant Pot Smart, the Kuhn-Rikon, and the Cuisinart.) I loved the extra space in the 8 quart; I didn't mind that it barely fit under the kitchen island. That's how things stayed for a few months. The IP-DUO 6 quart would come upstairs when I needed a second pressure cooker for a side dish, but otherwise was relegated to the minor leagues.
Then, one night, the kids did not clean out the 8 quart pot. (Darned kids!) It was crunch time, and I had to get dinner started right away. I don't have a spare pot for the 8 quart yet - Instant Pot says they are coming, but keeps pushing off the date - so I went downstairs and grabbed the IP-DUO 6. When we were cleaning up the kitchen, out of habit, I put the 6 quart back under the island, and moved the 8 quart downstairs.
That was it. Without really paying attention, I switched back to my old standby, the 6 quart cooker. Turns out, for a family of five, I don't really need the 8 quart size, except for special occasions. The 6 quart does fine, and slightly smaller size, and availability of spare pots and a lid, make it a more versatile cooker day to day. I still bring up the 8 quart when I need it - large batches of stock, or chili for a crowd - but the 6 quart is back as my regular cooker.
Now, I'm glad I have both - I love the day-to-day usability of the 6 quart, with the size of the 8 quart available if I happen to need it. And, it's great to have a second cooker. If I want a main course and a side dish, both under pressure, I can pull out my backup. Now, the fact that I also have a third, fourth, and fifth pressure cooker available? I may have a problem. (And I'm thinking about the high-end Breville Fast-Slow Pro pressure cooker. I want to try the auto-pressure release, but I can't get over the lack of a stainless steel pot. Ok, Ok. I admit it. I definitely have a problem.)
Why am I sharing this? Because, I have been asked in the comments a lot recently: 6 quart or 8 quart? If you can only have one, the 6 quart is more than enough to cook for my family of five. If you have bigger needs, the 8 quart is also an excellent cooker - and they've got to have spare pots eventually, right? - but I don't think most people need the extra size. Stick with the 6 quart to start, and when you fall in love with pressure cookers and have to get a second one, go for the 8 quart for the extra space and versatility it adds.
In the end, there can be only one. (Or, in my case, five.)
What do you think?
What is your go-to pressure cooker? Talk about it in the comments section below.
Enjoyed this post? Want to help out DadCooksDinner? Subscribe to DadCooksDinner via eMail or RSS reader, recommend DadCooksDinner to your friends, and buy something from Amazon.com through the links on this site. Thank you.