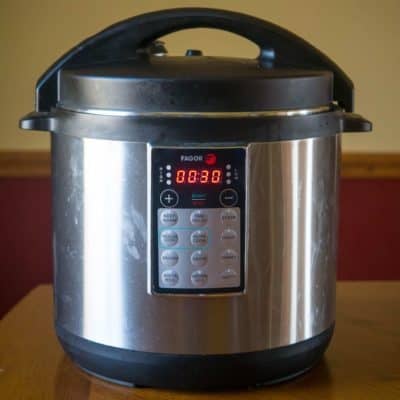 ---
I'm working on an update to my Which Pressure Cooker Should I Buy post…and this section kept getting longer, and longer…so I'm posting it on its own.
---
The LUX line of electric pressure cookers from Fagor is a strong competitor to the Instant Pot. If the Instant Pot didn't exist, I'd recommend the LUX to everyone. It's a modern electric pressure cooker from a company with a long history of pressure cooking. Fagor supports their cookers and makes it easy to buy replacement parts.
But…if I had to pick only one pressure cooker, I'd still get the Instant Pot cooker over the LUX. Now, both cookers do a good job of their basic task - pressure cooking - but I find the Instant Pot much more useable day to day. I've had the Fagor LUX 8 quart for months, but I keep reaching for my 6 quart Instant Pot, even though it is smaller. I pull out the LUX when I know I need the extra room an 8 quart cooker provides; otherwise, I go with my Instant Pot. And, frankly, that isn't that often - making a big batch of broth is about the only time I needed the extra space. 1That said, the moment I tried the new 8 quart Instant Pot , it became my primary pressure cooker, with the 6 quart Duo relegated to side dishes.
Here's a quick comparison of the Fagor LUX 8 quart and the Instant Pot IP-DUO80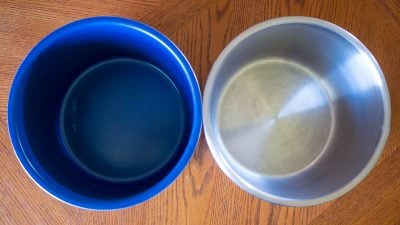 Fagor LUX 8 Quart strengths
The one big advantage to the LUX is the ceramic nonstick pot. If you want a nonstick pot, the Fagor LUX is the pressure cooker to buy. First off, the nonstick pot is blue!2[footnote]I'm like a bird - easily attracted to bright colors. Second, the ceramic nonstick is a lot tougher than traditional nonstick coatings. The problem is, I don't trust nonstick, even this tough one from Fagor; all my nonstick pans wind up with scratches, no matter how much I baby it. For a pressure cooker, I prefer stainless steel, unless I'm cooking something particularly messy.
That meant the first thing I had to do with the LUX was pay for the add-on stainless pot. Now, don't get me wrong, it's a nice pot, with a good heft to it. And, good on Fagor for having the stainless pot available and easy to order. But…it is an extra expense right off the bat.
The other thing I like about the Fagor is the control panel. It has a "High Pressure" button. I'm old school when it comes to pressure cooking - I don't use program modes. "Rice?" "Stew?" What do they mean? I don't know, so I don't trust them. I want to follow pressure cooker recipes - cook on high pressure for X minutes - not trust the cooker to think for me. The Fagor makes pressure cooking easy to understand with the High Pressure button.3 Unlike the "Manual" setting on my Instant Pot, which means "Manual High Pressure Cooking". Now that I know that, sure, it's easy. But I got the "How do I do high pressure on an Instant Pot" question so often that I wrote my Instant Pot FAQ post just to answer it. Sure there were other questions, but that was the big one.
[UPDATE 2017-03-30: Another advantage for the 8 quart Fagor - it's a little faster to heat up to pressure. I tested them after reading Good Housekeeping's We Found a Pressure Cooker That's Better Than the Instant Pot article, and comparing the 8 quart cookers I found the Fagor came up to pressure about 3 minutes faster when heating up 4 cups of water. That is not the big gap that Good Housekeeping said they found, but I figured I should mention it. For more details, see my Fagor Lux vs Instant Pot - Time To Pressure Showdown post.]
So…seems simple, right? Switch from the Instant Pot to the Fagor. Well…that's not what happened. I never took a liking to the Fagor, and here's why:
Fagor LUX 8 Quart weaknesses:
The first thing I noticed is how light the Fagor is. If you remove the pot and the lid, it weighs almost nothing. Unfortunately, that means I can't push the buttons. Literally. When I try to push a button, the cooker is so light that it slides across the counter. Using the Fagor is a two-handed operation - I have to grab the handle to hold it down, then push the button with my other hand.
Another problem is the three-piece lid, gasket holder, and gasket. The silicone gasket sits around a thin stainless steel disc, and the disc pushes onto a pin in the lid. It works, but it's an extra piece I have to clean every time I use the cooker. 4And, it seems to get messier than the lid on my instant pot. Perhaps because it is closer to the surface of the food I'm cooking? I love the Instant Pot style two-piece lid and gasket, where a hoop-shaped ring is welded to the lid and the gasket fits in. 5It looks like the smaller LUX 6 quart uses the same style of lid and gasket holder as the Instant Pot. If you're in the market for the 6 quart cooker, ignore this comment.
Lid holder - the Instant Pot's built in handle/lid holder is so convenient. Set the lid in the handle, and I'm done. When I use the LUX, I find myself trying to set the lid on the handle, realizing it isn't a lid holder, and then looking around for some empty counter space where I can put the lid. It's amazing how big a difference it makes - a notch on the lid, a hole in the handle - and suddenly the cooker is that much easier to use.
Beeping in warming mode. Ugh. The LUX really wants you to know when it is done pressure cooking. It switches to keep warm mode…and then it beeps roughly every thirty seconds until you shut the cooker off. beep…beep…beep…Why. WHY? I can't let it do a natural pressure release without THE BEEPING. THE BEEPING IS DRILLING INTO MY BRAIN. It's not just the High Pressure program, either; if you cancel cooking, then press the "keep warm" button, the beeping starts up again. Now, I can turn the pot off to stop the beeping, but that defeats the purpose of the "keep warm" mode - the constant beeping makes keep warm mode unusable on the LUX. It feels like they really, REALLY want you to shut off the cooker and use a quick pressure release, which is an odd design decision.
[UPDATE 2017-03-30: I was asked by a reader who also owns a Fagor about beeping in keep warm mode - he wasn't hearing it. Turns out, I was wrong. If you stop pressure cooker mode, turn on keep warm mode, and press "start", it will only beep once more, after a few seconds. (I think it's a signal that it is at "keep warm" temperature.) I was confused by the additional beep, and kept shutting the cooker down in frustration. So, if the beeping makes you crazy, you can stop it without losing warming mode entirely. Not ideal, but not as bad as I originally thought.]
[UPDATE 2017-03-30: While I was testing for my Fagor Lux vs Instant Pot - Time To Pressure Showdown post, I decided to find out how long the beeping will go. Turns out, it gives up on the beeping after five minutes. That's way too long - it shouldn't beep more than once to let you know the cooking is done - but if you can stand strong you can eventually wait out the beeping Beeping BEEPING...I can't make it. I have to go turn it off now.]
Conclusion
The Fagor LUX 8 Quart is a very good pressure cooker, with a lot to recommend it. If you prefer cooking with a nonstick pot, it is the obvious choice. 6Or, like one of my readers: if you want to buy local, and can find it in a store, the LUX is a good choice. But, it is less convenient to use than the Instant Pot IP-DUO80, so I still recommend the IP-DUO80 over the LUX. (I own both...but I own way too many pressure cookers.)




What do you think?
Questions? Other ideas? Leave them in the comments section below.
Related Posts
Which Pressure Cooker Should I Buy?
Instant Pot FAQ
First Thoughts: 8 Quart Instant Pot IP-DUO80
Enjoyed this post? Want to help out DadCooksDinner? Subscribe to DadCooksDinner via eMail or RSS reader, recommend DadCooksDinner to your friends, and buy something from Amazon.com through the links on this site. Thank you.