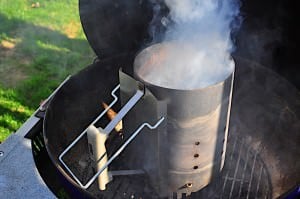 It's Memorial Day Weekend! Grilling season is now officially open!
*Of course, for me, it never really closes...
Want more than some hot dogs on the hibachi? Here are some suggestions from the DadCooksDinner archives:
Grilled Ribeye Steaks with Mediterranean Herb Butter - Did I mention it won an award? And that my "semi-vegetarian" sister-in-law loves it?
Grilled Lamb Loin Chops, Michael Symon Style
Grilled Butterflied Chicken, Thai Brinerated
Grilled Boneless Pork Chops, Brined and Honey Glazed
Grilled Trout, Herb and Citrus Stuffed
Three more, because I love my rotisserie:
Rotisserie Chicken with Red Chile Marinade
Rotisserie Baby Back Ribs
Rotisserie Prime Rib Roast
*Oh, and before you start grilling - have you cleaned your grill this year? Now is a good time to do it, while you have the long weekend off, before the party starts this weekend. And then your grill will be ready to go for the rest of the summer.
Here are a couple more grilling recipes I've enjoyed recently, from across the web:
ThreeManyCooks: Beer Can Chicken
*I can't believe I haven't done a beer can chicken recipe yet. I'll have to get to work on that...
Serious Eats: A Hamburger Today's Burger (Outstanding) Of The Year
What do you think? Questions? What are you grilling this Memorial Day Weekend? Talk about it in the comments section below.
*Enjoyed this post? Want to help out DadCooksDinner? Subscribe using your RSS reader or by Email, recommend DadCooksDinner to your friends, or buy something from Amazon.com through the links on this site. Thank you!