Instant Pot 8-Quart Pot of Ground Beef and Bean Chili. How much chili can I make if I fill my 8-quart Instant Pot to the max fill line? Let's find out.
I'm making chili for a Super Bowl party, so I'm bringing out my 8-quart Instant Pot and filling it to the brim.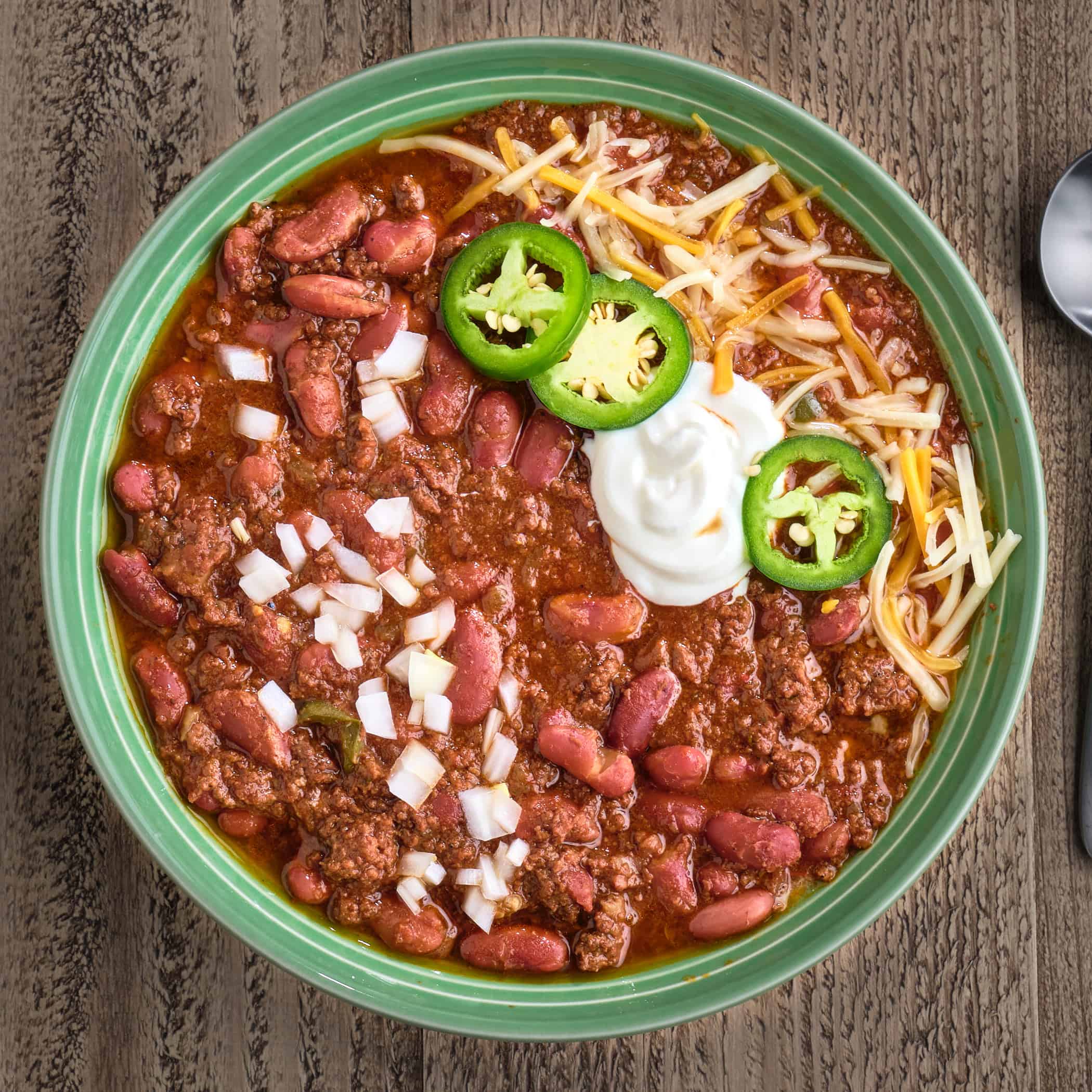 Jump to:
The key to this recipe is dried beans. You can make chili with canned beans, sure. But dried beans are much better than canned. Dried beans have more flavor, the bean starch adds substance to the chili, and they are SO EASY TO COOK in a pressure cooker. Please, at least once, try pressure cooked chili with dried beans. I'm confident it will make you a dried bean convert. (Looking for other chili recipes? Try my easy 5 Ingredient Chili for the Instant Pot, Instant Pot Steak Chili, or Instant Pot White Turkey Chili.)
🌶️ How much chili can I put in an 8-quart Instant Pot?
I thought "I'll double my regular ground beef and dried bean chili recipe, and I'm good to go". But that was too much stuff. It was way over the max fill line in the cooker. That's a no-no when it comes to pressure cooking; the cooker needs that space to build up pressure. So, this recipe is scaled to fit exactly in my 8-quart pressure cooker.
🥫Ingredients
Dried red kidney beans
Fine sea salt
Vegetable oil
Onion
Jalapeño
Garlic
Chili powder
Cumin
Oregano
85/15 Ground Beef (85% lean)
Beer
Chicken broth
Baking soda
Fire roasted crushed tomatoes
Fresh Ground Black Pepper
See recipe card for quantities.
🥘 Substitutions
Red kidney beans are the backbone to this chili. You can substitute 4 cans of canned beans, drained and rinsed, but they will get a little soft during the cooking time (and won't taste anywhere near as good.) You can substitute any other dried bean that is Kidney bean sized or smaller; pinto beans, black beans, and small red beans all make great chili. Or, do a mix - a pound of Kidney beans and a pound of another dried bean. (I like the look of kidney beans and black beans in a chili, but that's just me.)
Onion, Jalapeño, and garlic: These aromatics are the base of any chili I cook
The mix of spices give me that Chili flavor profile. Ground chili powder, ground cumin, and oregano. You can use entirely chili powder if you want to make things simple. But I love the extra complexity the cumin and oregano add to the dish. If you want a little more complexity, add two tablespoons of coriander with the cumin.
When I say ½ cup of chili powder, I mean it. Texans will call this a wimpy chili - "Namby-pamby, lily-livered, ground beef and beans". I don't care, and I'm not timid with my seasoning. If you are, go ahead, cut back…but I want a half cup of chili powder in this recipe; we have a lot of meat and beans to season, and I don't want a weak chili.
If you want to cut the heat in the recipe, remove the Jalapeño pepper. If you want to eliminate the heat entirely, skip the Jalapeño, and substitute smoked Spanish paprika for the chili powder. Now, I'm not judging you, but…why are you making chili if you don't want any heat? On the other side, if you want to increase the heat, add a couple more jalapeños, or add two minced chipotle en adobo peppers.
Ground beef: I use a leaner ground beef for this recipe - 85/15 beef, which means 85% lean. (It's also called ground Round at my local grocery store.) I wouldn't go below 80/20 beef (80% fat, aka ground Chuck), since you don't want to drain off all the spices trying to drain fat. You can go leaner if you want - I've made versions of this chili with extra-lean ground beef (or extra-extra lean buffalo).
Beer adds a hint of acid to the chili, and the alcohol helps bring out the flavor in the spices. I prefer a darker beer for this chili, because I like the roasted, sweeter flavor of those beers. I use Elliot Ness from Great Lakes brewery, an amber lager, but a dark ale, porter, or stout are also good. That said, almost any beer will work, so don't go out and buy a six pack...unless you want to drink the rest of it.
Skipping the beer: If you don't want any alcohol in the dish, substitute a little more chicken broth or water. Chicken broth: use homemade chicken broth (which you should make in batches and freeze, since it's one of the killer recipes from the Instant Pot), or low-sodium store-bought chicken broth if you don't have time to make your own. Or, substitute water, and add ½ teaspoon of salt.
The baking soda helps keep the beans tender. There are acidic ingredients in this chili (beer, tomatoes), and an acidic environment toughens up the beans. The baking soda helps counter the acid in the other ingredients.
Fire roasted crushed tomatoes are best for this recipe, but tough for me to find sometimes. I make a special trip to my local organic store to get Muir Glen tomatoes. If you can't find fire roasted crushed, regular crushed tomatoes are fine - not quite as smoky, but still good.
Fresh ground black pepper - grind pepper when you need it. Pepper loses its flavor quickly after it is ground.
🛠 Equipment
📏Scaling
This recipe scales down easily - cut everything in half and it will fit in a 6-quart pressure cooker. (Or refer to my original Pressure Cooker Ground Beef and Bean Chili recipe.) The cooking time remains the same. In this recipe, the cooking time is determined by the beans, and how long it takes to cook each bean all the way through, not the total number of beans.
🤨 Soaking Kidney beans?
I get the "to soak or not to soak?" question all the the time. Kidney bean are one of the few beans I prefer to soak. They must be a denser bean than most, because it takes a long time to pressure cook them to tenderness if they are not soaked. When I remember, I soak my kidney beans overnight; when I don't I use the quick soak method. (I do the quick soak more often than I should. I'm an enthusiastic home cook, but not great at planning ahead.) If I completely forget to soak, I cook them without soaking, for 40 minutes at high pressure with a natural pressure release. Then I'll check them, and if they need it, I'll pressure cook them for another 5 minutes with a quick release. (See the "Tips and Tricks" section about floaters, below - I seem to get a lot of those in my Kidney beans.)
Sorting Beans
Beans are an agricultural product, and stuff tends to creep in when they are processed. Beans should always be sorted and rinsed before using, to get rid of any twigs, stones, clumps of dirt, or broken beans. To sort the beans, I pour them out on one side of a rimmed baking sheet (a half-sheet pan), to keep the beans from escaping. Then I slowly run my fingers through the pile of beans, pulling them towards me on the sheet. I watch the beans as they move, looking for anything that doesn't seem right. If I see something, I poke around in the beans until I find what caught my eye, and discard it. I repeat this a couple of times, until I'm satisfied everything is out of the beans. Then I dump the beans into a fine mesh strainer and rinse them under cold running water, to wash off any dirt or dust still on the beans. Now the beans are sorted, rinsed, and ready for soaking or cooking.
💡Tips and Tricks
Quick release the pressure for beans. The sudden drop in pressure throws the water into a boil, which roughs up the beans, releasing starch and thickening the pot liquid.
Salt your bean water! "Salt toughens beans" is a myth. Salting before cooking helps season the beans all the way through as they cook.
If your beans are still tough when the cooking time is over, especially any "floaters" at the top of the pot, give the beans a stir, lock the lid, and pressure cook for another five minutes. Older beans take longer to cook, and if the beans have been sitting in the shelf at your store for a while, they may need extra time.
Simmer to thicken: If you have the time, and want thicker bean liquid, simmer the beans for 15 minutes after pressure cooking. I set my Instant Pot to Sauté mode adjusted to low, set the timer to 15 minutes, and leave the lid off to let the broth evaporate.
Serve straight up, or with your favorite chili toppings. Diced onion, sour cream, shredded cheddar, tortilla chips…whatever you like is fair game.
Print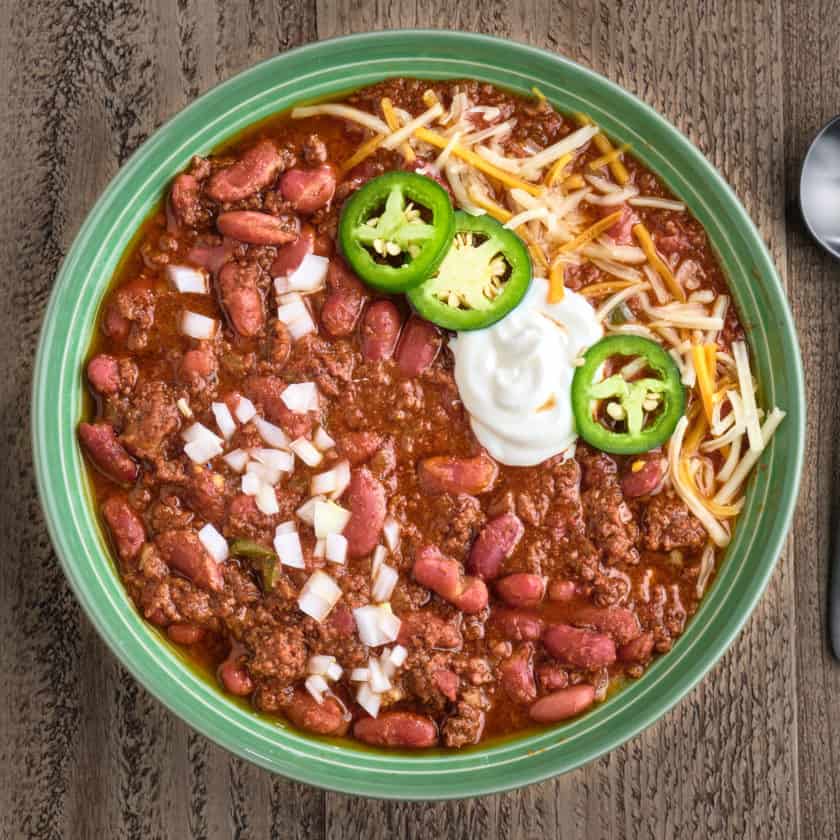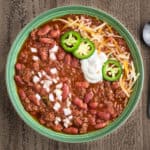 Instant Pot 8-Quart Pot of Ground Beef and Bean Chili
---
Author:

Mike Vrobel

Total Time:

9 hours

Yield:

6 quarts

of Chili

1

x
Description
Instant Pot 8-Quart Pot of Ground Beef and Bean Chili. How much chili can I make if I fill my 8-quart Instant Pot to the max fill line? Let's find out.
---
Soaking Kidney Beans
2

pounds dry red kidney beans, sorted and rinsed

12 cups

water

1 tablespoon

fine sea salt
Chili
2 tablespoons

vegetable oil

2

large onions, diced

3

jalapeños, diced

4

cloves garlic, crushed

1 teaspoon

fine sea salt

½ cup

chili powder

2 tablespoons

ground cumin

2 tablespoons

dried oregano

3

pounds 85% lean ground beef

12 ounces

beer

4 cups

chicken broth (preferably homemade, or low-sodium store-bought), or water

1 teaspoon

fine sea salt (if using homemade broth or water)

½ teaspoon

baking soda

28

-ounce can crushed tomatoes

1 tablespoon

fresh ground black pepper
---
Instructions
Sort and rinse the kidney beans: Sort the dry kidney beans, discarding any stones, dirt, or broken beans. Rinse the beans, then do an overnight or a quick soak.
Overnight soak: Cover the kidney beans with 12 cups of water, and sprinkle with 1 tablespoon of salt. Leave the beans to soak at least 8 hours, or overnight. Drain and discard the soaking liquid.
OR: Pressure Quick Soak for 1 minute with a 30 minute rest: Put the kidney beans and 6 cups of water in an 8-quart Instant Pot or other pressure cooker. Sprinkle with 1 tablespoon of salt. Pressure cook at high pressure for 1 minute ("Manual" or "Pressure Cook" mode in an Instant Pot for 1 minute), then quick release the pressure. Let the beans soak in the pot for 30 minutes, then drain the beans and discard the soaking liquid. (Wipe out the pot if you are using it in the next step.)
Sauté the aromatics: In an 8-quart Instant Pot or pressure cooker, heat 2 tablespoons of vegetable oil using sauté mode (medium heat in a stovetop PC) until the oil is shimmering. Add the onions, jalapeños, and garlic, to the pot, and sprinkle with 1 teaspoon salt. Sauté until the onions soften and turn translucent, about 5 minutes.
Toast the spices and cook the beef: Make a hole in the center of the onion mix and add the chili powder, cumin, and oregano. Let sit for 30 seconds, then stir the spices into the onions. Add the ground beef, stir to coat with the onions and spices, then add the beer. Bring to a simmer and cook, stirring often and breaking up any clumps of ground beef, until the beef loses its pink color, about 5 minutes.
Pressure cook the chili for 15 minutes with a Natural Release: Stir the soaked and drained kidney beans, chicken broth, 1 teaspoon of salt (if using homemade broth), baking soda, and crushed tomatoes into the pot. (It should come right up to the max fill line, but not go over it.) Lock the lid on the pressure cooker and cook at high pressure for 15 minutes in an Instant Pot or other electric pressure cooker (use "Manual" or "Pressure Cook" mode), or for 12 minutes in a stovetop PC. Turn off the heat and let the pressure come down naturally, about 30 minutes. (You can quick release any remaining pressure after 15 minutes if you are in a hurry). Remove the lid carefully, opening away from you – even when it's not under pressure, the steam in the cooker is very hot.

Simmer to thicken (optional):

 

To thicken the chili, set the Instant Pot to Sauté mode adjusted to low (low heat in a stovetop cooker), bring the pot to a simmer, and simmer, uncovered, for 15 minutes.
Season and serve: Stir in the black pepper. Serve straight up, or with your favorite chili toppings. (Mine are diced onions, shredded cheddar, and sour cream.) Enjoy!
Equipment
Prep Time:

8 hours

Cook Time:

1 hour

Category:

Sunday Dinner

Method:

Pressure Cooker

Cuisine:

American
Keywords: Instant Pot 8-Quart Pot of Ground Beef and Bean Chili, Pressure Cooker 8-Quart Pot of Ground Beef and Bean Chili
Storage
Chili can be made a day or two ahead, refrigerated, and reheated - if anything, an overnight rest to let the flavors mingle makes it taste better. I use my Instant Pot with Sauté mode adjusted to low, and bring it back to a simmer before serving. Make sure to stir and scrape the bottom of the pot while it reheats there's a lot of chili in the pot, and it will scorch on the bottom if you are not careful. it tastes better this way, thanks to a day of letting the flavors mingle. For longer storage, portion into 2-cup containers, and refrigerate for up to 3 days, or freeze for up to 6 months. I love having chili in the freezer - I use them as grab-and-go lunches, which reheat in about 5 minutes in the microwave.
Related Posts
Instant Pot Ground Pork and Bean Chili
Pressure Cooker Ground Beef and Bean Chili
Pressure Cooker Quick Chili with Canned Beans
Instant Pot Pork and Black-Eyed Pea Chili
Instant Pot Steak Chili
Instant Pot Venison Chili (with pinto beans)
My other Instant Pot and Pressure Cooker Recipes
Enjoyed this post? Want to help out DadCooksDinner? Subscribe to DadCooksDinner via email and share this post with your friends. Want to contribute directly? Donate to my Tip Jar, or buy something from Amazon.com through the links on this site. Thank you.