When I make Chili, I go big or go ground. My Texas Red Chili uses big chunks of beef – 1½-inch to 2-inch cubes. Or, I use ground beef for wimpy weeknight chili with beans.1. This Instant Pot Steak chili splits the difference, with small cubes of beef.
I got the idea from Chef Michael Ollier, when I visited Certified Angus Beef® Brand to make chili for their Facebook Live channel. Much to my surprise, Chef Michael uses small, ½-inch cubes of beef in his Game Day Steak Chili. I filed the idea away for later…and promptly forgot about it.
The idea came back while I planned my annual work ChiliFest potluck lunch. (I mix in a new chili every year.) I The smaller pieces cook quickly and evenly under pressure in my Instant Pot. Also, the shorter cooking time lets me mix in a can or two of beans while I'm cooking the chili, without the beans turning to mush. (Yes, I add beans to this chili. If this offends you, don't go any further – check out my bowl of Texas Red recipe instead. Look away! Turn back! Beans ahead!) Now, I didn't cut my beef quite as small as Chef Michael does – my knife skills aren't quite good enough to cut beef cubes that small – so I went with ¾-inch cubes.
Other than the smaller cut of beef, this is my standard Instant Pot chili technique. If you've been following along at home, it will look very familiar.
Adapted from: Game Day Steak Chili – CertifiedAngusBeef.com by Michael Ollier
Print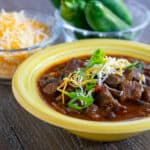 Instant Pot Steak Chili
---
Author:

Mike Vrobel

Prep Time:

15 minutes

Cook Time:

1 hour

Total Time:

1 hour 15 minutes

Yield:

2 quarts

of chili

1

x
Description
Instant Pot Steak Chili. Pressure cooker chili, made with bite-sized cubes of chuck, ready in about an hour thanks to pressure cooking. Adapted from Game Day Steak Chili, Chef Michael Ollier, CertifiedAngusBeef.com
---
3

pounds chuck roast, trimmed and cut into

3/4

-inch cubes

1½ teaspoons

fine sea salt

¾ teaspoon

fresh ground black pepper

2 tablespoons

vegetable oil

1

large onion, diced

3

cloves garlic, crushed

2

jalapeño peppers, seeded and diced

¼ cup

chili powder

2 tablespoons

ground cumin

1 tablespoon

dried oregano

1 tablespoon

brown sugar

1 cup

beef broth or water (homemade is best, but expensive)

15

-ounce can black beans, drained and rinsed (or 

2 cups

homemade beans)

4

-ounce can chopped green chiles

28

-ounce can diced tomatoes

½

to

1½

teaspoons fine sea salt (depending on the beef broth)
Cornstarch slurry (optional)
¼ cup

water

2 tablespoons

cornstarch
Accompaniments
shredded cheddar cheese
diced scallions
sour cream
---
Instructions
Sear the beef in three batches: Heat the vegetable oil in the Instant Pot over Sauté mode set to high until the oil shimmers (medium-high heat in a stovetop pressure cooker). While the oil heats, sprinkle the beef cubes with 1½ teaspoons salt and 3/4 teaspoon fresh ground black pepper. Add a third of the beef in a loose single layer and sear until well browned on one side, about 3 minutes. (Don't crowd the pot or the beef will steam, not brown). Transfer the browned beef to a bowl, add half of the remaining beef to the pot, and sear until browned on one side, about 3 more minutes. Transfer the browned beef to the bowl. Add the rest of the beef to the pot and sear until browned on one side, about 3 more minutes. Transfer the browned beef to the bowl.

Saute the aromatics, toast the spices, deglaze the pan with broth:

 Add the onion, garlic, and jalapeño to the pot, and sprinkle with 1/2 teaspoon salt. Sauté until the onions soften, about 5 minutes, scraping the bottom of the pot occasionally to loosen any browned bits of beef. Make a hole in the middle of the onions and add the chili powder, cumin, oregano, and brown sugar. Cook for one minute, or until you smell the chili powder toasting, then stir the spices into the onions. Add the beef broth to the pot, bring to a simmer, and simmer for 1 minute. Scrape the bottom of the pot again to release any browned onions or spices.

Stir everything into the pot:

 Add the beef and any juices in the bowl to the Instant Pot, then stir to coat the beef with the spices. Stir in the black beans and chopped green chilies. Spread the diced tomatoes over the top of the stew, but don't stir.

Pressure cook the chili for 12 minutes with a natural pressure release:

 Lock the lid on the pressure cooker. Cook at high pressure for 12 minutes in an electric pressure cooker ("Manual" or "Pressure Cook" mode in an Instant Pot), or for 10 minutes in a stovetop PC. Let the pressure come down naturally, about 30 more minutes. (If you're in a hurry, you can quick release any remaining pressure after 20 minutes.) Remove the lid, tilting it away from you to avoid the hot steam.

Season, thicken, and serve:

 Season with more salt: If you used store-bought beef broth, add ½ teaspoon of fine sea salt; if you used homemade beef broth or water, add 1½ teaspoons of fine sea salt. Whisk the water into the cornstarch to make a cornstarch slurry, and then stir the slurry into the chili to thicken. Serve and enjoy!
Notes
Bottom Round is also a good cut of beef for this recipe; it cooks the same as chuck roast.
If you have the patience to cut ½-inch cubes, or can get your butcher to do the work, cut the cooking time to 10 minutes at high pressure; everything else is the same.
Don't want beans? That's OK. You can leave them out. Want more beans, like my bean-loving son? Go ahead and throw in another can or two. I'm easy.
Tools
Category:

Weeknight Dinner

Method:

Pressure Cooker

Cuisine:

American
Keywords: Instant Pot Steak Chili, Pressure Cooker Steak Chili,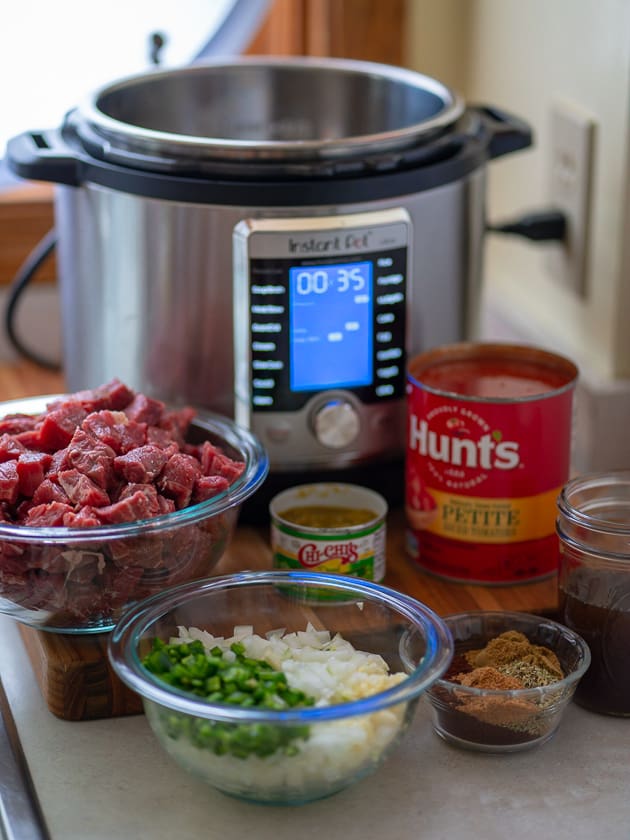 What do you think?
Questions? Other ideas? Leave them in the comments section below.
Related Posts
Pressure Cooker Texas Red Chili – DadCooksDinner
Pressure Cooker Quick Chili with Canned Beans – DadCooksDinner
Pressure Cooker Chili Verde (Green Pork Chili) – DadCooksDinner
My other Pressure Cooker Recipes
Enjoyed this post? Want to help out DadCooksDinner? Subscribe to DadCooksDinner via email and share this post with your friends. Want to contribute directly? Donate to my Tip Jar, or buy something from Amazon.com through the links on this site. Thank you.
I say "wimpy" with love – ground beef and bean chili is what I grew up with. ↩