Instant Pot Flageolet Beans with Lamb. A French farmhouse staple, bean stew with a lamb shank from my Instant Pot.
I got a bag of flageolet beans in my Rancho Gordo bean box and immediately thought of France. Instant Pot Flageolet Beans with Lamb, here we come!
This recipe is in memory of Peter Mayle, author of A Year in Provence. He is a large part of why I'm writing this blog; I vicariously visited the south of France through his books, dreaming of lavender and sunshine. Ten years ago I got to live that dream, traveling to Provence and Paris, and taking cooking classes. Six months after that, energized by the trip, I started writing Dad Cooks Dinner.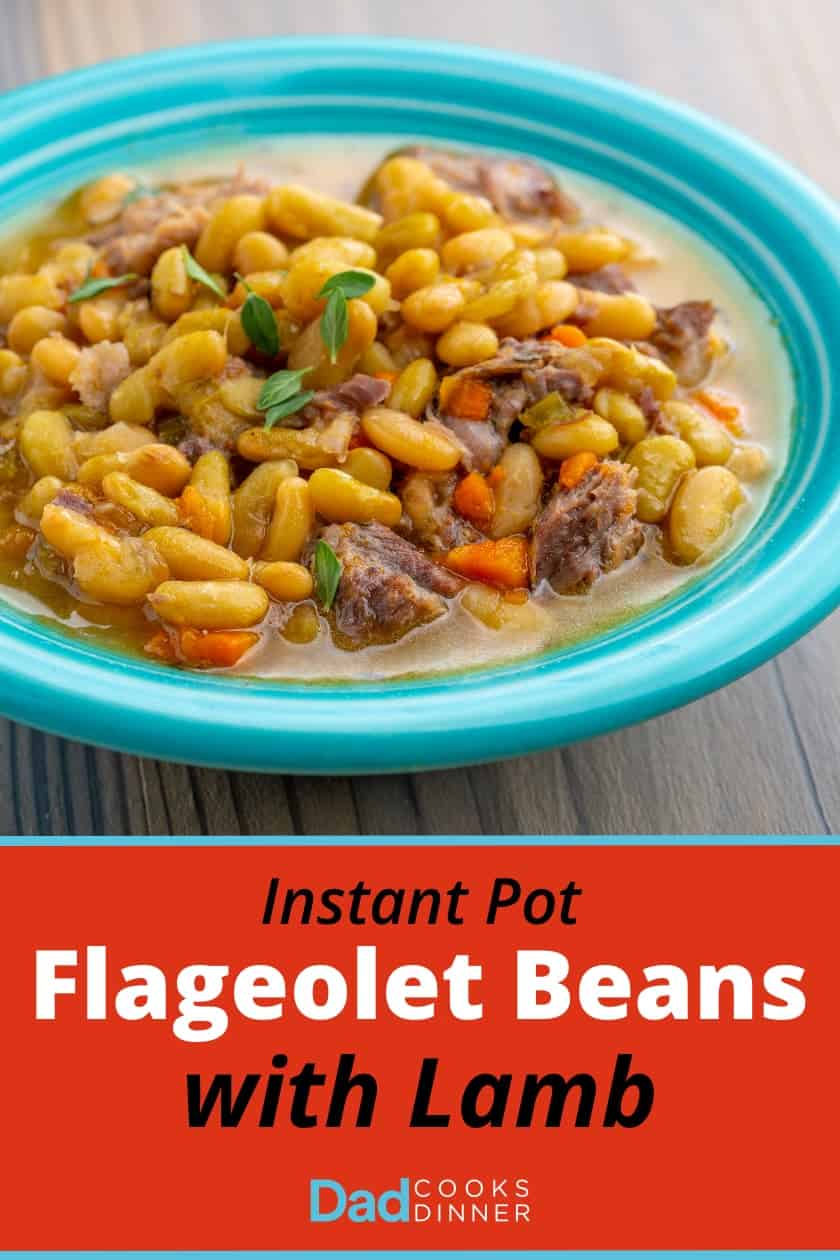 Jump to:
Unfortunately, Mr. Mayle passed away last month at age 78. His last book, My Twenty-Five Years in Provence, is sitting unread on my bedside table. I don't have the courage to open it yet. Au revoir, Mr. Mayle, and thank you for the inspiration.
Flageolet beans (pronounced Fla-zhoh-lay) are small beans, some white, some pale green. They remind me a lot of navy beans and are as Traditional French as you can get without wearing a beret and smoking unfiltered Gitanes.
As with all my beans, the Instant Pot is my secret weapon. I sauté a mirepoix of onion, carrot, celery, and garlic, then cook the flageolets with a lamb shank and some thyme. In about an hour I've got a fantastic French bean stew or a hearty side dish. Wishing you were back on the Champs Elysees? Here, have a bowl of flageolets.
🥫Ingredients
This is a simple dried bean recipe, so the ingredients list is pretty basic
Dried flageolet beans
A lamb shank
Onion
Carrot
Celery
Garlic
Thyme
Chicken Broth
See recipe card for quantities.
🥘 Substitutions
Navy beans are a good substitute for the flageolet beans, and cook in about the same amount of time
A smoked pork hock, beef shank, or pork shank make good substitutes for the lamb shank.
Don't have homemade chicken broth? You really should make some - Instant Pot Chicken Broth is amazing. But, you can substitute store bought low-sodium broth if you cut back a little on the salt in the recipe. Or, just use water - the dried beans will add a lot of flavor to the broth.
🛠 Equipment
A 6-quart pressure cooker. Pressure cooker dried beans are one of the reasons I became a pressure cooker convert, and love my Instant Pot. Try them - you'll never go back to canned beans. (OK, maybe you will, for convenience - but see the Storage section for tips on make ahead freezer beans.)
📏Scaling
This recipe scales down easily - cut everything in half if you don't need as many beans, or have a 3-quart pressure cooker. Scaling up runs into space issues; if you have an 8-quart pressure cooker, you can double this recipe, but it's too much to fit in a 6-quart pressure cooker.
🤨 Soaking flageolet beans?
I get the "to soak, or not to soak?" question all the the time. I don't soak my flageolet beans. They are small enough that they don't need an overnight soak, and cook to tenderness with 35 minutes at high pressure.
That doesn't mean you can't soak the beans. They turn out fine, though the bean broth isn't quite as full bodied. Soaked beans cook much quicker, 12 minutes at high pressure. I use that when I'm cooking the beans with other ingredients, where the shorter cooking time keeps me from overcooking the whole dish just to get the beans tender.
💡Tips and Tricks
Watch the size of the lamb shank - the long bone can make it hard to fit the shank in a 6-quart Instant Pot. Try to get a shorter shank if you have a choice.
Salt your bean water! "Salt toughens beans" is a myth. Salting before cooking helps season the beans all the way through as they cook.
Try to buy beans from a store with lots of bean turnover. Beans dry out as they age, which makes them a little tougher to cook.
If your beans are still tough when the cooking time is over, especially any "floaters" at the top of the pot, you probably got some old beans. Give the pot a stir, lock the lid, and pressure cook the beans for another five minutes.
Simmer to thicken: If you have the time, and want thicker bean liquid, simmer the beans for 20 minutes after pressure cooking. I set my Instant Pot to Sauté mode adjusted to low, set the timer to 20 minutes, and leave the lid off to let the broth evaporate.
Print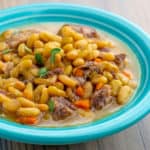 Instant Pot Flageolet Beans with Lamb
---
Author:

Mike Vrobel

Total Time:

1 hour 20 minutes

Yield:

6

servings

1

x
Description
Instant Pot Flageolet Beans with Lamb - a French farmhouse staple from the Instant Pot
---
1

pound dried flageolet beans, sorted and rinsed

1 tablespoon

olive oil
Small (1- to 1½-pound) lamb shank

¼ teaspoon

fine sea salt

1

large onion, minced

2

small carrots, minced

1

celery stalk, minced

3

cloves garlic, crushed or minced

½ teaspoon

fine sea salt

1 teaspoon

dried thyme

4 cups

water

2 cups

 homemade chicken broth (or low-sodium store-bought broth, or water)

1 teaspoon

fine sea salt

½ teaspoon

fresh ground black pepper
---
Instructions
Brown the lamb shank on one side:Heat the olive oil in the pressure cooker pot over high heat (Sauté mode adjusted to high in an Instant Pot) until the oil is shimmering, about 3 minutes. Sprinkle the lamb shank with ¼ teaspoon fine sea salt, then set it in the pot and sear it on one side until it is browned, about 5 minutes. Remove to a plate for later.
Saute the aromatics; add beans, shank, water, and stock to the pot:Add the onion, carrots, celery, and garlic to the pressure cooker pot, and then sprinkle with the ½ teaspoon sea salt and dried thyme. Saute until the onion softens, about 5 minutes, scraping the bottom of the pot with a flat-edged wooden spoon to loosen any browned bits of lamb into the onions. Once the onion is softened, put the lamb shank back into the pot, and then add the sorted and rinsed flageolet beans. Pour in the water and chicken broth, then sprinkle with the remaining 1 teaspoon sea salt.
Pressure cook for 35 minutes with a natural pressure release:Lock the lid and pressure cook on high pressure for 35 minutes in an Instant Pot or other electric pressure cookers, or for 30 minutes in a stovetop pressure cooker. (On the Instant Pot, use the Manual or Pressure Cooking setting, and set the cook time for 35 minutes.) When the cooking time is over, let the pressure come down naturally. (If you're in a hurry, you can quick release any remaining pressure after 15 minutes of natural pressure release.) Remove the lid, tilting it away from you to avoid any hot steam.
Shred, season and serve:Lift the lamb shank out of the pot. Pull and shred the lamb meat, discarding the bone and any pieces of fat or gristle. Stir the shredded lamb back into the pot, then stir in the ½ teaspoon black pepper. Serve.
Equipment
Notes
Watch the size of the lamb shank - the long bone can make it hard to fit the shank in the Instant Pot. Try to get a shorter shank if you have a choice.
If you don't want to use a lamb shank, a smoked pork hock or beef shank are good substitutes
If you can't find flageolet beans, navy beans are a good substitute
If you use store bought chicken broth, make sure to use low sodium broth, and cut the 1 teaspoon of fine sea salt back to ½ a teaspoon.
Prep Time:

10 minutes

Cook Time:

1 hour 10 minutes

Category:

Sunday Dinner

Method:

Pressure Cooker

Cuisine:

French
Keywords: Instant Pot, Pressure Cooker,
☃️ Storage
This recipe freezes well, in 2-cup containers, for up to 6 months.
🤝 Related Posts
Pressure Cooker Chicken With 40 Cloves of Garlic
Pressure Cooker French Green Lentils (Lentils du Puy)
Pressure Cooker Beef Stew Provencal (Beef en Daube)
My other Pressure Cooker Recipes
Enjoyed this post? Want to help out DadCooksDinner? Subscribe to DadCooksDinner via email and share this post with your friends. Want to contribute directly? Donate to my Tip Jar, or buy something from Amazon.com through the links on this site. Thank you.