Instant Pot Ragù Tucci. Stanley Tucci's family meat sauce, long-simmered tomatoes with beef and pork ribs, adapted to pressure cooking.
I couldn't put down Stanley Tucci's food memoir Taste: My Life Through Food. It's a fun, funny read, with recipes. (The best books are ones "with recipes" - but I may be biased.)
I read the book looking for stories about Big Night, my favorite food movie of all time, and it delivered. But Mr. Tucci has so many great stories to share. My favorite is "The Departure", a dramatization of his Grandma pushing tomatoes on his Mom, with the header: "It's important to note that these people all love each other very much."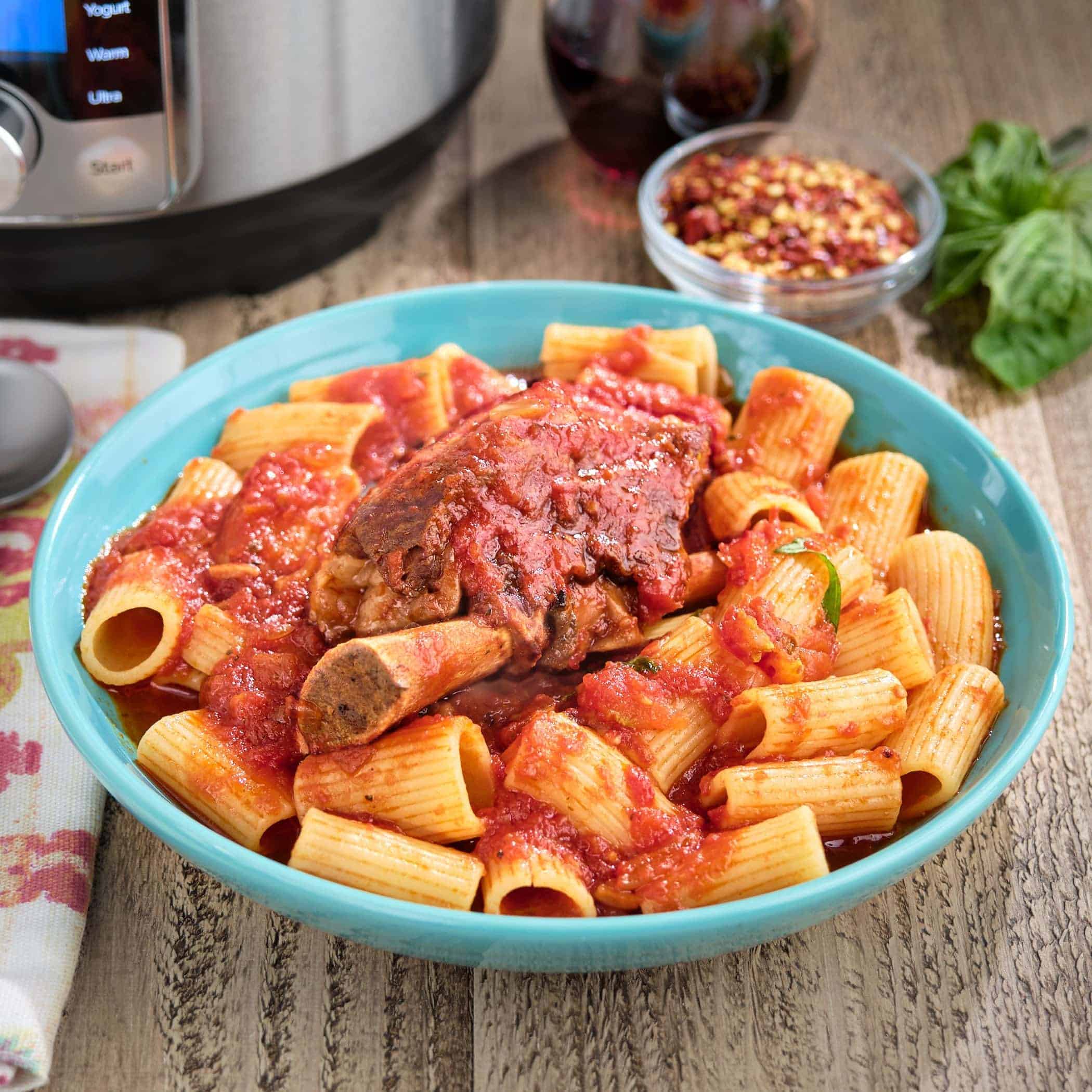 Jump to:
Ragu Tucci is the long-simmered tomato sauce, rich with beef short ribs and pork country ribs, made by his father's side of the family.
This recipe will make enough ragu to sauce two pounds of pasta, which is the point of a ragu in the first place - using a little bit of meat to make a big batch of sauce. And what a sauce it is - rich and meaty, even without the meat. I use it in a second meal, as a sauce with pasta. If I have any meat leftover, I shred it and add it to the sauce, but if I don't, then I just save the sauce - it is meaty and loaded with flavor, so I don't care if it's a "plain" pasta sauce.
Ingredients
Olive oil
Beef short ribs
Pork country-style shoulder ribs
Fine sea salt
Onion
Garlic
Tomato paste
Red wine
Canned San Marzano whole peeled tomatoes
Fresh basil leaves
Dried oregano
See recipe card for quantities.
Substitutions
Olive oil: Vegetable oil or butter are good substitutes. I use extra-virgin olive oil, because it's what I keep on hand in my pantry, but any olive oil will do, because heating it to brown the meat cooks out most of the flavor that makes extra-virgin oil worth the extra cost.
Beef short ribs and Pork country style ribs: We want bone-in beef and pork, because the bones give up their gelatin to the sauce as they cook. It's kind of like making chicken broth or beef broth, where the meat helps flavor the cooking liquid. If you have more beef or pork ribs, that's fine, just try for a total of 4 pounds of bone-in meat.
Instead of the beef short ribs, you can substitute beef shanks or thick-cut bone-in chuck steaks.
Pork country-ribs shoulder ribs are cut from the shoulder side of the pork loiny. Or, you can substitute pork spareribs, cut between the bones.
Onion and garlic are traditional Italian aromatics. If you want to add diced carrot or celery you can, but I like the simplicity of just onion and garlic.
Tomato paste: You can skip the tomato paste if you want, but adding it - and taking the time to brown it a bit before adding the rest of the ingredients -
A little red wine helps bring out the alcohol-soluble flavors in the dish, but if you are avoiding alcohol, just add more water.
Chicken broth vs water: homemade chicken broth is a great substitute for the water, but if you don't have it, water is fine. As I said above, the beef and pork bones will help give the sauce that bone broth richness.
Canned San Marzano whole peeled tomatoes: San Marzano DOP tomatoes are fantastic…and expensive. I get good results with American brands of canned plum tomatoes, which are less than half the price of San Marzano tomatoes. The big difference between Italian and American canned tomatoes was the amount of salt in the can. Italian tomatoes don't have salt; they need some, or the sauce comes out tasting a little flat.
Fresh basil leaves and Dried oregano: Mr. Tucci recommends these herbs, and I can't argue - but sometimes I cheat and replace them both with 2 teaspoons of dried Italian Seasoning, which has both dried basil and dried oregano already in it.
Equipment
Scaling
Doubling this recipe needs an 8-quart pressure cooker; the standard amounts in the recipe just fit below the max fill line of a 6-quart pressure cooker. If you cut all the ingredients in half, this recipe will fit in a 3-quart pressure cooker. The cooking time does not change; it takes the same amount of time to cook the pieces of beef and pork rib, no matter how many there are.
Tips and Tricks
In an Italian meal, the sauce and meat are served in separate courses. First, serve the pasta and tomato sauce as the Primi course, then serve the meat as the Secondi course.
As Mr. Tucci says: "Meat, unless it is actually a part of the sauce, as with ragù alla Bolognese, is meant to be served separately... These are the rules that have existed for generations, and I am happy to abide by them, as they make sense."
This recipe makes extra sauce on purpose. That's right - this is two (or three?) meals for the price of one. I shred whatever meat is left over, add it to the leftover sauce, and freeze it in 4-cup containers. Each 4 cup container will sauce about a pound of pasta.
Mr. Tucci says this should be served with a pasta that has a firm tube that will hold the sauce, like Ziti, Ziti Rigati, Rigatoni or Penne pasta. Do NOT serve this with spaghetti, or Mr. Tucci will give you a very disapproving look.
Why brown on one side?
There's a lot of flavor in browned meat - it adds depth and body to the sauce. But, the old school approach of browning all sides of meat takes forever, especially with the narrow width of a pressure cooker. So, I short cut the process by only browning one side of the beef ribs, and then one side of the pork ribs. (I brown them meaty side down, bone side up.) That gives me browned bits on the bottom of the pot, which melt into the sauce and build flavor.
Adapted from: Ragu Tucci, Taste: My Life Through Food
Print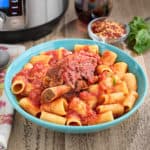 Instant Pot Ragu Tucci
---
Author:

Mike Vrobel

Total Time:

1 hour 45 minutes

Yield:

8 cups

of sauce plus meat

1

x
Description
Instant Pot Ragù Tucci. Stanley Tucci's family meat sauce, long-simmered tomatoes with beef and pork ribs, adapted to pressure cooking.
---
2

pounds beef short ribs, bone-in, cut into

2

-inch lengths

2

pounds pork country-style shoulder ribs (or pork western ribs)

1 teaspoon

fine sea salt

2 tablespoons

olive oil

1

large onion, chopped

3

garlic cloves, chopped

½ teaspoon

fine sea salt

3 ounces

tomato paste (half a 6-ounce can, about

⅓ cup

)

½ cup

red wine

1 cup

water (or chicken broth)

2

(28- to 35-ounce) cans San Marzano whole peeled tomatoes (or plum tomatoes), pureed or crushed by hand, with juices

½ teaspoon

fine sea salt (If using Italian tomatoes - American canned tomatoes have extra sodium and don't need more)

3

fresh basil leaves

1 teaspoon

dried oregano
Serve with
1

pound pasta, cooked according to package directions (Rigatoni, Ziti, Penne, or another firm tube shaped pasta)
---
Instructions
Sear the beef and the pork on one side: Sprinkle the beef ribs and pork ribs with 1 teaspoon of salt. Heat the olive oil in an Instant Pot using Sauté mode adjusted to high (medium-high heat for other pressure cookers) until the oil starts to shimmer, about 3 minutes. Sear the meat, on one side, in two batches. (Don't crowd the pot or the meat will steam, not brown). First, sear the beef ribs, meaty side down, until browned, about 4 minutes. Move the browned beef ribs to a bowl, then add the pork ribs to the pot, meaty side down. Sear the pork ribs until browned on the bottom, about 4 more minutes, and move them to the bowl with the beef ribs.
Sauté the aromatics: Add the onion and garlic to the pot and sprinkle with ½ teaspoon of fine sea salt. Sauté until the onion softens, about 5 minutes, occasionally scraping the bottom of the pot with a flat-edged wooden spoon to loosen any browned bits of meat or onion.
Stir in the tomato paste and deglaze with wine: Stir the tomato paste into the onions and cook, stirring and scraping often, until the paste starts to darken, about 5 minutes. Stir in the red wine, bring to a simmer, and simmer for 1 minute.
Everything in the pot: Stir in the cup of water, then scrape the bottom of the pot one last time with a flat-edged wooden spoon to make sure nothing is sticking. Add the tomatoes, basil leaves and dried oregano, then add the meat and any meat juices in the bowl.
Pressure Cook for 45 minutes with a Natural Release: Pressure cook on high pressure for 45 minutes in an Instant Pot or electric pressure cooker ("Manual" or "Pressure Cook" mode in an Instant Pot), or for 40 minutes in a stovetop pressure cooker. Let the pressure come down naturally for at least 15 minutes, then quick release any remaining pressure.
Serve: Gently lift the ribs out of the pot with tongs and/or a slotted spoon, and set on a platter. (Be gentle - the ribs will be fall-apart tender.) Use about 4 cups of sauce from the pot to sauce a pound of pasta - preferably a firm tube-shaped pasta that will hold the sauce, like Rigatoni, Ziti, or Penne. Top the ribs with a ladle of sauce, and serve the ribs as a second course (for Italian style dining), or on the side with the pasta (for American family style) Enjoy!
Equipment
Prep Time:

15 minutes

Cook Time:

90 minutes

Category:

Sunday Dinner

Method:

Pressure Cooker

Cuisine:

Italian
Keywords: Instant Pot Ragù Tucci, Pressure Cooker Ragù Tucci
Storage
This recipe makes extra sauce on purpose - there is enough for a second pound of pasta - and maybe even a third; 4 cups of sauce will sauce a pound of pasta.
I pull any leftover meat off of the bones, shred it, and stir it into the sauce. Then I store the sauce in 4-cup containers. They keep for a couple of days in the refrigerator, of frozen for up to 6 months. Each 4-cup container will sauce a pound of pasta.
Related Posts
Instant Pot Arrabbiata Sauce
Pressure Cooker Quick Tomato Sauce
Instant Pot Marcella Hazan Tomato Sauce
Pressure Cooker Italian Sausage Sauce
Instant Pot Fettuccine Alfredo Recipe
Instant Pot Braciole
My other Instant Pot and Pressure Cooker Recipes
Enjoyed this post? Want to help out DadCooksDinner? Subscribe to DadCooksDinner via email and share this post with your friends. Want to contribute directly? Donate to my Tip Jar, or buy something from Amazon.com through the links on this site. Thank you.