Lobster Rolls. Sweet lobster meat in a mayonnaise-based sauce. A taste of the Maine coastline in a split-top bun.
A few years ago, our summer vacation was a road trip to Bar Harbor, Maine. We were there for two things - Acadia National Park, and Lobster. Lots and lots of lobster.
So, when I made Instant Pot pressure steamed lobster the other day, the results had to go into lobster rolls. They are the signature food from the trip, and I couldn't wait to make my own.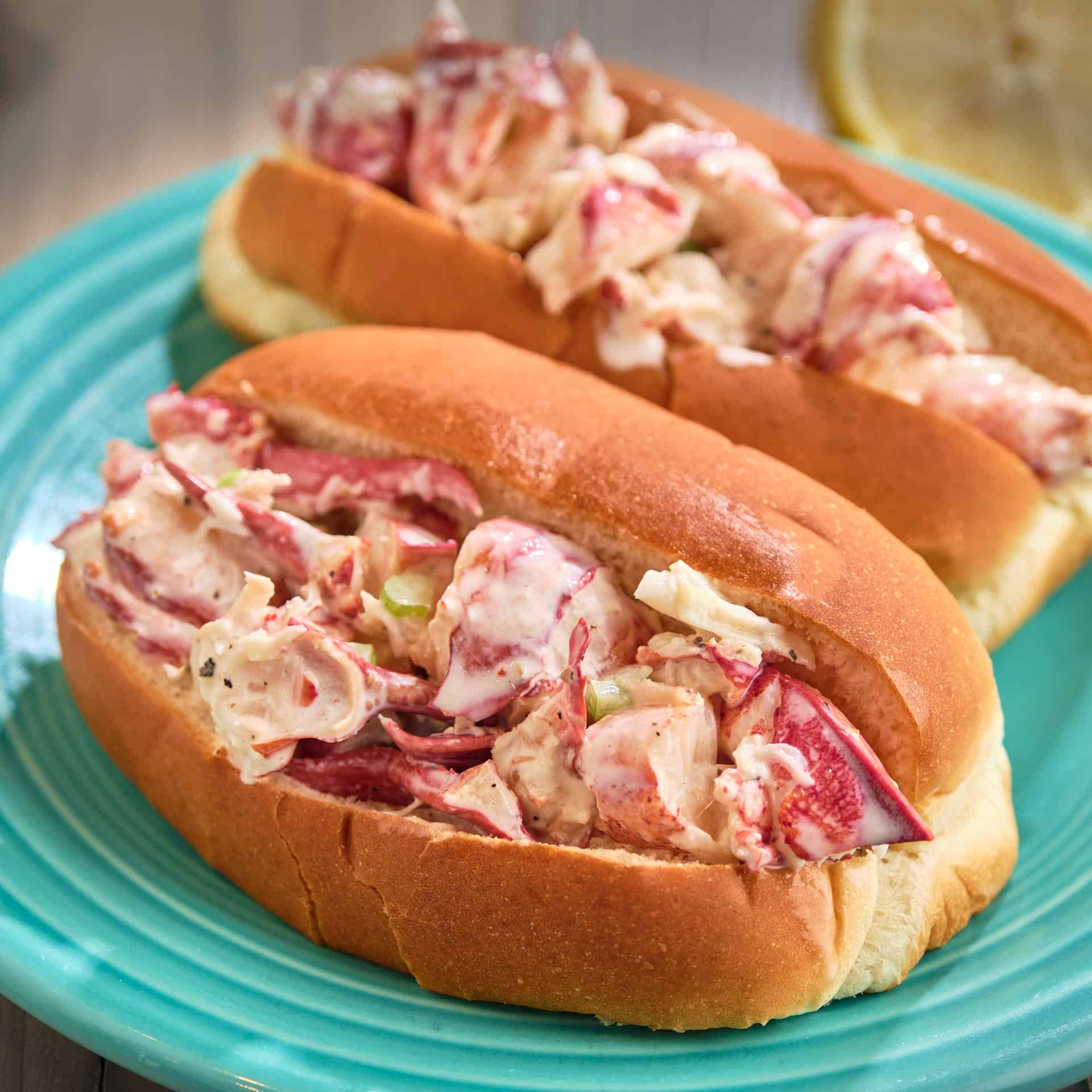 Jump to:
If you have the time and fortitude to cook and pick your own lobster meat, I highly recommend it. This is a simple recipe, with basically five ingredients - lobster, celery, lemon juice, mayonnaise, and split-top buns. (Plus a little salt and pepper). The point is showcasing the sweet lobster meat, and this recipe does just that. As I said above, I cooked a live lobster in my pressure cooker, then picked the meat from the tails and claws and used it to make this lobster roll recipe.
No pressure cooker? No problem. Cook two fresh lobsters in boiling, salted water, and you're ready to go. (See the substitutions section if live lobsters are too much work.)
🥫Ingredients
Lobster
Celery
Lemon
Fine sea salt
Fresh ground pepper
Mayonnaise
Bibb lettuce (optional)
Split-top hot dog buns
See recipe card for quantities.
🥘 Substitutions
Lobster Meat: This recipe is scaled to use the meat of two home-cooked 1½-pound lobsters, which yields 8 ounces of meat, and makes four lobster rolls. Buying frozen, pre-cooked lobster is a much easier way to get your lobster meat. Lobster tails are the cheapest and most common option. If you want to save the work, you might be able to find pre-cooked, pre-picked, frozen lobster meat. With frozen meat, let it thaw in the refrigerator for 24 hours before using. Then, discard the shells and cut it into chunks.
The celery, lemon, and mayonnaise are essential to this recipe - don't skip them. (And, use a fresh lemon - you don't want the plastic, lemon-shaped squeezer of juice.)
Split top buns are the traditional choice for lobster rolls. You can get fancy, but I feel like squishy white bread is the right approach for this recipe, and showcases the flavor of the meat.
I like Bibb lettuce leaves as a bed that sits between the bun and the salad. The natural scoop shape works perfectly for this. But, my kids would rather skip the lettuce, so you don't see it in my pictures. This really is an optional ingredient, and it's up to you if you want to use it.
🛠 Equipment
If you're cooking your own lobster, you need a big pot, or a pressure cooker if you're using my pressure steamed lobster recipe. Other than that, you don't need anything fancy - a bowl, and maybe a skillet to toast the buns.
How to Make Lobster Rolls
Mix the lobster salad by tossing 8 ounces of lobster meat, ¼ cup minced celery, and a teaspoon of lemon juice in a large bowl, then season with salt and pepper.
Brush the sides of split-top buns with butter, then toast the buns in a large skillet over medium heat.
Open the split-top buns and fill with a lettuce leaf and lobster salad.
The Best Bread to Use
Split-top buns are the traditional choice. No, more than that, they are a requirement. Split-top buns are squishy white bread, like hot dog buns, but split from the top instead of from the side. (They're sometimes called New England hot dog buns.)
📏Scaling
Want to double, triple, quadruple this recipe? (I don't blame you, lobster rolls are amazing.) This recipe scales up to as much lobster meat as you're willing to pick.
💡 Tips and Tricks
What to Serve with Lobster Rolls
I serve lobster rolls with potato chips and a tasty beverage. Or, cole slaw and a side of clam chowder.
Print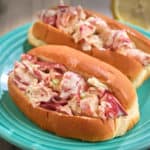 Lobster Roll Recipe
---
Author:

Mike Vrobel

Total Time:

10 minutes

Yield:

4

lobster rolls

1

x
Description
Lobster Rolls. Sweet lobster meat in a mayonnaise-based sauce. A taste of the Maine coastline in a split-top bun.
---
8 ounces

cooked lobster meat, cut into bite-sized pieces

¼ cup

minced celery (about

half a

rib)

1 teaspoon

fresh squeezed lemon juice

⅛ teaspoon

fine sea salt (a pinch)

⅛ teaspoon

fresh ground black pepper (a few grinds)

2 tablespoons

mayonnaise

4

Split-top hot dog buns
A few tablespoons of melted butter (optional) for toasting the buns

4

Bibb lettuce leaves (optional)
---
Instructions
Mix the lobster salad: In a large bowl, add the lobster chunks and minced celery. Drizzle with the lemon juice, then sprinkle with the salt and pepper. Stir in the mayonnaise until everything is well mixed. Refrigerate until ready to serve.
Toast the buns (optional): Brush the sides of the split-top buns with butter and toast them in a large skillet set over medium heat, about a minute a side, until they are golden brown. Watch the buns carefully - bread goes from toasted brown to black and burnt in a heartbeat.
Serve: Gently open the split top of the buns, and (optionally) set a lettuce leaf inside the split top of each bun. Fill the buns with the lobster salad. Serve immediately and enjoy!
Prep Time:

10 minutes

Cook Time:

0 minutes

Category:

Sunday Dinner

Method:

Sandwich

Cuisine:

American
☃️ Storage
Lobster salad is not good for long-term storage. It will keep in the refrigerator for a day, maybe two, but it's best to keep everything separate until just before you're ready to eat.
🤝 Related Posts
Instant Pot Baby Back Rib Sandwich (With Real Baby Back Ribs)
Instant Pot Sloppy Top Round Sandwiches with Certified Angus Beef® Brand Top Round
Pressure Cooker Barbecued Beef Top Round Sandwiches
Vietnamese Sandwich (Bahn Mi) with Chicken
My other Instant Pot and Pressure Cooker Recipes
Enjoyed this post? Want to help out DadCooksDinner? Subscribe to DadCooksDinner via email and share this post with your friends. Want to contribute directly? Donate to my Tip Jar, or buy something from Amazon.com through the links on this site. Thank you.