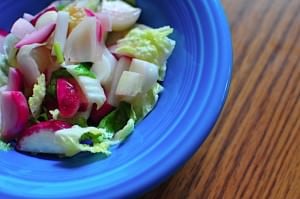 I got a huge Napa cabbage in my first CSA box last week. I combined it with some of the other vegetables in the box - some radishes and spring onions - to make an early summer version of the slaw that is served with fish tacos.
*I share my Crown Point CSA with my friend Pam; we alternate weeks. Her first answer to "what do I make with this random vegetable?" is always "make a slaw". Turnips? Beets? Kohlrabi? Pam says: slice it thin.
**My first thought is usually: steam-saute it.
This slaw made a great side dish for a Tex-Mex dinner. It has green, crunchy cabbage, a little heat from the radishes and onions, and the tart, sweet honey-lime dressing. It was a great counterpoint to the spicier dishes in the rest of the meal.
This recipe is another example of how to use basic techniques and flavor profiles in cooking.  I knew I wanted the slaw to taste Tex-Mex, so I used lime and honey as the base flavors with my vinaigrette basic technique.  Then I thin-sliced the vegetables, added some cilantro, tossed it all together, and I was done.  Voila!  I went from a box of random CSA vegetables to a side dish in ten minutes, and if I can do it, you can too.
Recipe: Napa Cabbage Slaw with Honey Lime Dressing

Ingredients:
1 ½ lbs Napa Cabbage
1 bunch radishes
3 spring onions (or 4 green onions)
¼ cup cilantro
Honey Lime Dressing
1 tablespoon rice wine vinegar
Juice and zest of 1 lime
1 tablespoon honey
1 clove garlic, minced
½ teaspoon salt
½ teaspoon black pepper
¼ cup extra virgin olive oil
Directions:
1. Prep the vegetables: Core the cabbage, and cut it into ¼" to ½" thick slices. Trim the leaves and roots from the radishes, and cut into ¼" slices. Trim the leaves and roots from the onions, halve, and cut into ¼" slices. Mince the cilantro. Put all the ingredients in a salad spinner, rinse thoroughly, then spin dry.
| | | |
| --- | --- | --- |
| Slice the napa cabbage thin | ...and the radishes... | ...and rinse and spin everything |
2. Make the dressing: Put the vinegar, lime, honey, garlic, salt and pepper in a large bowl, and whisk until the honey and salt have dissolved in the vinegar. Add the olive oil in a thin stream, whisking constantly to emulsify the oil.
3. Toss the slaw: Add the vegetables to the bowl with the dressing, and toss until the vegetables are thoroughly coated with dressing. (To make ahead, save this step until just before it is time to serve the slaw.)
Variations:
Spicy salad: To add some kick to the salad, add a thin sliced jalapeno or serrano pepper to the vegetables.
Creamy dressing: Replace half the olive oil with mayonnaise.
Notes:
Cabbage slaw is the traditional topping for Baja fish tacos. Why? Lack of refrigeration. Taco stands on the shores of the Pacific couldn't store lettuce, which needs to be refrigerated, but they wanted a green, crunchy topping for their fish tacos. Cabbages are fine without refrigeration, and cabbage slaw makes the perfect companion for fish tacos.
My grilled fish taco recipe is coming soon. Can you tell?
I sliced the cabbage relatively thick - if you want a finely shredded slaw, go ahead and slice it as thin as you can. I liked the thicker pieces of cabbage, since I was serving this as a side dish rather than a topping.
What do you think? Questions? Other ideas? Leave them in the comments section below.
Related Posts:
Vinaigrette basic technique
Lemon Herb dressing (a variation on the honey-lime dressing in this recipe)
Grated carrot salad
Inspired by:
Spicy Napa Cabbage Slaw with Spicy Dressing [epicurious.com]
Carottes Rapees [davidlebovitz.com]
Enjoyed this post?  Want to help out DadCooksDinner?  Subscribe using your RSS reader or by Email, recommend DadCooksDinner to your friends, or buy something from Amazon.com through the links on this site.  Thank you!