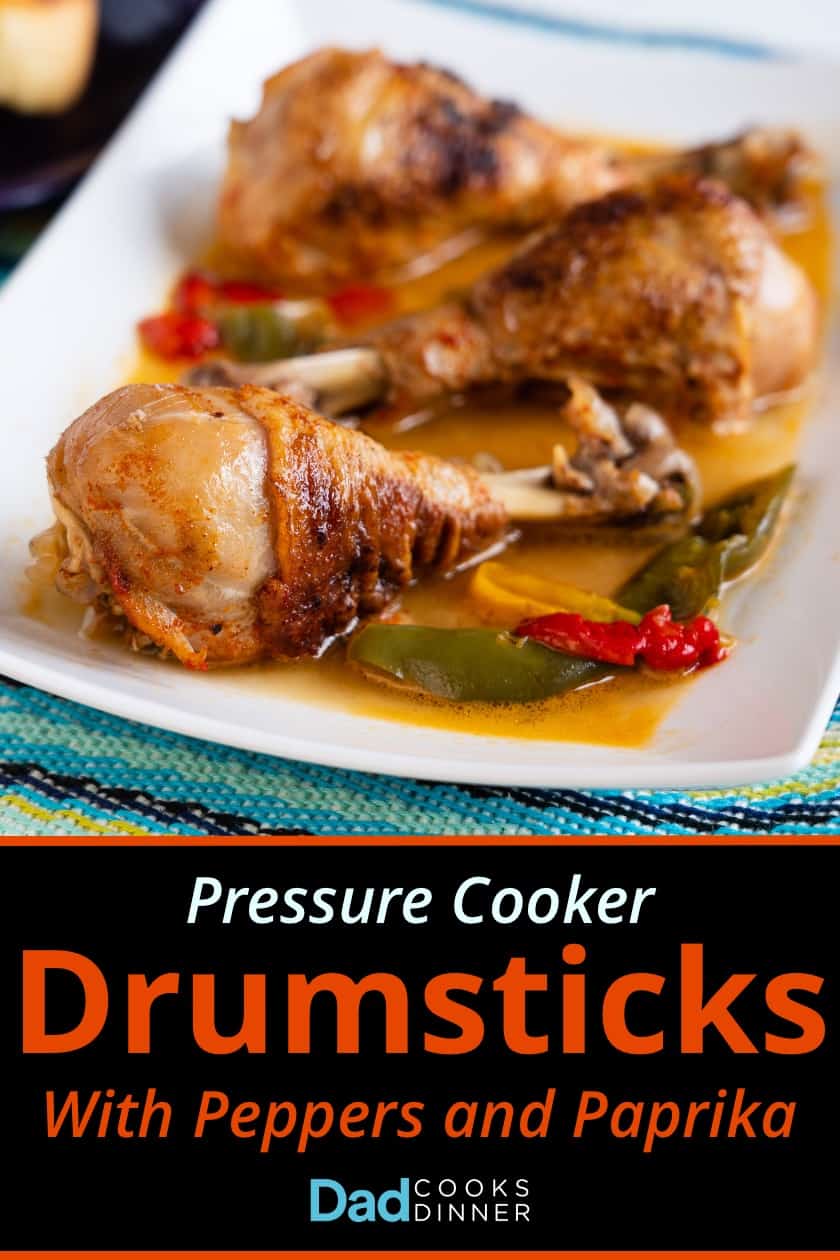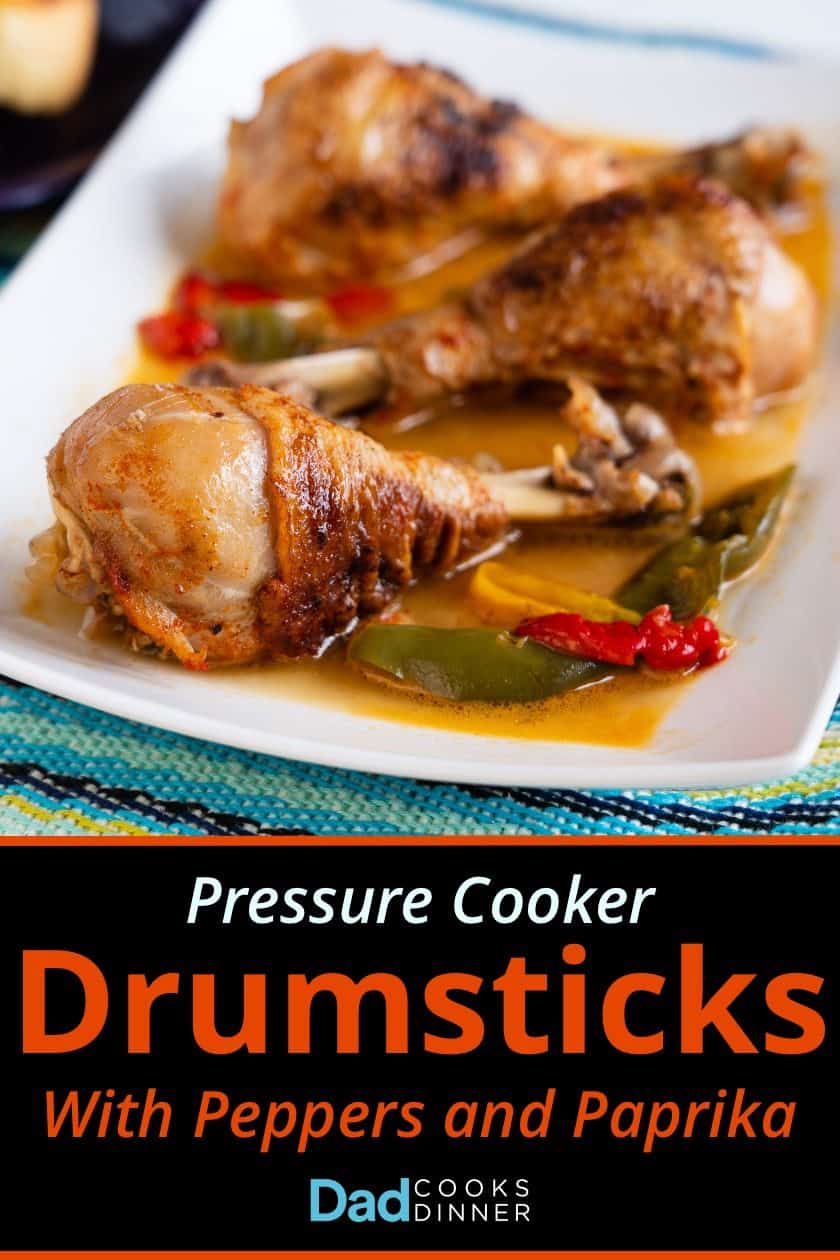 When this post goes live, I will be sitting in an airport in Europe, waiting for my connecting flight to Venice. I'm on my way to a food writing workshop in Verona, home of Romeo and Juliet. This is my first trip to Italy, and you'll hear all about it in my upcoming posts. (Probably until you're sick of it.) Until then, enjoy these Italian style drumsticks in honor of my trip.
I am testing frozen drumsticks in the pressure cooker, so I Googled for drumstick ideas. I typed in "Chicken drumsticks with" and Google's first auto-suggestion is "with Peppers and Paprika." That sounds great…but why that combination? What's so popular about drumsticks with peppers and paprika?
Lidia, that's what.
Lidia Bastianich's Cosce Di Pollo Con Peperoni E Paprika recipe is in Lidia's Mastering the Art of Italian Cuisine: Everything You Need to Know to Be a Great Italian Cook, and she's demonstrated it on her TV show a couple of times. That's why everyone is looking for it.
Good food doesn't have to be complicated, and this simple recipe is a great example. Sprinkle chicken legs with salt and paprika, and brown. Sauté some peppers and onions, and bake them all together with a little white wine.
Of course, I replaced "bake" with "pressure cook." You all know me by now. If you don't feel like pressure cooking, follow these instructions, then pour everything into a baking dish and bake at 350°F until the drumsticks are cooked through, about an hour. Me? I'd rather use the pressure cooker - the whole thing is done, including time to brown the legs and sauté the peppers, in less time.
Print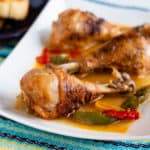 Pressure Cooker Chicken Drumsticks With Peppers and Paprika
---
Author:

Mike Vrobel

Total Time:

55 minutes

Yield:

10

drumsticks

1

x
Description
Simple chicken drumsticks cooked Italian style.
Inspired by: Cosce Di Pollo Con Peperoni E Paprika - Lidia Bastianich
---
1 tablespoon

olive oil

8

-

10

chicken drumsticks (about

3

pounds)

½ teaspoon

fine sea salt

1 teaspoon

paprika (preferably smoked paprika)

1

medium onion, sliced ½ inch thick

3

bell peppers, trimmed, seeded, and sliced ½-inch thick

½ teaspoon

fine sea salt

½ cup

white wine (pinot grigio)

½ cup

water (or chicken broth)
---
Instructions
Brown the chicken legs on one side, in 2 batches: Heat the tablespoon of oil over medium heat (Sauté mode in an Instant Pot) until the oil is shimmering and starting to smoke. Sprinkle the drumsticks evenly with ½ teaspoon salt and the paprika. Brown the drumsticks in 2 batches: Add half the drumsticks in a single layer, skin side down, and cook until browned on that side, about 3 minutes. Remove the browned drumsticks to a bowl, add the rest of the drumsticks, and brown on one side, about 3 more minutes. Remove to the bowl.
Sauté the onions and peppers: Add the sliced onions and peppers to the pot and sprinkle with ½ teaspoon salt. Sauté until the onions soften, about 5 minutes, occasionally stirring and scraping any stuck bits from the bottom of the pot.
Simmer the wine, everything in the pot: Add the ½ cup of wine to the pot and bring to a simmer. Simmer the wine for 1 minute, scraping the bottom of the pot to loosen any browned bits into the liquid. Add ½ cup of water, the browned drumsticks, and any chicken juices in the bowl.
Pressure Cook for 15 minutes with a Natural Pressure Release: Lock the lid. Cook on high pressure for 15 minutes in an electric PC or 13 minutes in a stovetop PC. ("Manual" or "Pressure Cook" mode in an Instant Pot.) Let the pressure come down naturally, about 15 minutes. (If you get impatient you can quick release the remaining pressure after 15 minutes of natural release.)
Serve with the pot sauce: Unlock the pressure cooker (carefully - tilt the lid away from you to avoid any hot steam.) Move the drumsticks to a platter with a slotted spoon, then ladle the sauce with onions and peppers over the drumsticks. Serve and enjoy.
Notes
Can I skip browning the drumsticks? Can I skip sautéing the vegetables? Can I just dump everything in the pot and pressure cook? Of course you can. I'm not the boss of you, and you can do whatever you want. The ingredients will all be cooked when you're done. But I don't recommend it. This is a simple recipe. It is important to brown and saute to add depth and complexity to the dish. Without browning, it's edible - but it's a pile of ingredients cooked together.
Can I cook from frozen? Not really. I know, I know, I said in the opening that I found this recipe while testing frozen drumsticks. Again, I'm not the boss of you, do whatever you want. But frozen drumsticks don't brown well, and the salt and paprika don't stick to them. (Especially ice glazed drumsticks - that layer of frozen water "protects" the drumsticks from the seasonings.) If you have to cook from frozen, rinse off any ice glaze, pat the drumsticks dry, and make sure the "brown the drumsticks" step is long enough to actually brown the drumsticks…about ten minutes per batch. Then add 5 minutes to the pressure cooking time.
Can I halve this recipe? Can I double it? Yes to both; the cooking time is the same either way. (Cooking time is determined by how long it takes to pressure cook each drumstick, not how many there are in the cooker.)
Tools
Prep Time:

10 minutes

Cook Time:

45 minutes

Category:

Weeknight Dinner

Method:

Pressure cooker

Cuisine:

Italian
What do you think?
Questions? Other ideas? Leave them in the comments section below.
Related Posts
Pressure Cooker Teriyaki Chicken and Drumsticks
Pressure Cooker Penne with Sausage and Peppers
Pressure Cooker Italian Meat Sauce
Instant Pot Doro Wat
My list of Pressure Cooker Recipes
Enjoyed this post? Want to help out DadCooksDinner? Subscribe to DadCooksDinner via email and share this post with your friends. Want to contribute directly? Donate to my Tip Jar, or buy something from Amazon.com through the links on this site. Thank you.