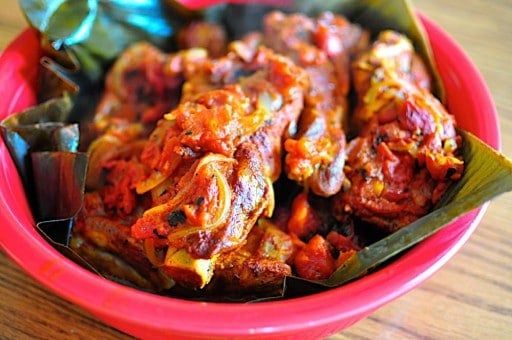 Fonda San Miguel is a restaurant in Austin, Texas that specializes in interior Mexican cuisine. Why interior Mexican? To distinguish it from the frontier Tex-Mex food that surrounds it in Texas. Not that there's anything wrong with Tex-Mex, but this meal was a whole different experience. I came back determined to make some of the food I ate while I was there.
Cochinita Pibil topped the list. It is a specialty of the Yucatan region, "pit cooked pork". It is pork shoulder, marinated in scarlet achiote paste, annato seeds and other spices ground up, then mixed with citrus juice. The pork is topped with a cooked salsa, wrapped in banana leaves, and then, traditionally, buried in a pit filled with heated stones.
I got the specialty ingredients, achiote paste and banana leaves, from my local Mexican supermercado. I was not going to dig a pit. First, there is the wife annoyance factor of a hole in the lawn. Second, and more important, a pit is way too much work. Thanks to some poor time management on my part, I didn't even have time for oven roasting; I had to pressure cook it to get dinner done on time. This wasn't a problem; the pressure cooker turned out great pibil, deeply flavored with the sweet, sour, earthy achiote.
*Don't have a pressure cooker? No problem. See the Variations section for instructions on cooking with a standard dutch oven.
Recipe: Pressure Cooker Cochinita Pibil (Yucatecan pit cooked pork)
Adapted From: Fonda San Miguel cookbook
Equipment
Print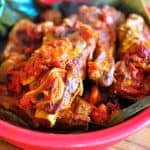 Pressure Cooker Cochinita Pibil (Yucatecan pit cooked pork)
---
Author:

Mike Vrobel

Total Time:

1 hour 35 minutes

Yield:

6

-

8

servings

1

x
Description
Pressure Cooker Cochinita Pibil - Yucatecan pit cooked pork in the pressure cooker. A classic of Mexican cuisine, sped up in the pressure cooker.
---
1 teaspoon

vegetable oil

1

medium onion, peeled and sliced

½ teaspoon

kosher salt

15 ounce

can fire roasted diced tomatoes
Half of a 3.5 ounce package of achiote paste

¼ cup

orange juice (juice of

1

orange)

¼ cup

cider vinegar (or lime juice)

2 teaspoons

kosher salt

3

pounds pork shoulder roast, cut into 1 ½" strips (sold at my grocery store as "western ribs")

2 teaspoons

kosher salt

½ cup

water
Two

10

inch by 24 inch pieces banana leaf (optional)
---
Instructions
Saute the salsa: Heat 1 teaspoon vegetable oil in a large saucepan over medium-high heat until shimmering. Add the sliced onion, sprinkle ½ teaspoon kosher salt on the onion, and saute until just starting to soften, about 3 minutes. Add the diced tomatoes to the pot, bring to a boil, then reduce the heat to low and simmer while you prepare the rest of the ingredients.
Rub the ribs with achiote marinade: Put the achiote paste in a large bowl with the orange juice, cider vinegar and 2 teaspoons kosher salt. Using a fork, mash and stir the achiote paste into the liquid until thoroughly mixed. Remove one tablespoon of the achiote marinade and stir it into the simmering tomatoes. Sprinkle the pork strips with 2 teaspoons kosher salt, then add to the bowl with the achiote marinade and toss until the ribs well coated.
Pressure cook the pork: Put ½ cup of water into the pressure cooker. Then put one piece of banana leaf in the cooker, and put the second piece across it to make an X. Put the pork in the middle of the banana leaves. Put the simmered tomatoes and onions on top of the pork, then fold the banana leaves over the pork and tuck them in underneath it. Lock the lid on the pressure cooker. Cook at high pressure for 60 minutes in an electric PC or 50 minutes in a stovetop PC, with a natural pressure release, about 20 minutes.
Serve the pork: Open up the banana leaves and remove the pork, tomato and onions to a platter. (For a nice presentation, use one of the banana leaves to line the serving platter.) Spoon a couple of ladles of the liquid in the pot over the top of the pork, and serve.
Prep Time:

15 minutes

Cook Time:

1 hour 20 minutes

Category:

Pressure Cooker

Cuisine:

Mexican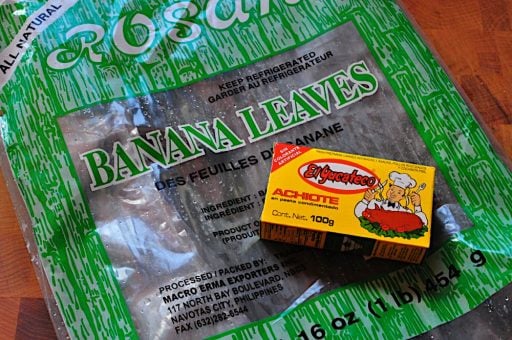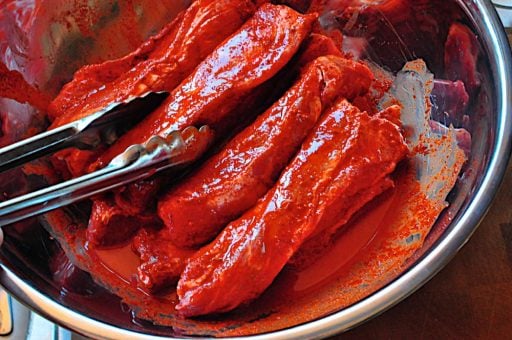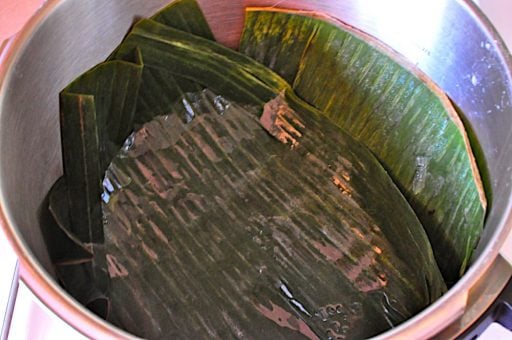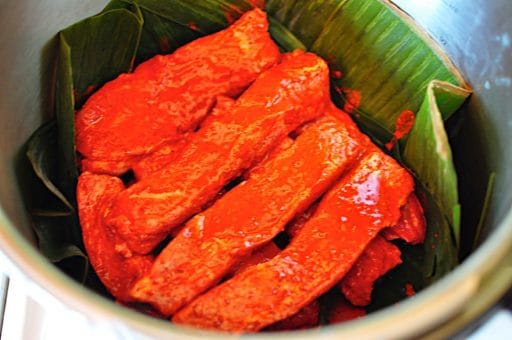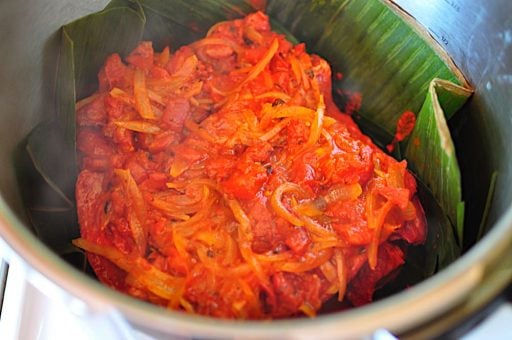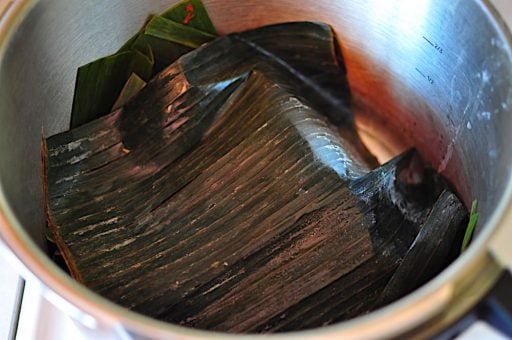 Notes
Don't have a pressure cooker? No worries. Use a heavy bottomed dutch oven with a lid, and increase the amount of water to 1 cup. Follow the instructions right up until "lock the lid". Then, instead of pressure cooking, bring the pot to a boil, and cover with the lid. Move the pot to a preheated 350*F oven and bake for 3 hours, until the pork is tender. Continue with the serving step.
Can't find banana leaves? They are optional. You can wrap the meat in aluminum foil, or just skip them. You can skip the achiote paste as well, if you have to. It will taste great, but it won't really be cochinita pibil. But, really, to make this recipe, you should search out your local Mexican grocery for those two ingredients.
In a hurry? Buy pre-mixed achiote marinade, and pre-made tomato salsa.
Achiote paste stains whatever it touches. (Ground annato seeds, the base for achiote paste, are used to make red dye.) I try to contain the mess in a glass or metal bowl (not plastic - it will also stain). Other options are to wear latex gloves, or live with red fingers for a few days.
Serve with pickled red onions, refried beans (preferably black beans), mexican crumbling cheese (substitute  feta or pecorino romano), and lots of tortillas.
What do you think?
Questions? Other ideas? Leave them in the comments section below.
Related Posts
Pressure Cooker Pinto Beans in Tex-Mex Broth
Pressure Cooker Pork Stew with Sweet Potatoes and Prunes
My other Pressure Cooker Recipes
Adapted from:
Fonda San Miguel: Thirty Years of Food and Art
*Enjoyed this post? Want to help out DadCooksDinner? Subscribe using your RSS reader or by Email, recommend DadCooksDinner to your friends, or buy something from Amazon.com through the links on this site. Thank you!