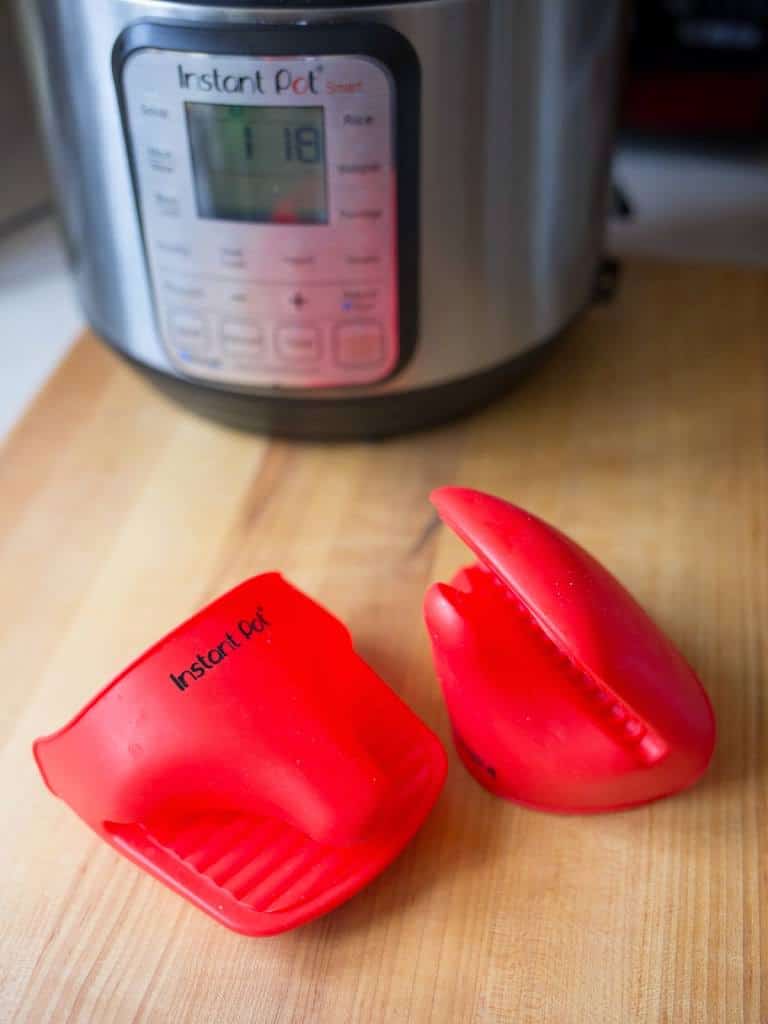 I gave in to gadget lust and bought the new Instant Pot IP-Smart pressure cooker; a pair of silicone mini-mitts came in the box. When I first saw them, I thought "why would I bother with those tiny things"?
Side note: The new Instant Pot IP-Smart pressure cooker is the same machine as my favorite pressure cooker, the Instant Pot Duo. The IP-Smart adds a bluetooth connection, a smartphone app, a fancy blue backlight on the redesigned display, and a few extra program modes. If money is no object, or you really love the idea of directing your pressure cooker from your phone, it's an excellent pressure cooker, every bit as good as the IP-DUO. But, I can't recommend it at double the price of the IP-Duo. You wind up paying a huge premium for bluetooth connectivity.
Now that I'm using the mini mitts, they don't seem tiny; they're perfectly sized. They are a silicone version of the pinch potholders I have come to love. They make it easy to grab the pot liner lip that sticks out of the pressure cooker body, and the waterproof silicone means I don't worry about hot liquid seeping into the holder if I accidentally dip my finger in the hot liquid in the pot. Now I use these mitts all over the kitchen. The only time the smaller size was a problem was a careless grab of my cast iron skillet. I choked up on the heavy skillet, and the handle reached past the edge of the mitt and up to the bare skin on my wrist. "Branding Iron Hot" is not a euphemism - I still have a burn on the base of my palm.
But I digress. If you're looking for a cheap and useful addition to your pressure cooking toolkit, these mini-mitts are perfect. Highly recommended.
Oh, and did I mention how cute they are? I want to draw eyeballs on one and do my Kermit the Frog impression.
I had to. It's not easy being red.
What do you think?
Questions? Other ideas? Leave them in the comments section below.
Related Posts
What Pressure Cooker Should I Buy?
Pressure Cooker Recipe Index
Enjoyed this post? Want to help out DadCooksDinner? Subscribe to DadCooksDinner via eMail or RSS reader, recommend DadCooksDinner to your friends, and buy something from Amazon.com through the links on this site. Thank you.