I'm a fan of shoulder cuts of meat, like beef chuck and pork butt. Lamb shoulder is another of my favorites, but it can be harder to find in my local grocery stores. It is worth the effort to hunt down. Lamb shoulder gives you all the advantages of shoulder cuts; it is tough to overcook, well marbled with fat, and has lots of connective tissue that melts into tender gelatin, if it is cooked long enough  As a bonus, lamb shoulder is cheaper than the "better" cuts from the loin and leg, but still gives you the distinctive flavor of lamb.
Luckily, I have a source for my lamb shoulder. I put in a special order for a boned and tied lamb shoulder roast from the Great American Lamb company, and picked it up at the Cuyahoga Valley Winter Farmer's Market last month.
*Don't be afraid to talk to your butcher! They are happy to special order cuts like this, as long as they have some advance notice. It will also show your butcher that you have a seriousness of purpose, and will probably get you better service next time.
Recipe: Rotisserie Lamb Shoulder

Equipment:
Grill with Rotisserie attachment (I used a Weber Summit 650 with an infrared rotisserie burner. Here it is.)
Aluminum foil drip pan (9"x12", or whatever fits your grill)
Butcher's twine
Ingredients:
3 to 4 pound boneless lamb shoulder roast
1 teaspoon kosher salt
3 cloves garlic, minced
1 tablespoon minced fresh rosemary
1 teaspoon lemon zest
Rosemary olive oil baste
¼ cup olive oil
2-3 sprigs fresh rosemary (tied together to make a brush)
Directions:
1. Dry brine the lamb shoulder (optional): One to two days before cooking, remove the lamb from any wrapping or netting, and rinse under cold water. Pat dry with paper towels, then trim the exterior fat from the lamb shoulder. Open the lamb up if it is rolled - there should be an "inside" and an "outside". Sprinkle the lamb evenly with the salt, then put it with the inside facing up in a baking dish. Sprinkle with the garlic, minced rosemary, and lemon zest. Cover with plastic wrap and refrigerate until ready to cook.
*If you don't have the time for the dry brine, do this step just before cooking.
2. Prepare the lamb shoulder for cooking: Two hours before cooking, remove the lamb from the refrigerator. Roll the lamb into a tube shape, and truss every two inches with the twine. Skewer the lamb lengthwise with the spit for your rotisserie. Let the lamb rest at room temperature until it is time to cook.
3. Prepare the grill: Set your grill up for rotisserie cooking at medium heat. For my Weber Summit, this means removing the grates, turning the two outer burners (burners 1 and 6) to medium, and turning the infrared burner to medium. Then I put my drip pan in the middle, over the unlit burners, and let the grill preheat for ten to fifteen minutes. (See My Rotisserie Basic Technique Post for more rotisserie setup details.)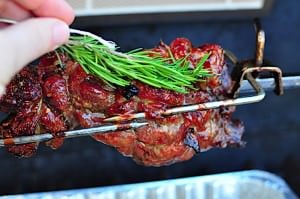 4. Cook the lamb: Put the spit on the rotisserie, start it spinning, and cook with the lid closed. After one hour of cooking, baste the lamb with the olive oil, using the rosemary brush. (Also, if you have an infrared rotisserie burner, turn it off after one hour of cooking, when the exterior of the lamb should be well browned.) Baste the lamb with the olive oil and the rosemary brush every 15 to 30 minutes until the lamb is done. Cook until the lamb reaches an internal temperature of 180*F, measured in the thickest part of the roast. This should take 1 hour 15 minutes to 2 hours, depending on the thickness of the roast. Start checking the lamb's temperature after 30 minutes, and watch out for the spit - it can throw the reading off.
*This roast was on the small side, slightly under 3 pounds, so it took 1 hour and 15 minutes to cook.
**Shoulder cuts need to be cooked to well done. If you want medium-rare lamb, cook a lamb leg instead.
5. Serve: Remove the spit from the grill, remove the lamb from the spit, and remove the twine from the roast. Baste one last time with the olive oil and rosemary brush, then let rest for 15 minutes. Slice the lamb into ½" thick slices, and serve.
Notes:
*Normally, shoulder cuts give you a large cushion in cooking - they're tough to overcook. However, my lamb wound up with a very thin section on one end when I was done tying it. That section overcooked by the time the lamb was cooked through in its thickest part. It wasn't awful, but it was a little chewy. My lesson? Next time, I'm going to try to truss it into a more even shape.
*When I think of lamb on the rotisserie, I think of Greek food, thanks to "My Big Fat Greek Wedding". Even though this is more of a generic Mediterranean flavor profile, I served this roast with a Greek salad and tzatziki sauce. And, as I've said many times, leftover lamb is begging to be used in gyros. Just buy some pita bread, make some more tzatziki sauce, thin slice some red onion, and dinner's ready.
What do you think? Questions? Other ideas? Leave them in the comments section below.
Related Posts:
Rotisserie Boneless Leg of Lamb, Greek Style
Rotisserie Leg of Lamb Provencal
Rotisserie Beef Chuck Roast Barbacoa
Click here for my other rotisserie recipes.
Inspired by:
Boned and tied lamb shoulder from the Great American Lamb company at the Cuyahoga Valley Winter Farmer's Market
---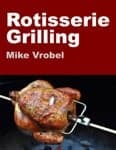 Check out my cookbook, Rotisserie Grilling.

Everything you could ask about the rotisserie,
plus 50 (mostly) new recipes to get you cooking.

It's a Kindle e-book, so you can download it and start reading immediately!
---
*Enjoyed this post? Want to help out DadCooksDinner? Subscribe to DadCooksDinner using the RSS or Email options on the right, link to this post from your blog, recommend DadCooksDinner to your friends, or buy something from Amazon.com
through the links on this site. (Like my Rotisserie Grilling cookbook...)