I'm a big fan of beef*, but not beef prices.
*I don't think any of my blog readers would confuse me with a vegetarian.
Beef rib roast is my favorite, but it can be very expensive. What do I do when I want a beef roast, but don't want to spend an arm and a leg? I cook a chuck roast, from the shoulder of the steer.
*Arms? Legs? Shoulders? What is this, an anatomy lesson? Well, sort of. Read on...
Shoulder meat is tougher than the expensive cuts, but it contains a lot of connective tissue that will melt into tender collagen if you cook it long enough. The traditional way to do this is a pot roast, but I've become a fan of cooking beef chuck low and slow on the grill. If you give it long enough, it comes out nice and tender.
I'm cooking a Tex-Mex version of pot roast, called Barbacoa. It's adapted from a recipe by Rick Bayless. He puts the meat (in his case, lamb shoulder) on the grill rack over a pan, and then uses the pan to make a side-dish soup at the same time the roast is cooking. I knew it would be perfect on the rotisserie. You're already suspending the meat over the soup, why not give it a spin while it's there?
*Rick's recipe has my favorite sentence in a recipe, ever. But you're going to have to have patience; the Rotisserie Soup recipe is coming later this week.
**Update: The Rotisserie Soup recipe is here! Make sure you make this with the Barbacoa. You won't regret it.
Recipe: Rotisserie Beef Chuck Roast Barbacoa

Cook time: 2 hours
Equipment:
Ingredients:
4 lb boneless beef chuck roast
3 teaspoon kosher salt
1 teaspoon fresh ground black pepper
1 teaspoon Ancho chile powder
1 teaspoon garlic powder
Directions:


1. Prepare the chuck roast: 2 hours before cooking, sprinkle the chuck roast with the salt, pepper, chile powder, and garlic powder. Let rest in the refrigerator.


2. Truss and skewer the roast: One hour before cooking, remove the roast from the refrigerator. Tie the roast with butcher's string every 1.5 inches, then skewer through the thickest part with your rotisserie spit. Make sure the prongs are in the roast, to help secure it to the spit. Let it rest at room temperature until ready to cook.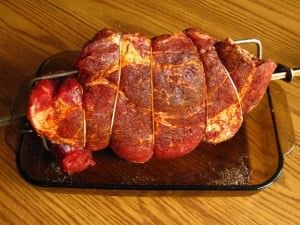 3. Prepare the grill: Prepare your rotisserie for cooking on indirect medium heat (see details My Rotisserie Basic Technique Post). For my Weber kettle, I light a chimney starter* ½ full of charcoal, wait for it to be covered with ash, then pour it in two equal piles on the sides of the grill, and put the drip pan in the middle, between the piles. (If you're making the companion soup recipe, this is the pan that the soup will be cooking in.)
*I highly recommend the Weber Chimney Starter
, because it is larger than most chimney starters. It holds 5 quarts of charcoal, which exactly the right size for cooking this recipe.


4. Cook the roast: Put the spit on the rotisserie, start it spinning, and cook with the lid closed. Every hour, add 8 coals to each side of the grill (16 coals in all) to keep the heat going. You want to be cooking on low heat - the grill shouldn't get much above 350*F, and 250*F to 300*F is better. The roast will cook for 2 to 3 hours. It is done cooking when it reaches an internal temperature of 185*F measured in the thickest part of the roast. (This was a thin roast; it was 2" thick, and it took just barely 2 hours to cook. A thicker roast would take longer, of course.)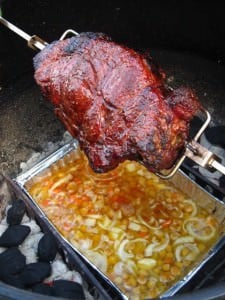 5. Serve: Remove the spit from the grill, and let rest for 15 minutes. Remove the roast from the spit, remove the butcher's twine, and slice the roast into ½" thick slices.
Lots of beef, a little soup on the side...
Variations:
*Salt and Pepper roast: If you want a simple roast, skip the other spices, and just use salt and pepper.
*Barbecue chuck roast: Skip pepper, chile powder, and garlic powder; use a barbecue rub instead. Then, for the last ten minutes of cooking, brush the roast with some barbecue sauce to give it a nice, glazed coating. Serve with the barbecue sauce on the side.
*Lamb shoulder roast: In the original version of this recipe, Rick Bayless used lamb shoulder instead of beef shoulder; the cooking times are similar.
*Want the easy way out? Cook your barbacoa in a slow cooker. (Recipe here.)
Notes:
*Serve with tortillas, tomatillo salsa, some sprigs of cilantro, and crumbled queso fresco. Pickled red onions also go really well with it. Oh, and some margaritas, of course. And did I mention the companion soup recipe, coming later this week?
*Chuck roast is a cut that is full of connective tissue. To get that connective tissue to melt, and give you a tender roast, you have to cook it to well done. It's almost impossible to overcook it. If you have any doubts, keep on cooking. If you want a medium-rare cut of beef, see my Rotisserie Rib Roast recipe in the Related Posts section.
*That said, the roast wasn't quite as fall apart tender as you get with a pot roast. Next time, I'm going to try cooking it to 185*F, then wrapping it in foil (still on the spit) and cooking for another half hour to an hour, to see if I can break down some more of the connective tissue.
What do you think? Questions? Other ideas? Leave them in the comments section below.
Related Posts:
Click here for the companion recipe, Rotisserie Soup Barbacoa Style
Click here for my Rotisserie Beef Rib Roast recipe.
Click here for my other rotisserie recipes.
Adapted from:
Rick Bayless's Mexican Kitchen
---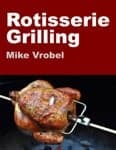 Check out my cookbook, Rotisserie Grilling.

Everything you could ask about the rotisserie,
plus 50 (mostly) new recipes to get you cooking.

It's a Kindle e-book, so you can download it and start reading immediately!
---
*Enjoyed this post? Want to help out DadCooksDinner? Subscribe to DadCooksDinner using the RSS or Email options on the right, link to this post from your blog, recommend DadCooksDinner to your friends, or buy something from Amazon.com
through the links on this site. (Like my Rotisserie Grilling cookbook...)