Rotisserie turkey breast is the easiest rotisserie recipe I have. Yes, I know that cooking on the rotisserie is a bit of a hassle. You have to hook up the motor, truss your meat, skewer it, and find someplace to put the searingly hot spit when you're done. Why do I go through all that? Results. Rotisserie cooking just works better than roasting.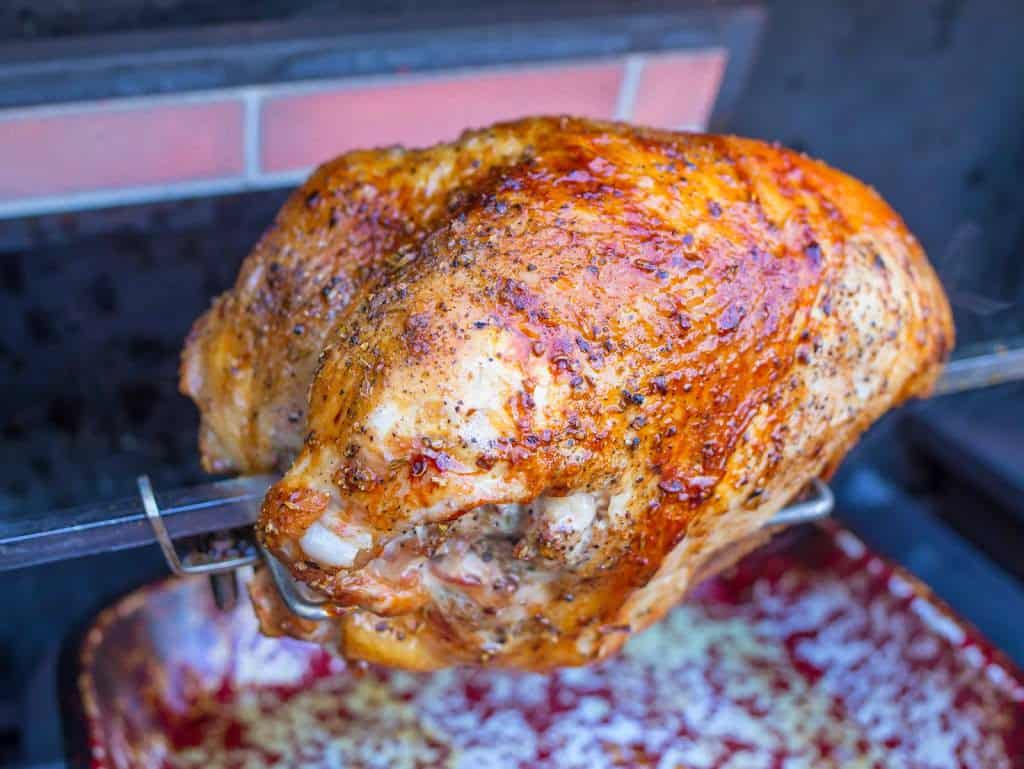 Look at the skin in the picture! Rotisserie cooking gives you perfect browning, and browning is the maillard reaction giving you flavor. Also, the meat just seems juicier after I've cooked it on the rotisserie.
I love cooking a whole turkey, but it's a lot of meat. If I'm just feeding my wife and the kids, then a turkey breast is a more reasonable amount to cook. Even so, it's still a lot of food. I plan a few extra meals around the leftovers.
*If you're like me, then the leftovers are the best part of Thanksgiving. With this recipe, you can have those leftovers whenever you want.
Turkey breast can be pretty bland, so we're going to use a dry brine, inspired by Judy Rodgers of San Francisco's Zuni Cafe. The dry brine seasons the breast and deepens the turkey flavor. It's impressive how such an easy technique improves the results. All you need is time - you have to salt the breast at least a day ahead.
Dry brining has been the secret to a couple of my other recipes, and I've started to prefer it to the wet brine I used to use all the time. Just don't use it with pork; it doesn't work as well as a traditional brine. See my When should you salt meat? article for the details.
Print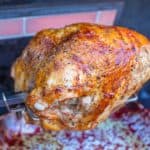 Rotisserie Turkey Breast, Dry Brined
---
Author:

Mike Vrobel

Total Time:

26 hours

Yield:

10

servings

1

x
Description
Rotisserie Turkey Breast, Dry Brined. Nothing more than a salt brine and rotisserie cooking yields a simple and fantastic turkey breast.
---
1

whole turkey breast, bone-in (

6

-

7

lbs)

4 teaspoons

kosher salt (or

3 teaspoons

fine sea salt)
---
Instructions
Dry Brine the Turkey: 1 to 2 days before cooking, salt the turkey. Rub 2 teaspoon of salt in the big cavity, then work the skin loose from the breast, being careful not to tear it, and rub 1 teaspoon of salt on each breast. Set the turkey in a baking dish, cover with plastic wrap, and refrigerate for at least 24 hours, and up to 2 days.
Prepare the grill: Set your grill up for rotisserie cooking at medium heat (about 350°F internal temperature). For my Weber Summit, this means turning the two outer burners (burners 1 and 6) to medium, and turning the infrared burner to medium. Then I put my drip pan in the middle, over the unlit burners. (See my basic rotisserie poultry technique for more rotisserie setup details.)
Truss and Skewer the Turkey: If there is loose skin on the turkey around the wings and the neck, trim it off. Skewer the turkey on your spit, running the prongs under the belly of the bird, so you don't pierce the meat on the breast. (See the picture below, where the turkey is upside down.)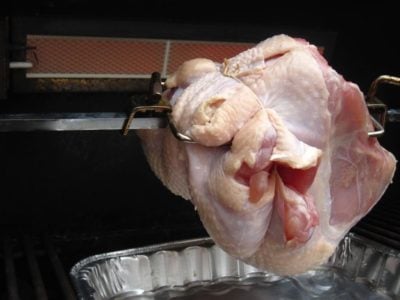 Cook the Turkey to 160°F: Put the spit on the grill, and turn on the rotisserie motor. Cook with the lid closed. It should take 1 ½ to 2 hours, depending on the size of the breast. My 7 pound breast was done in 1 hour and 50 minutes. It's better to cook to temperature, though - the thickest part of the breast should read 160°F to 165°F. Start checking the temp after an hour, and every 15 minutes after that. Turkey breast gets very dry when overcooked, so please don't go above 165°F.
Serve: Remove the turkey from the spit, and let rest for 15 minutes before carving. I like to cut the breast halves from the carcass, then slice them crosswise into ¼-inch thick slices. Serve with the juices in the drip pan, if they're not sooty from your fire. (On a gas grill, this isn't a problem, but check them if you're using charcoal.)
Equipment
Prep Time:

24 hours

Cook Time:

2 hours

Category:

Sunday Dinner

Method:

Rotisserie

Cuisine:

American
Keywords: Rotisserie Turkey Breast Dry Brined
Turkey Breast Tips
Serve with rotisserie pan potatoes and a salad, and you have an easy, healthy meal. Mashed sweet potatoes are another great accompaniment.
As I mention in the recipe, the key is to cook the breast to 160*F - turkey breast is so lean, that it goes from juicy to terribly dry at just above 165*F. You really need an instant read thermometer to tell if your turkey breast is cooked.
Leftovers make wonderful turkey sandwiches. I will cook this recipe just to get the leftovers, really; it gives me meat for sandwiches and soup all week.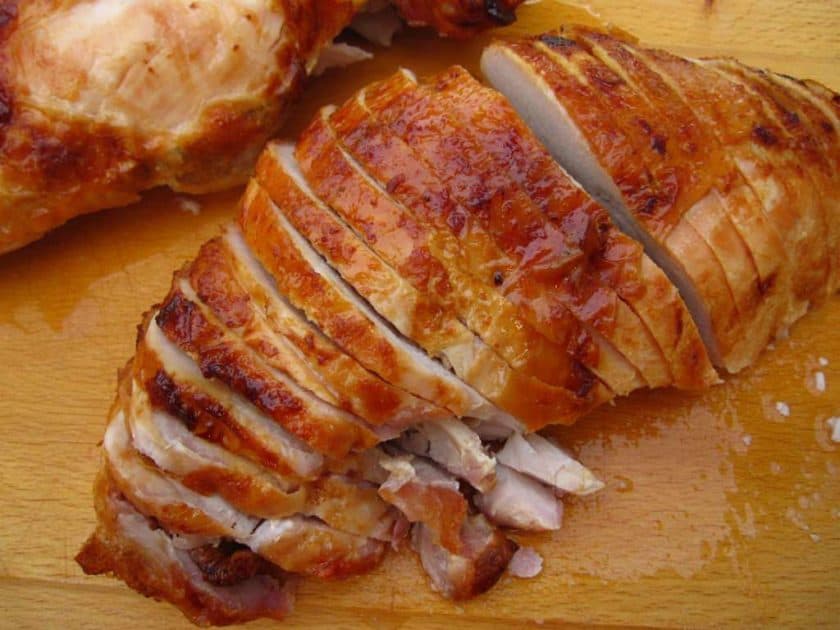 What do you think? Questions? Other ideas? Leave them in the comments section below.
Related Posts
Rotisserie Pan Potatoes are a great side dish to cook with this recipe.
Rotisserie Turkey Breast with Spice Rub
Rotisserie Turkey, Dry Brined with Orange and Spices (The whole bird on a charcoal grill)
Rotisserie Turkey with Cajun Dry Brine (The whole bird on a gas grill)
Click here for my other rotisserie recipes.
Inspired by:
Russ Parsons, It's the turkey everyone loves [latimes.com]
Judy Rodgers, The Zuni Cafe Cookbook
---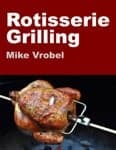 Check out my cookbook, Rotisserie Grilling.

Everything you could ask about the rotisserie,
plus 50 (mostly) new recipes to get you cooking.

It's a Kindle e-book, so you can download it and start reading immediately!
---
*Enjoyed this post? Want to help out DadCooksDinner? Subscribe to DadCooksDinner using the RSS or Email options on the right, link to this post from your blog, recommend DadCooksDinner to your friends, or buy something from Amazon.com
through the links on this site. (Like my Rotisserie Grilling cookbook...)