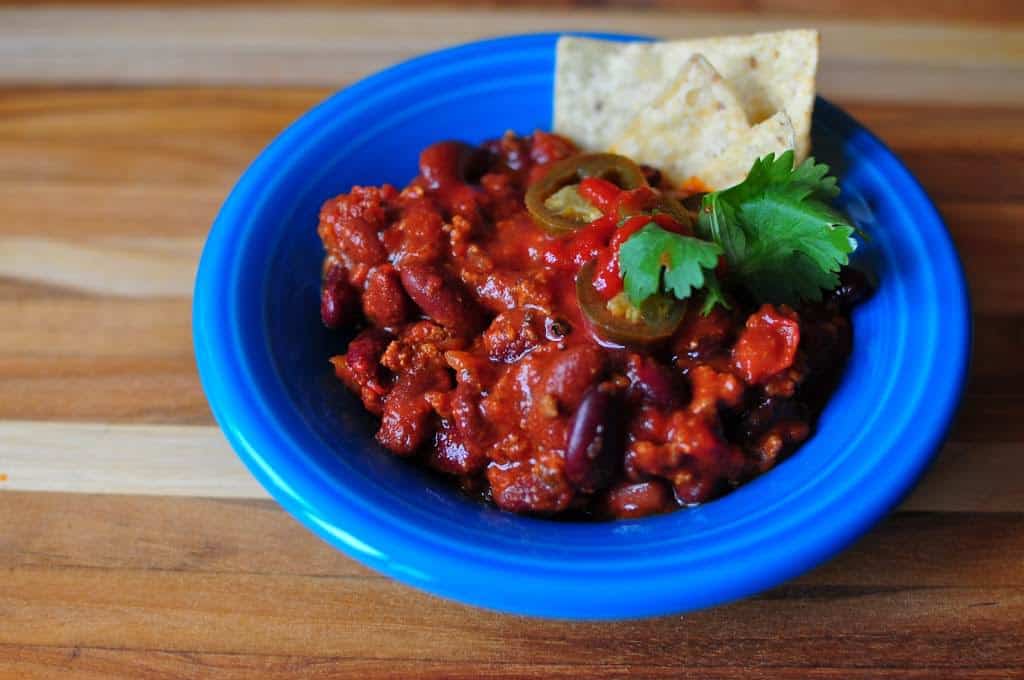 What do I make on a weeknight, when I need a quick, warming meal? Ground beef and bean chili. Sure, purists call this chili for sissies. As far as they're concerned, if there are beans and tomatoes in it, I might as well be wearing a dress when I make it. You know what? I don't care. Sissy or not, this is the chili I grew up with, the first one I learned to make on my own. Sure, it's not a bowl of Texas red. It doesn't have to be; it's a great style of chili all on its own.
*Sorry for the mental picture of me in a dress. I hope you're not scarred for life...
This is the chili that converted my kids. They flinch when served a meal with everything mixed together. The kids want to be able to identify all the ingredients, preferably separated by at least an inch on their plates, so they don't have any of the yucky stuff touching the good stuff. One pot meals are not popular around here....but I make this chili so often that it wore them down. First, they covered it with shredded cheese...and ate the cheese off the top. Then they started fishing out the kidney beans. Soon, the ground beef was acceptable as well. Now, two of the three get excited when I make chili.
*The third? He wants his chili made entirely from chunks of beef. Great. I'm raising a chili purist.
Recipe: Slow Cooker Chili with Ground Beef and Beans

Adapted From: Editors at America's Test Kitchen Slow Cooker Revolution
Cook time: 10 hours
Equipment:
Ingredients:
2 tablespoons olive oil
2 large onions, diced
½ teaspoon kosher salt
4 cloves garlic, crushed
⅓ cup tomato paste (half of a 6 ounce can)
¼ cup chili powder
1 tablespoon ground cumin
1 tablespoon ground coriander
1 tablespoon dried oregano (preferably mexican oregano)
1 tablespoon chipotle en adobo puree
2 pounds ground beef (preferably 85% or leaner)
1 teaspoon kosher salt
½ teaspoon fresh ground black pepper
½ cup water
28 ounce can crushed tomatoes
28 ounce can diced tomatoes
4 (15 ounce) cans red kidney beans
1 tablespoon soy sauce
1 tablespoon brown sugar
1 teaspoon cider vinegar
Directions:
1. Saute the meat and aromatics:
Heat the oil in a large pot over medium-high heat until shimmering. Add the onion and ½ teaspoon kosher salt, and saute until the onion is softened, about 4 minutes. Stir in the garlic, tomato paste, chili powder, cumin, coriander, oregano, and chipotle. Saute until the tomato paste darkens, about 2 minutes. Add the ground beef sprinkle with 1 teaspoon salt and ½ teaspoon pepper, and saute until the meat just loses its pink color. Increase the heat to high, add the water, and bring to a boil, scraping any browned bits from the bottom of the pan. Stir in the tomatoes, beans, soy sauce and brown sugar, and bring to a simmer.
2. Slow cook the chili:
Transfer the ingredients to the slow cooker, cover, and cook on low heat for 8 to 10 hours or high heat for 4 to 5 hours.
3. Serve: Stir in the teaspoon of cider vinegar, add more salt and pepper to taste, and serve.
Notes:
*Garnish with: diced onions, sour cream, shredded cheese, pickled jalapenos, minced cilantro, and tortilla chips.
*Soy sauce may seem strange in this recipe. It's a trick I learned from Cooks Illustrated; it adds meaty umami flavor to the chili.
*A number of readers have asked about my All-Clad slow cooker. It's not really worth three hundred dollars, is it? Well, if low cost is important…of course not. A decent slow cooker costs thirty dollars. But… If you can afford it, the All-Clad Deluxe Slow Cooker is a joy to use. If you can afford it, the stovetop safe insert is worth the cost. No extra pot to clean! Use the cast aluminum insert to saute and brown on the stovetop, add the other ingredients to the insert on the stove, bring to a simmer, and drop the whole thing in slow cooker base.
What do you think? Questions? Other ideas? Leave them in the comments section below.
Related Posts:
Slow Cooker Bolognese Sauce
Slow Cooker Mexican Shredded Pork Tinga
Slow Cooker Pot Roast, Tex Mex Style
Adapted from:
Editors at America's Test Kitchen Slow Cooker Revolution

*Enjoyed this post? Want to help out DadCooksDinner? Subscribe using your RSS reader or by Email, recommend DadCooksDinner to your friends, or buy something from Amazon.com through the links on this site. Thank you!