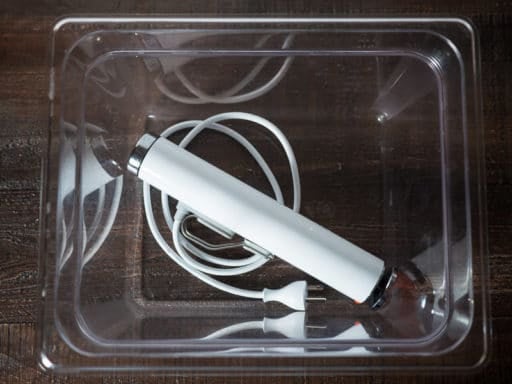 Sunday's picture of sous vide salmon resulted in some questions about my sous vide setup. Here's what I currently use:1I say currently because I am such a gadget hound. This is probably everything I need - this is MORE than everything I need - but I'm always watching for the new new thing.
I love the compact Joule Sous Vide from the guys over at ChefSteps.com. The downside? It only works through the Joule app. The upside? It works with the Amazon Echo dot I have in the kitchen, so I don't even have to open my phone:
Video:
Alexa and Joule
[YouTube.com]
The other downside is multiple Joules don't work with the app. (Yet. ChefSteps says it is coming in an app update at some point in the future.) I do occasionally want to run more than one sous vide at once, so I'm keeping my Anova Sous Vide around until they get that fixed.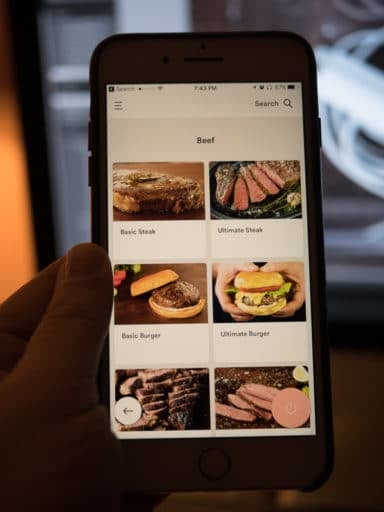 If you're not an Alexa or phone app kind of person, and want a manual control you can put your hands on, darn it…get the Anova Sous Vide instead of the Joule.
The LIVAPI Model C10 is a 12 quart polycarbonate food container. I love the size - it's large enough for almost all of my sous vide cooking, but compact enough to easily fit on my pantry shelving in the basement. I also love the matching C10L Custom Cut Lids - they have them cut for different width sous vide circulators, including both my Joule and Anova. I also like the very narrow lip on the edge of the containers. It makes it easy to clip on my circulator - the larger, sturdier lip on my regular Cambro container just gets in the way.
I just bought a LIVAPI Model C20 - the jumbo 26 quart container - for the times I need extra space. (Like in the salmon picture - this was a very long piece of frozen fish, and it was too big to fit in the C10.) It is twice the size, and I only need it occasionally - but when I need the space, I really need it. And, it is much more convenient than pulling out my jumbo Coleman cooler.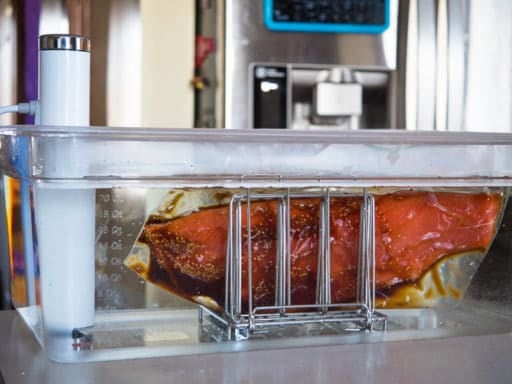 LIVAPI sells multiple size racks to go with their containers - I have the L10 rack that fits in the C10 sous vide container. I love the adjustability of these racks - the walls slot into tabs in the base; I can move them around to get the spacing I need. LIPAVI has racks for a bunch of different size containers. The round R20 rack, designed to fit in stock pots, is especially cute.
Vacuum Sealer
This is the next place I'm want to upgrade, but the cheap FoodSaver Vacuum Sealer I bought years ago keeps chugging along. Sure, I'd love a ridiculously expensive chamber vacuum sealer, so I can seal bags with liquid in them. (My pump vacuum sealer makes a mess of marinades.) Never mind that I don't have the counter space to fit it, or any reasonable justification of the $700+ price. That doesn't mean I don't lust after one, however.
Do I need all of this?
It's not absolutely necessary, especially if you're just starting out, and want to try sous vide without committing to expensive equipment. You can take the bubba sous vide road and use a beer cooler, hot water, and a thermometer to get the water close to where you need it. Just limit yourself to quick-cooking, thin cuts of meat - no 6 hour cooks, let alone multi-day, 48 hour sous vide sessions.
But, if you get into sous vide cooking, you'll want to upgrade to a decent circulator, and get a dedicated container. The right equipment makes sous vide quick and easy. Not just for long cooks - it makes sous vide a weeknight cooking method. I can get home, throw a few steaks in there from the freezer, and dinner will be ready in about an hour with minimal effort.
What do you think?
Questions? Other ideas? Favorite sous vide equipment? Talk about it in the comments section below.
Related Posts
Enjoyed this post? Want to help out DadCooksDinner? Subscribe to DadCooksDinner via eMail or RSS reader, recommend DadCooksDinner to your friends, and buy something from Amazon.com through the links on this site. Thank you.