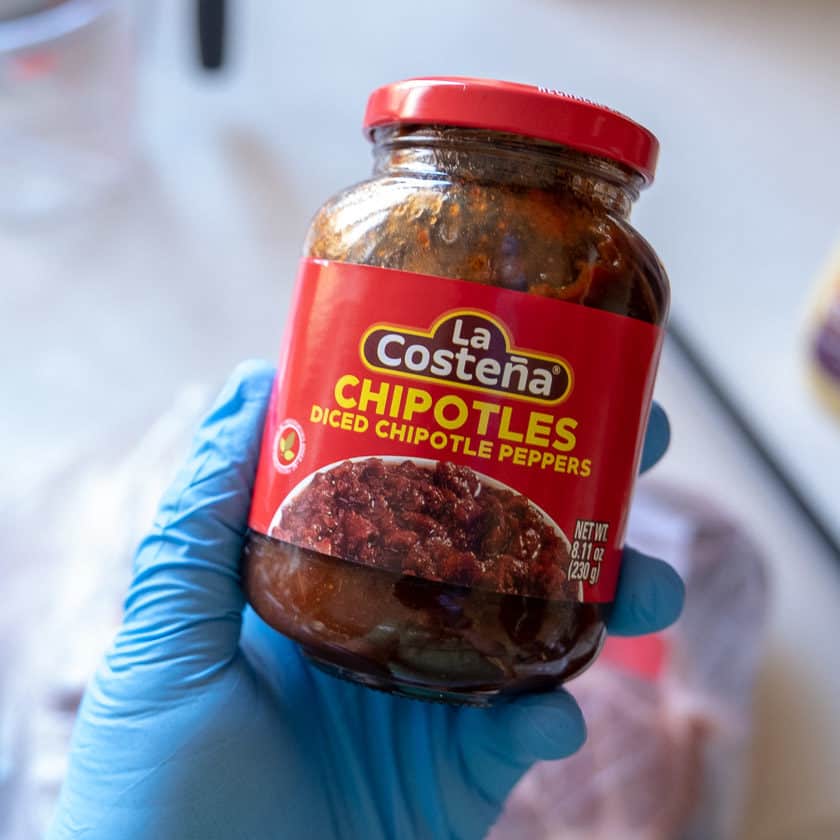 This is a callback to my first DadCooksDinner post. It was a recipe for pureed chipotle en adobo. Calling it a "Recipe" is hyperbole; at most it's a cooking hack. Dump a can of chipotle peppers into a food processor and pulse until smooth. I had to start with it because I use it in my second post, Quick Red Salsa.
I add chipotle puree to anything that needs some heat, from pork chop glaze to sweet potatoes to chili. (Especially chili.) I keep a container of chipotle puree stashed in the back of my refrigerator, in case of emergency.
About a year ago, I used up the last of my puree, and went to my local Mexican market to stock up. And there, next to the cans of chipotles en adobo, I found this jar of La Costena Diced Chipotle Peppers. They pre-chopped the chipotles for me! I mean, sure, I love my own "recipe", but if they're willing to do the work for me, I have to at least try them. And…they're a great substitute for my homemade puree. I've gone through a few jars in the last year, and I keep one in my refrigerator door, ready in case I need to spice something up.
Here's an Amazon link, but…try to find them locally. The sellers on Amazon are marking them up a lot; I can get a jar for $3 to $4 at my local market.
La Costena Diced Chipotle Peppers, 8.11oz jar
Related posts
Chipotle in Adobo Puree - DadCooksDinner
Quick Red Salsa - DadCooksDinner
Grilled Pork Ribeye Chops with Chipotle, Agave, and Tequila Glaze - DadCooksDinner
Pressure Cooker Sweet Potato Puree - DadCooksDinner
Pressure Cooker Texas Red Chili - DadCooksDinner
What do you think?
Questions? Other ideas? Leave them in the comments section below.
Enjoyed this post? Want to help out DadCooksDinner? Subscribe to DadCooksDinner via email and share this post with your friends. Want to contribute directly? Donate to my Tip Jar, or buy something from Amazon.com through the links on this site. Thank you.