Every year I ask you, my readers, to make turkey stock with the bones from your Thanksgiving turkey.
"OK", you say, "I made turkey stock from my twenty pound bird. Six quarts of stock are filling up my freezer. There's no room for the ice cream. Now what?"
It's time to make soup, of course.
Japanese miso soup, to be exact, with udon noodles. It's a great way to use up the last of the turkey, and some of that tasty stock you made.
You can find miso, a thick, fermented soybean paste, in tubs in the refrigerator section of well stocked grocery stores. (Or, of course, any Asian markets in your area.) Miso is a fabulous flavor enhancer, adding depth and body to anything it is used in.
Miso paste clumps up if you add it directly to the soup. Stir it with a little of the turkey broth first to make a miso slurry, then stir that into the soup.
*If you can find Miso and Easy, a bottle of liquid miso, buy it. It's a quick way to add miso whenever you need a little extra umami.
Looking for another Japanese soup? Try chanko nabe - my Instant Pot Japanese chicken meatball soup.
Recipe: Turkey Miso Noodle Soup
Cooking time: 25 minutes
Ingredients
8 ounces dried udon noodles (or 12 ounces fresh)
1 tablespoon vegetable oil
1 large leek, dark green leaves trimmed, rinsed, sliced thin (or substitute a medium onion, peeled and sliced thin)
1 clove garlic, crushed
8 ounces shitake or portobello mushrooms, sliced
2 quarts turkey stock (homemade from your thanksgiving turkey carcass, or substitute chicken stock)
2 cups of cubed, cooked turkey breast (about ½ a breast)
2 tablespoons miso paste
salt to taste (about 1 tablespoon kosher)
½ of a small head of cabbage, sliced thin
1 large carrot, peeled and sliced thin
1 red bell pepper, sliced thin
1 serrano or jalapeño pepper, sliced thin
2 green onions, trimmed and sliced thin
Directions
1. Cook the udon noodles
Cook the udon noodles according to the package directions, drain, and rinse with cold water.
2. Cook the soup
While the udon noodles are cooking, make the soup. In a large pot, heat the oil over medium-high heat until the oil is shimmering. Add the leeks, garlic, and mushrooms, and cook until the leeks are softened and just starting to brown, about five minutes. Add the turkey stock, bring to a boil, then reduce heat and simmer for ten minutes. Add the turkey cubes and simmer until the turkey is reheated, about another five minutes. Stir in the noodles, then turn the heat off under the soup.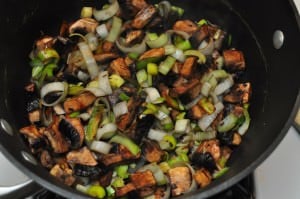 Sauteing the leeks and mushrooms
3. Add the miso
Put the miso paste in a small bowl and ladle in a cup of the turkey broth. Whisk the miso and broth until the miso is completely dissolved, then stir it into the soup. Taste and add salt as needed. (I added an additional 2 teaspoons of kosher salt.)
4. Serve
Serve the soup with the shredded cabbage, carrots, peppers, and green onions on the side, for diners to add to their bowl of soup as necessary.
Notes:
If you can't find the miso paste at your local store, substitute 1 tablespoon of soy sauce. It won't have the extra flavor of the fermented soybeans, but it will improve the soup.
If you can't find udon noodles at your local store, substitute 2 packages of ramen noodles. (Throw away the spice packet - you just want the noodles.) Don't pre-cook the noodles - add them to the broth with the turkey cubes, so they simmer for five minutes, then serve.
What do you think? Questions? Other ideas? Leave them in the comments section below.
Related Posts:
Southwestern Turkey and Black Bean Soup
Turkey Ramen Soup
Turkey, Chickpea and Vegetable Soup
Pressure Cooker Turkey Stock
Stovetop/Oven Turkey Stock
Slow Cooker Turkey Stock
*Enjoyed this post? Want to help out DadCooksDinner? Subscribe to DadCooksDinner using the RSS or Email options on the right, link to this post from your blog, recommend DadCooksDinner to your friends, or buy something from Amazon.com
through the links on this site. Thank you.