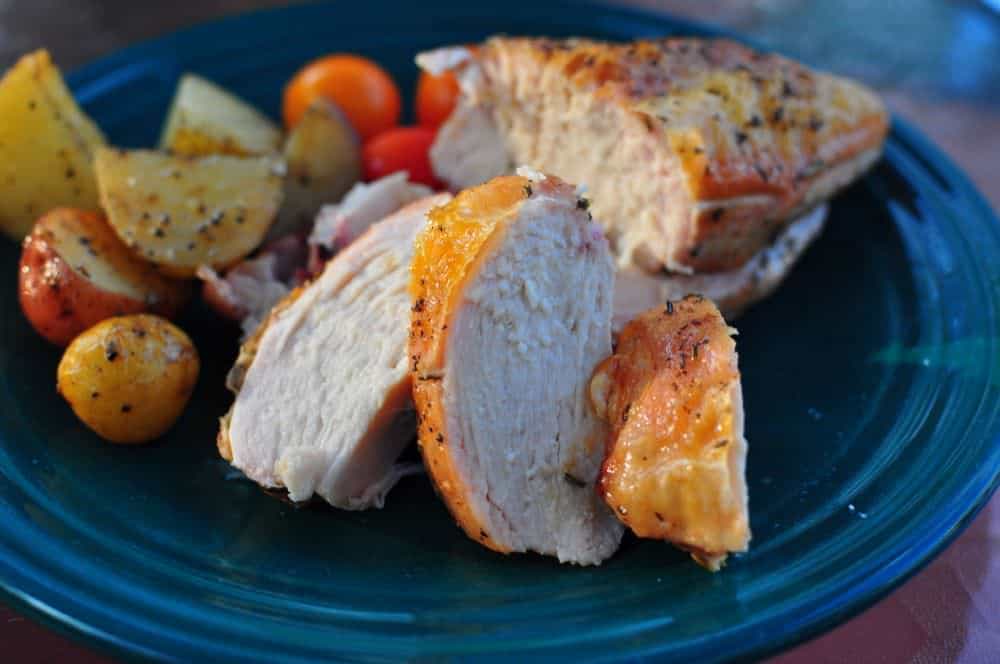 After my picky eater rant, I need some comfort food. Roast chicken. On the grill of course.
*And yes, my picky eaters will eat it. Or, at least, they'll have a few bites.
If you insist on grilling over direct heat, chicken pieces are hard. Direct heat means huge flareups as chicken fat drips onto the coals. You have to constantly move the chicken, and if your attention falters for even a second, the result is burned chicken. I prefer a more relaxed method - using indirect heat and grill roasting the chicken, with a quick sear over direct heat at the end to crisp up the skin.
Today I'm cooking chicken breasts. I usually prefer dark meat, because it has more flavor…but bone in breasts were on sale at the grocery store. That's OK - as long as the chicken breasts are not overcooked, no more than 155°F to 160°F, they will be tender and juicy.
I rubbed the chicken with my favorite dry brine, equal parts kosher salt and minced herbs. Any mix of herbs will do. I went with rosemary and thyme because the herb bushes in my front yard are growing like mad.
Recipe: Grill-Roasted Chicken Breasts with Dry Brine and Herbs
Ingredients
6 bone-in chicken breast pieces (about 4 pounds), ribs trimmed off
Dry Brine:
1 tablespoon kosher salt (if using table salt, use 1 ½ teaspoons)
1 ½ teaspoons minced fresh rosemary
1 ½ teaspoons minced fresh thyme
½ teaspoon fresh ground black pepper
Directions
1. Dry Brine the chicken pieces
Mix the dry brine ingredients in a small bowl, then sprinkle evenly over the chicken breasts, about 1 teaspoon per piece. Refrigerate the chicken breasts for at least 4 hours, preferably overnight.
2. Set up the grill for indirect high heat
Set your grill up for cooking with indirect high heat. For my Weber kettle, I light a full chimney of charcoal, wait for it to be mostly covered with gray ash, then pour it in two piles on the side of the grill and put a drip pan between the piles.
| | |
| --- | --- |
| Indirect heat | Done with indirect |
3. Grill the chicken
Put the chicken on the grill over indirect heat, between the coals. Cook with the lid closed until the chicken reaches an internal temperature of 155°F, 20 to 30 minutes. After the breasts are cooked through, move them over the direct heat to crisp them up, about 1 to 2 minutes per side over direct heat. Let the chicken rest for 10 minutes, then serve.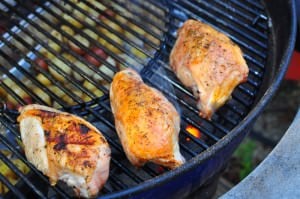 Searing over direct heat
Notes:
As I said in the header, use whatever herbs you have. Oregano and parsley? Great. Dill and chives? That will work too. And a little citrus zest or lemon zest never hurt.
Chicken legs, thighs, or drumsticks on sale, instead of chicken breasts? Even better. Cook to 170°F internal - dark meat needs to be cooked a little more to be tender.
Don't feel like grilling? Use the sear-roast technique from this post: Sear Roasted Chicken Breast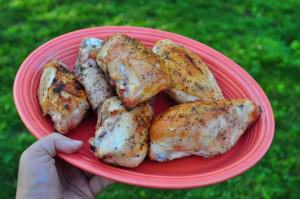 What do you think? Questions? Other ideas? Leave them in the comments section below.
Related Posts:
Basic Technique: Grill-Roasted Chicken Pieces
Thai Style Grill-Roasted Chicken Breasts
*Enjoyed this post? Want to help out DadCooksDinner? Subscribe to DadCooksDinner using the RSS or Email options on the right, link to this post from your blog, recommend DadCooksDinner to your friends, or buy something from Amazon.com
through the links on this site. Thank you.