Instant Pot Lemon Pepper Wings. Sauced lemon pepper chicken wings make a great dinner or appetizer.
I've seen lemon pepper wings around, but I didn't realize how important they were to Atlanta's food scene until I read Eric Kim's article in the New York Times. After reading the article, I had to make them myself…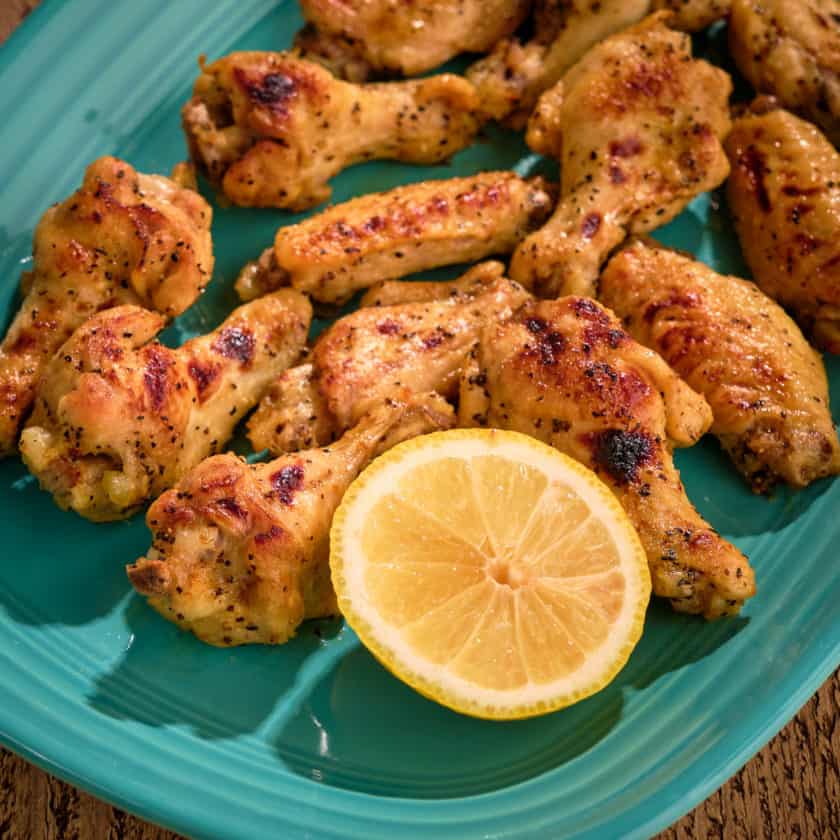 Jump to:
…and I know, I know. Nothing screams "Northerner!" more than a guy from Ohio reading about Lemon Pepper wings in the New York Times. But, when have I ever let that stop me? I was looking for a new flavor for my pressure cooker wings, and I always see lemon pepper seasoning at the store, so I had to give it a try. They aren't all that hot - black pepper gives them a little bit of bite, but not much. What they are is a great mix of sweet, spice, and tart lemon flavor. They're definitely worth the effort.
(Looking for a bigger southern-style wing? Try my Instant Pot Turkey Wings)
🥫Ingredients
Chicken Wings
Lemon Pepper Seasoning
Butter
Brown Sugar
Ground Coriander
Lemon juice
See recipe card for quantities, or for details on making your own sauce and rub
🥘 Substitutions
Chicken Wings: When I can, I buy "party wing" packs from my local grocery store, so I don't have to butcher the wings myself. If you do by whole wings, get a little extra, to make up for the lost weight from the tips - you only want the wingette (or flat) and drumette pieces of the wing.
Frozen Chicken Wings: If you have individually frozen wings, you can cook them directly from frozen - cook at high pressure for 12 minutes with a quick release. But, the lemon pepper seasoning won't stick to the wings as well if they are frozen. (Especially if they are ice glazed.) Use half the lemon pepper seasoning on the frozen wings before cooking, and then sprinkle the other half on the cooked wings, right before tossing them in the sauce.
Lemon Pepper Seasoning: There are all sorts of lemon pepper seasonings available. The big question is "how much salt do they have"? Most of the ones I could get had a plenty of salt - listed as the first or second ingredient in the ingredients list. If you get a salt-free lemon pepper blend, or one where salt is way down in the ingredient list, sprinkle a couple of teaspoons of fine sea salt on the wings before the lemon pepper blend.
Butter: Now we're moving into the Lemon Pepper Sauce section of the ingredients. Butter is the traditional liquid base for wing sauces - it clings better to the wings, and, frankly, tastes better. That said, If you want to substitute vegetable oil, you can.
Brown Sugar is my preferred sweetener for this wing sauce, and gives the sauce its tart/sweet flavor.
Ground Coriander: Optional, but I love coriander. It adds an extra spice and lemon depth to the sauce.
Lemon juice: Preferably from a fresh lemon - you need about a half a lemon's worth of juice for this recipe.
If you want dry wings, replace the "sauce the wings" step with an extra sprinkle of lemon pepper seasoning before broiling.
🛠 Equipment
A 6-quart pressure cooker and the pressure cooker rack that came with your pot. Or, you can substitute a steamer basket for the rack, which makes lifting the wings out of the pot easy.

📏Scaling
This recipe can be scaled up or down, but don't change the amount of cooking liquid. You only need 1 cup of liquid in the pot, no matter how many wings you want to cook. To scale the recipe, use 2 teaspoons of lemon pepper seasoning per pound of chicken wings. If you cut the recipe down to 2 pounds of wing pieces, it will fit in a 3-quart pressure cooker. Scaling up runs into space issues. I can get 4 pounds of wings into my 6-quart pressure cooker, but if I want to cook more than that I reach for my 8-quart pressure cooker.
💡Tips and Tricks
Pressure cooker rack - the rack keeps the wings above the steaming liquid, so they cook a little more evenly. I used to use the rack that came with my pot, but I switched to my vegetable steamer basket, because the easy-grab handle lets me lift the wings out all at once.
Broiling the wings is an extra step, but well worth the effort. While chicken wings are good straight out of the pressure cooker, they aren't crispy, like a deep fried wing. Broiling the wings for a couple of minutes crisps up the skin a bit and adds a lot to the flavor and texture.
Print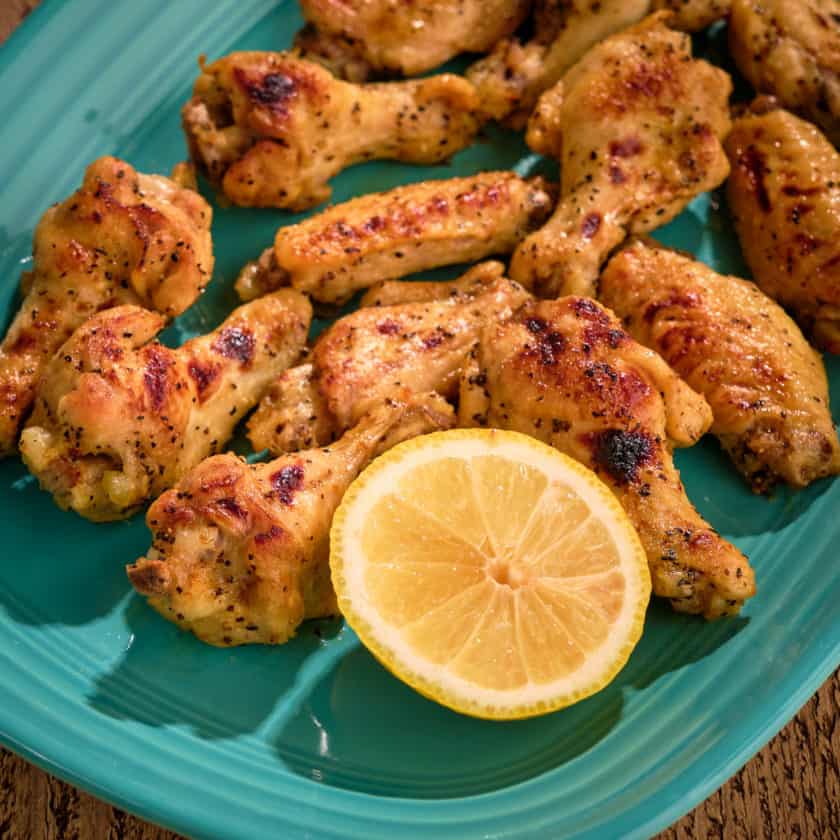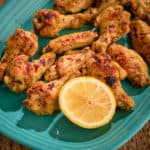 Instant Pot Lemon Pepper Wings
---
Author:

Mike Vrobel

Total Time:

40 minutes

Yield:

3

pounds of wings

1

x
Description
Instant Pot Lemon Pepper Wings. Sauced lemon pepper chicken wings make a great dinner or appetizer.
---
Wings
3

pounds chicken wing pieces

2 tablespoons

 Lemon Pepper seasoning (with salt)
OR

1 ½ tablespoons

salt-free lemon pepper seasoning and 2 teaspoons fine sea salt
Lemon Pepper Sauce (for wet wings)
6 tablespoons

butter (

¾

of a stick)

2 tablespoons

brown sugar

1 tablespoon

Lemon Pepper seasoning

½ teaspoon

ground coriander (optional)

1 tablespoon

fresh lemon juice (optional)
---
Instructions
Pressure cook the wings for 8 minutes with a Quick Release: Sprinkle the chicken wings with the lemon-pepper seasoning. Put a rack in an Instant Pot or other pressure cooker, then pour pour in 1 cup of water. Pile in the wings on top of the rack, and lock the pressure cooker lid. Pressure cook on high pressure for 8 minutes in an Instant Pot or other electric pressure cooker (use "pressure cook" or "manual" mode in an Instant Pot), or for 6 minutes in a stovetop PC. Quick release the pressure once the cooking timer reaches zero.
Make the wing sauce: While the wings are cooking, melt the butter. Whisk in the brown sugar, lemon pepper seasoning, ground coriander, and lemon juice. Pour the lemon pepper sauce into a large bowl. (I melt the butter in the microwave, using a large glass bowl, so I only need to clean the one dish).
Sauce the wings: Open the pressure cooker, tilting the lid away from you to avoid the hot steam. Move the wings from the pot to the bowl of sauce, then toss to coat.
Broil the wings (optional): Transfer the wings to a rimmed baking sheet, leaving as much sauce as you can in the bowl. Spread the wings out in a single layer on the baking sheet. Set your broiler to high and broil the wings until browned and the sauce is bubbling, 5 to 15 minutes depending on the strength of the broiler. Keep a close eye on the wings; they go from brown to burned quickly under the broiler.

Sauce again and serve: Move the wings from the baking sheet back into the sauce bowl, and toss them one more time to coat with the remaining sauce. Pour the wings onto a platter and serve. Enjoy!
Prep Time:

10 minutes

Cook Time:

30 minutes

Category:

Sunday Dinner

Method:

Pressure Cooker

Cuisine:

American
Keywords: Instant Pot Lemon Pepper Wings, Pressure Cooker Lemon Pepper Wings
☃️ Storage
I don't think chicken wings store well. I eat them right after cooking. I will save leftovers in the refrigerator, where they're OK for the next day or two, but they're just not as good as they are when they're hot.
🤝 Related Posts
Pressure Cooker Buffalo Chicken Wings
Pressure Cooker Asian Zing Chicken Wings (From Frozen)
Instant Pot Korean Gochujang Chicken Wings
My other Instant Pot and Pressure Cooker Recipes

Enjoyed this post? Want to help out DadCooksDinner? Subscribe to DadCooksDinner via email and share this post with your friends. Want to contribute directly? Donate to my Tip Jar, or buy something from Amazon.com through the links on this site. Thank you.