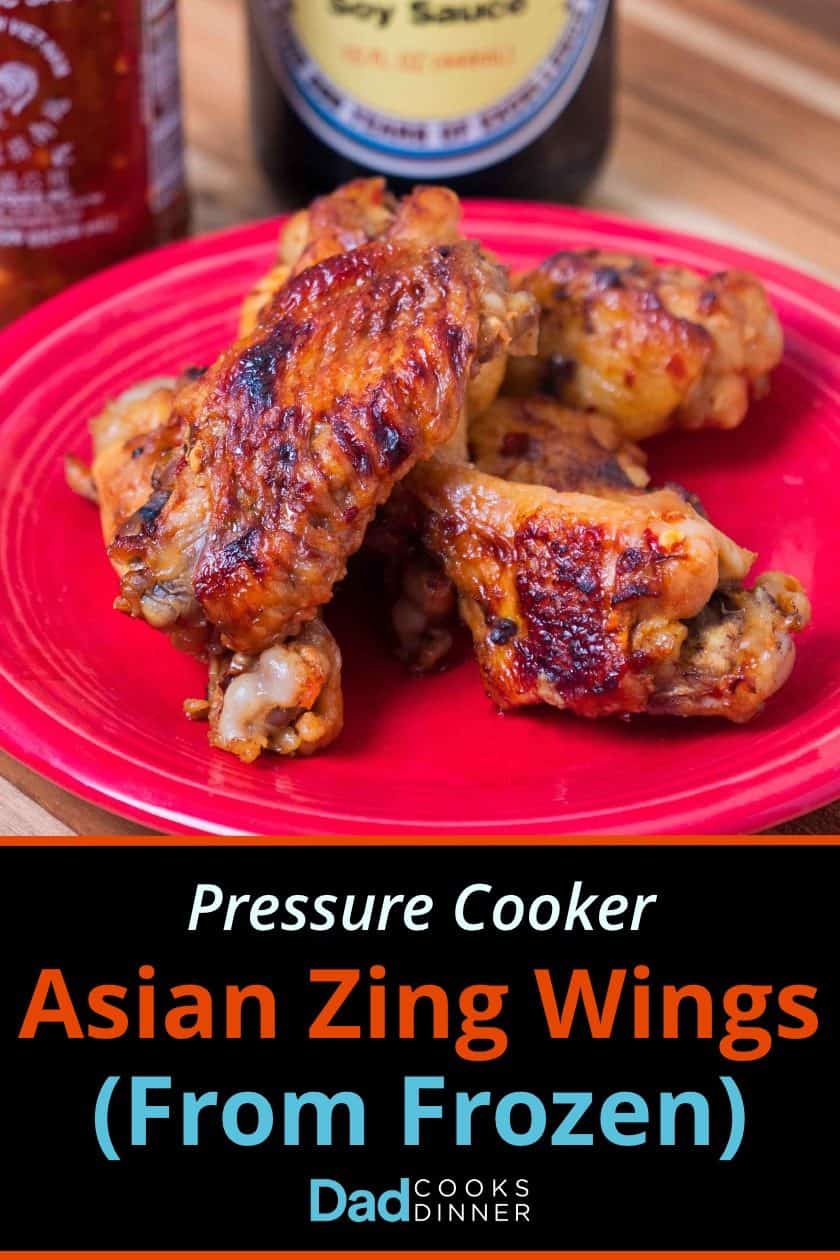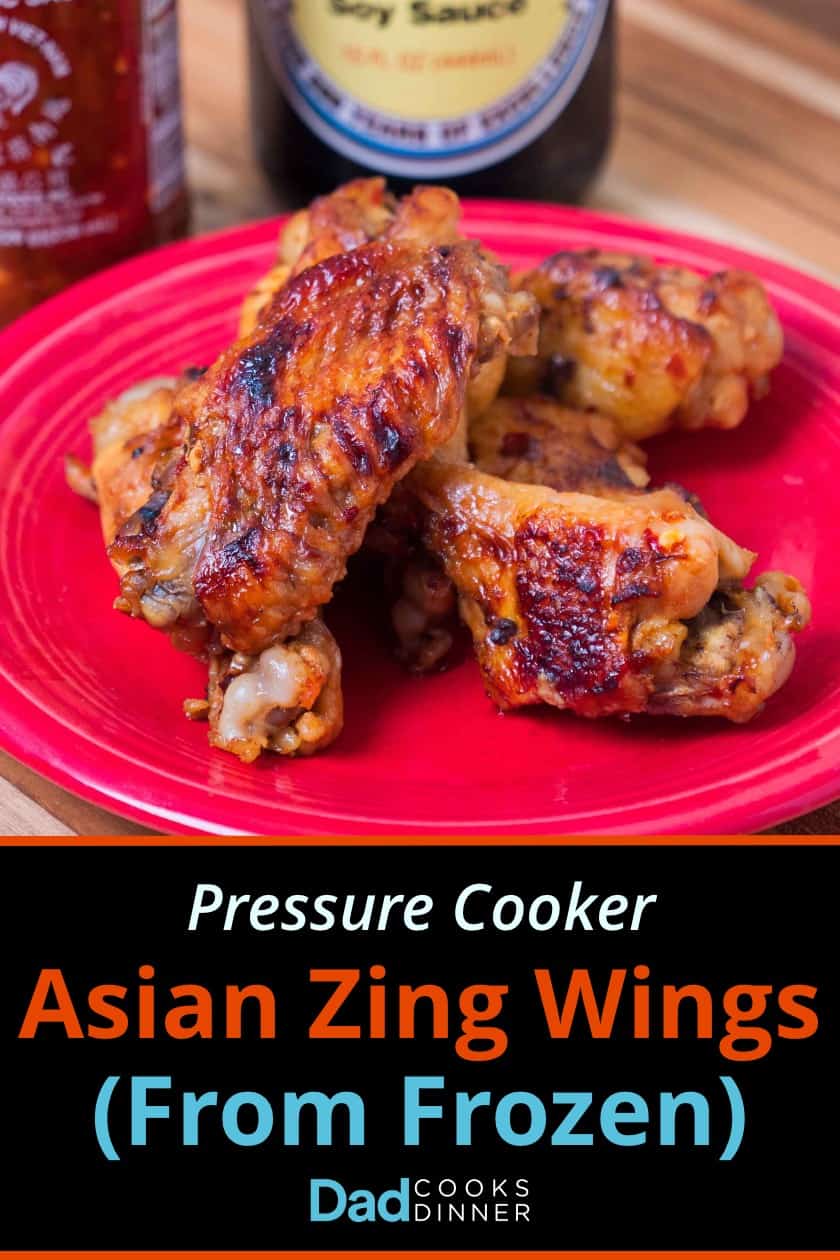 Oh, my. I got some angry comments about my PicOfTheWeek. How dare I post a picture of frozen chicken wings in my pressure cooker, and not have more details?1So…to answer the big question:
How long to pressure cook chicken wings from frozen?
12 minutes at high pressure with a quick pressure release. That is, add 4 minutes to my original recipe's cooking time at high pressure.2 (But…see my disclaimer about "time to pressure" below…)
Now for the fine print:
These timings are for individually frozen wings, also called ice glazed or IQF wings. A big frozen block of wings will not work. Leave them in the refrigerator overnight to thaw...at least enough to break the block into individual wings.
They take a couple more minutes at high pressure, but it takes a lot longer to get to high pressure. I don't have exact numbers3, but it felt like five to ten minutes for a pot of unfrozen wings to come up to high pressure, and twenty minutes or more for frozen wings. (The pressure cooker has to boil the water in the pot to build pressure, and a big pile of frozen wings slows down the boiling. A lot.4) I don't worry about it; I set my pressure cooker and work on the rest of dinner while I wait for it to beep that it's done. But…in case you are surrounded by a ravenous crowd of football fans at your Super Bowl party, I want you to be ready for the extra time.
Another timing note: 12 minutes at high pressure (with a quick pressure release) is my "Goldilocks" level - the wings are just right. 10-minute wings are fine - still edible - but I like my wings cooked a little more. 15-minute wings are falling apart tender, and a little too tender for me. (Also, a few 15-minute wings came apart when I tossed them in the sauce.) Four of my five taste testers preferred the 12-minute wings, but one5

loved the falling apart tenderness of the 15-minute wings, so take that under advisement for your own cooking times.
Frozen Wing Issues
A couple more things to be aware of with frozen wings:
Don't bother seasoning before cooking. Seasoning ice-coated chicken is pointless; I'm seasoning the ice, not the chicken, and it will melt off and wind up in the liquid at the bottom of the pot.
IQF wings take up a lot of space. I can fit four pounds of room-temperature wings below the max-fill line in my 6-quart Instant Pot,6 but a 2.5-pound bag of individually frozen wings takes up the same amount of space. Room-temp wings relax and settle into a tightly-packed pile. Frozen wings are, well, frozen stiff. They don't settle, they stack up on each other, and take up more room in the pot. Cooking for a crowd? Thaw the wings. Or use a larger pressure cooker…or a second pressure cooker…or both. (What, doesn't everyone have a shelving unit full of pressure cookers? Just me?)
Zing! Sauce
This is my clone of Asian Zing from BW3s. I'm usually a sauce traditionalist - Buffalo sauce all the way - but when I see a new sauce on the menu, I'll try it out on a five-wing side order. I tried Asian Zing, and it is now part of my regular order.
My zing clone is not a perfect match, but the kids wiped the plate clean, so I think it's ready to share. (That said, If you don't want to make a sauce, go ahead and use a store-bought wing sauce. I won't mind.)
Looking for a low-effort side for your Super Bowl party? Pressure Cook some Asian Zing wings!
Video: Pressure Cooker Asian Zing Chicken Wings (From Frozen) (2:47)
Video:
Pressure Cooker Asian Zing Chicken Wings (From Frozen)
[YouTube.com]
Print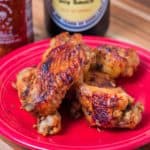 Pressure Cooker Asian Zing Chicken Wings (From Frozen)
---
Author:

Mike Vrobel

Total Time:

55 minutes

Yield:

2.5

pounds chicken wings

1

x
Description
Pressure Cooker Asian Zing Wings (From Frozen). How to cook a batch of individually frozen chicken wings in your pressure cooker - with a sweet, spicy Asian zing sauce.
---
2.5

pounds individually frozen chicken wing pieces

1 cup

water
Zing! Sauce (or a store-bought wing sauce)
¼ cup

soy sauce

2 tablespoons

honey

2 tablespoons

Chili-Garlic sauce

1 teaspoon

seasoned rice vinegar or mirin (sweetened rice wine)

1 tablespoon

cornstarch

2 tablespoons

cooking pot liquid (or water)
---
Instructions
Pressure cook the frozen wings for 12 minutes with a quick pressure release: Put a rack in the pressure cooker pot and pour in 1 cup of water. Pile in the frozen wings, break apart any wings that are stuck together, and lock the pressure cooker lid. Pressure cook on high pressure for 12 minutes in an electric PC ("pressure cook" or "manual" mode) or 10 minutes in a stovetop PC, and then quick release the pressure. (Pressure cook for 8 minutes if you start with thawed or unfrozen wings.)
Start the zing sauce: While the wings are cooking, whisk the soy sauce, honey, chili-garlic sauce and seasoned rice vinegar in a medium bowl. Whisk in the cornstarch until smooth, then set the sauce aside.
Dry the wings: Line a rimmed baking sheet with paper towels. Use a pair of tongs to move the wings from the pot to the baking sheet, laying the wings out in a single layer. Use more paper towels to pat the wings dry. Gently transfer the wings to a large bowl - the skin will want to stick to the paper towels. Throw away the paper towels on the baking sheet.
Finish the sauce and sauce the wings: Whisk 2 tablespoons of cooking liquid from the pressure cooker pot into the bowl of zing sauce. (If you have the time, thicken the zing sauce by simmering for 1 minute. See the notes section for details.) Pour the sauce over the wings and toss until coated with sauce.
Broil the wings: Move the wings back to the baking sheet with tongs or a slotted spoon, letting any excess sauce drip back into the bowl. (We'll use the sauce again later). Spread the wings out in a single loose layer on the baking sheet - they brown better if there is a little space between the wings. Set your broiler to high and broil the wings until they start to brown and the sauce is bubbling; this will take 5 to 15 minutes depending on your broiler. Keep a close eye on the wings once they start to brown; they go from brown to burned quickly under the broiler.
Sauce and serve: Move the wings from the baking sheet back into the bowl, and toss them one more time to coat with the remaining sauce. Pour the wings onto a platter and serve.
Notes
Want traditional buffalo sauce? Cooking thawed wings? Check out my original Pressure Cooker Buffalo Chicken Wings recipe.
Halving or doubling the recipe? Halve or double the ingredients, but don't change the cooking time. Cooking time is determined by the thickness of each wing, not by the number of wings. 12 minutes at high pressure works no matter how many wings you add to the pot.
Don't have a pressure cooker rack? Don't worry about it. The bottom layer of wings will be more tender because they are in the boiling liquid, not steaming, but they'll be fine. Just make sure to dry them well before saucing and broiling.
Thickening the zing sauce: I count on two layers of sauce and the heat of the broiler to tighten the sauce. But, If you have the time, and want extra-thick wing sauce, simmer it. (Heat thickens up the cornstarch.) In the "Finish the Sauce" step, after whisking the cooking liquid into the zing sauce, discard any liquid left in the pressure cooker pot. Put the pot liner back into the pressure cooker base and set it to sauté mode. (Or put a stovetop PC back on the stove over medium heat). Pour in the zing sauce, bring to a simmer, and simmer until the sauce thickens and turns glossy, about 1 minute. Pour the sauce over the dried wings and continue with the recipe.
Don't trust your broiler? Use a ripping hot oven (450°F or higher) for about 15 minutes to brown the wings.
Make ahead wings: Want to prep ahead of a party? Follow the recipe through the "Dry the wings" step. Then, discard the paper towels and spread the wings out on the baking sheet. Cover the sheet of wings and the bowl of sauce with plastic wrap and refrigerate. To serve, re-whisk the sauce, then continue with the "Toss wings to coat and broil" step. The wings will heat through by the time the sauce starts to bubble.
Tools
Prep Time:

5 minutes

Cook Time:

50 minutes

Category:

Weeknight Dinner

Method:

Pressure Cooker

Cuisine:

Asian
What do you think?
Questions? Other ideas? Leave them in the comments section below.
Related Posts
Pressure Cooker Buffalo Chicken Wings
Pressure Cooker Teriyaki Chicken Drumsticks
Pressure Cooker Chicken Thighs with Herb Rub
My other Pressure Cooker Recipes
My other Pressure Cooker Time Lapse Videos
Enjoyed this post? Want to help out DadCooksDinner? Subscribe to DadCooksDinner via eMail and share this post with your friends. Want to contribute directly? Donate to my Tip Jar, or buy something from Amazon.com through the links on this site. Thank you.
OK, a handful of angry comments. At least three. Unfortunately, the way my mind works, angry comments carry more weight than positive comments. ↩