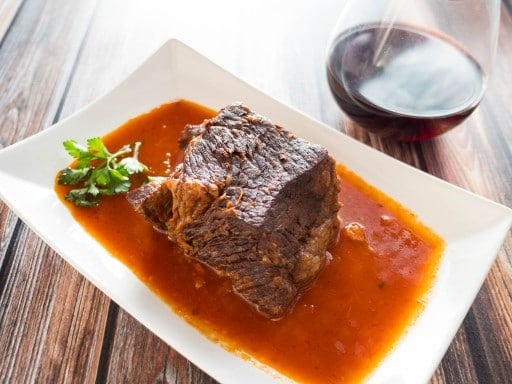 There are many ways to cook perfect beef; a medium-rare ribeye steak, boeuf bourguignon in red wine sauce, slow smoked beef brisket.1And smashed hamburgers. And skirt steak fajitas. OK, there are a lot of perfect ways to cook beef.
My favorite? Pot roast. A big hunk of chuck shoulder, slow-simmered until it is fall apart tender, served with the pan sauce and a baked potato. This is one of my comfort meals, and I asked for it over and over as a child.
Time marches on, and I discovered the joy of pressure cooking in my 30s. It took me a while to perfect Pressure Cooker Pot Roast, but once I did…oh, my. Pot roast in a couple of hours, instead of spending all day? When I open the lid, and the smell of pot roast hits me, I get so excited. (That's actually the blessing and the curse of this recipe; the sealed environment of the pressure cooker keeps a little more of the flavor in the pot roast, instead of letting it escape into the air…but you don't get to smell it all day while it cooks. That's OK - I'll take the faster cooking time.)

Pressure Cooker Pot Roast - Time Lapse [YouTube.com]
Here is the original recipe: Pressure Cooker Beef Pot Roast
What do you think?
Questions? Other ideas? Leave them in the comments section below.
Related Posts
Pressure Cooker Beef Stew with Mushrooms
Pressure Cooker Beef Shank (Osso Bucco)
Pressure Cooker Beef Carbonnade
My other Pressure Cooker Recipes
My other Pressure Cooker Time Lapse Videos