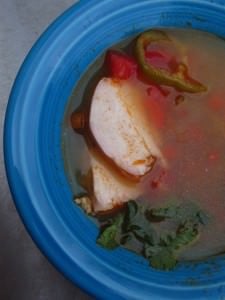 Tortilla soup is a regular in my weeknight dinner rotation. It's one of my "big soup" recipes, which are filling enough to be the main course of a meal. And it is probably my kids' favorite soup.
*They love anything to do with tortillas.
I like this recipe because it is refrigerator velcro. If I roasted a chicken on Sunday, I make chicken stock with the bones, and I can use up the leftover meat in this soup. The best part is that it doesn't seem like leftovers - this recipe is different enough that it doesn't feel like "leftover chicken, again?".
And now…witness the power of this fully armed and operational chicken stock.
*For some reason, that was more impressive when the emperor said it.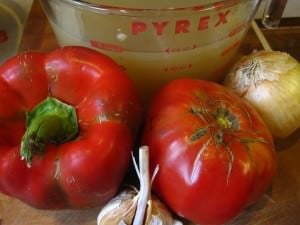 Ingredients:
1 tablespoon vegetable oli
1 medium onion, diced
1 red bell pepper, diced
1 jalapeno, minced (or 1 teaspoon chipotle puree)
1 cup tomatoes, diced and drained (Muir Glen Fire Roasted Diced Tomatoes are best, if it's not tomato season)
1 teaspoon cumin
3 cloves of garlic, minced or pressed
2 quarts homemade chicken stock
Juice of 2 limes
1 tablespoon brown sugar
Toppings
Crushed Tortilla chips (the dregs from the bottom of a bag are best for this)
Cooked chicken, shredded (I use about 1 pound, or ½ a chicken)
Cilantro leaves
Optional toppings and garnishes
Sour Cream
Hot Sauce
Shredded cheese
Diced tomato
Diced onion
Diced avocado
Cooked beans (black or pinto beans are authentic)
Directions:
1. Saute the aromatics: Heat the vegetable oil in a dutch oven over medium-high heat until shimmering, then add the onion, peppers, and tomatoes. Saute until softened, about 5 minutes. Make a hole in the center of the pan and add the cumin and garlic. Toast for 30 seconds to 1 minute, or until you start to smell garlic. Stir into the rest of the aromatics, and saute for another 1-2 minutes or until they just start to brown.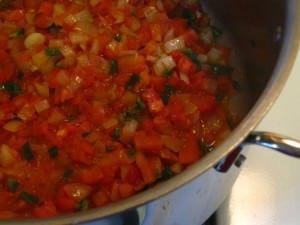 Sautéing the aromatics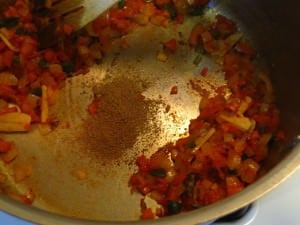 Toasting the spices


2. Simmer the broth: Add the chicken stock to the pot, turn the heat to high, bring to a boil, and boil for 1 minute. Reduce the heat and simmer for 10 minutes to allow the flavors to mingle.
*I keep my stock in the freezer, so I thaw it in the microwave while I'm doing step 1. If it's still frozen at this point, that's OK. Just put the big ice cube of stock into the pot, and it will melt on its way to boiling.


3. Season the soup: Add the lime juice and brown sugar, then season to taste with salt, pepper, more lime juice, more sugar, and maybe a little hot sauce.


4. Serve: I prefer to build the soup in individual serving bowls. Put some crushed tortilla chips and shredded chicken in a bowl, and cover with the broth. Then top with a little cilantro, and whatever optional toppings or garnishes you want.
*I serve this like "make your own taco night" in a bowl, and I've never met a garnish I won't try to add.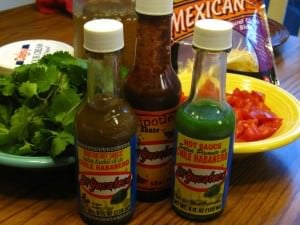 A few optional garnishes
Variations:
*Want to cook this with fresh chicken? After simmering the broth, and before seasoning, add a pound of boneless, skinless chicken breasts cut into ½" cubes. They'll cook through in a minute or two - just simmer until they are no longer pink.
*For the onion/tomato/pepper/garlic aromatics, substitute 1.5 to 2 cups of leftover tomato salsa. In step 1, Cook the salsa in the oil until it turns dark red in color, then move on to step 2 and the chicken stock.
*No limes? Add a splash of cider vinegar.
*Go nuts with the toppings and garnishes. If you like it in a mexican meal, it will go well in this soup.
Notes:
*I serve this with a salad and tortilla chips on the side.
*I like this meal because my kids can be picky eaters, and it's very flexible if you let them build their own soup bowl. One wants only chicken and broth; another wants everything; a third just wants to eat the tortilla chips and cheese. I can put this out on the table, and let them pick what they want without any power struggles at dinner.
*That way, we can move onto the power struggle about dinner conversation. "So, tell me about your day. What happened?" "Nuthin…"
Questions? Comments? Other ideas? Leave them in the comments section below.
Related Posts:
Pressure Cooker Chicken Stock
Turkey Noodle Soup
Rotisserie Chicken with Red Chile Marinade
Inspired by:
Rick Bayless: Mexican Everyday
*Enjoyed this post? Want to help out DadCooksDinner? Subscribe to DadCooksDinner using the RSS or Email options on the right, link to this post from your blog, recommend DadCooksDinner to your friends, or buy something from Amazon.com
through the links on this site. Thank you!