It's been a great first year. In honor of one of my favorite movies
, I'm going to celebrate year one of DadCooksDinner with a set of Top Five lists.
Yes, I'm a geek. If you haven't figured that out, you haven't been paying attention...
Top Five Moments in year one of DadCooksDinner
5. Memorial Day Weekend
When you write a blog that is grilling and rotisserie centered, the opening of grilling season gets you a lot of readers. My average daily readers doubled on Memorial Day Weekend!
4. First question from a reader
I got a question about my rotisserie baby back ribs. Holy cow - someone is actually reading!
3. Rotisserie Cornish Game Hens recipe tops google
...and is still there, if you google "rotisserie cornish game hens". You get my most popular post, though the next post is gaining fast...
2. Winning the Taste of Akron Steak Cook Off:
I think writing this blog for a year is what got me into the finals. Writing recipes for a year will teach you how to get them to make sense.
I was linked to by some of my favorite food blogs, Casual Kitchen and The Kitchn
My name was in my local paper, the Akron Beacon Journal
I won $500 worth of wine, cheese, and Prime graded beef from West Point Market
1. Email from Jane Snow telling me she loved my blog
*I've been a big fan of Jane's since I moved to Akron in 1998; she was the food writer in the local paper. She left the paper and started her own newsletter, which I can't recommend highly enough. She was the original source on a lot of the Akron ethnic markets that I write about from time to time, and I have always enjoyed her writing. In her email she encouraged me to keep writing about food! Me! I know that you couldn't stop me anymore, but it still meant a lot to hear it from her.
Top Five quotes that my (very patient) wife got tired of hearing:
5. Yes, we're having the steak again. I'm practicing for the cook-off!
4. I need a new (...cutting board...color of FiestaWare...All-Clad pot...) It will look better in the pictures.
3. Before we go, let me check my traffic on Google Analytics.
2. I'm sorry dinner's late; I had to take notes for the recipe.
1. Wait! I need to take a picture of that for the blog before we can eat it!
Top Five culinary heroes:
5. Pam Anderson
*How to Cook Without a Book
- taught me that basic techniques are more important than recipes
4. Michael Ruhlman
*Beyond basic techniques, you need the
Ratios
that are behind all recipes
3. Rick Bayless
*There's nothing wrong with being obsessed about a food culture
2. Cooks Illustrated
*There's nothing wrong with being obsessive about perfecting and understanding
recipes either (as long as you understand where they're going with their basic techniques).
1. Alton Brown
*My Hero!
Food as an entry to science, politics, culture, art...and he ties it all together in an entertaining package that only lasts a half an hour. And forget good eats...it all tastes great!
Top Five pictures on the blog: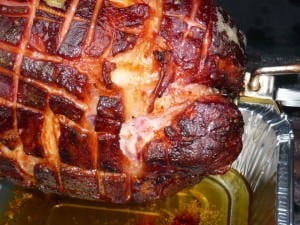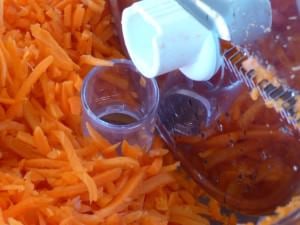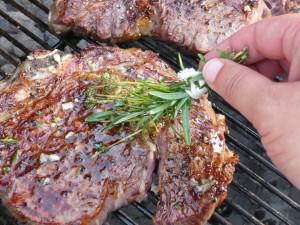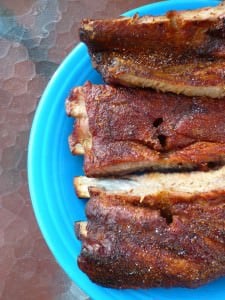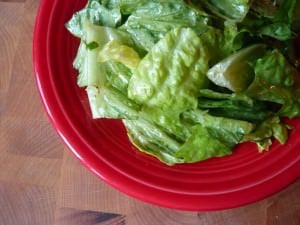 Top Five blogs that influenced DadCooksDinner:
All of these have influenced my writing style. I'm still trying to find my "voice", but thanks to their inspiration I'm making progress.
Joe Posnanski at joeposnanski.com
Influenced isn't a strong enough term here. "Shamelessly stole his style of writing with footnotes in italics" is about right. When I grow up, I hope to have Joe's sense of humor and fun in my writing.

2. Carol Blymire at French Laundry at Home and Alinea at Home
I was thinking about doing something online with food, but I thought I was too late to find an uncrowded topic. What Carol's blog made me see was it wasn't if you were too late, it was if you could write with your own voice. To me, the recipes she's working on are secondary. When I'm reading her blog, it feels like I'm sitting in her kitchen, shooting the breeze while she works on the recipe.

3. Michael Ruhlman at ruhlman.com
*This is more inspirational than anything else. Michael is my favorite food writer, and Donna's pictures on his blog are awe-inspiring. I know I need to improve my writing and photography, and this is where I go to see what the best of both are like. I know this blog is just a sideline to his books, but even his throwaway writing is great.

4. David Lebovitz at davidlebovitz.com
*David's another writer who's voice I admire. It feels like you're sitting in his tiny Parisian kitchen, chatting with him while he puts together another show-stopping dessert. And the photos! While Donna Turner Ruhlman makes art, David makes pictures that make me want to lick my computer monitor. I think I gain weight just looking at them.
5. Virtual Weber Bullet at virtualweberbullet.com
*This is where I got my start on cooking and the internet. The VWB Forum is where I cut my teeth on writing posts and recipes. I've drifted away from the barbecue-centric cooking featured here, but if you want to know how to barbecue ribs, brisket, or pork shoulder, you won't find a better site on the internet.
Top five things my kids want to eat (instead of the food I'm cooking for the blog):
5. Macaroni and Cheese from the blue box
4. Goldfish crackers
3. Mom's homemade Pizza
2. Chicken Nuggets
1. Hot Dogs
Thank you, everyone, for making this a fun year. I'm looking forward to seeing what the next year brings!
*Wait...I forgot Casual Kitchen and CheapHealthyGood should be on the blog list! Oh, and Judy Rodgers and Mark Bittman in the influences. And Steven Raichlen. And the kids would rather have Tortillas. But what gets bumped off the list? Oh, bother...
Questions? Comments? Other ideas? Leave them in the comments section below.