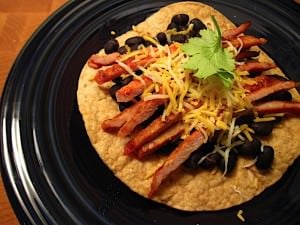 *This recipe was inspired by my trip to La Loma Supermarket.
Here is why I was excited to see the full service butcher at La Loma Supermarket. Thin sliced pork marinated in adobo sauce is a staple of mexican butchers. It is the perfect cut for quick weeknight tacos.
*As I've mentioned before, the kids love tortillas, so anything that will fill them is a good candidate for a weeknight dinner for us. Diane makes us fresh corn tortillas...when she's available. When she's not, I use corn tortillas bought from the mexican grocery, or tostadas (as in the picture above). Corn tortillas don't keep well, so you have to buy them from a high-turnover store like a mexican grocery for them to be decent.


As I said, this cut of pork makes for a fast grilled weeknight meal. It cooks very quickly because it is so thin. Even taking the preheating, resting, and chopping steps into account, the pork is ready to put on the table in as little as 25 minutes.
*If your knife skills are good, the active cooking and chopping steps are 5 minutes of that. Ten minutes, tops.
Recipe: Grilled Thin Sliced Pork Adobo

Equipment:
Ingredients:
2 pounds thin sliced pork in adobo sauce
½ lime
Directions:
1. Preheat your grill: Set your grill up for direct high heat grilling. For my Weber Summit, this means turning all the burners to high, letting it preheat for 10-15 minutes, then scraping the grate clean with my grill brush.
2. Cook the pork: Carefully place the pork on the grill. Each piece should be spread out, not folded over on itself.* Cook, covered, for 2 minutes, until you can see the pork cooking through around the edges. Turn the pork and cook the other side for 1 minute. Remove to a plate and squeeze the lime over the top of the pork. Rest for 5 minutes before slicing.
*It's tough to spread it out perfectly with this thin of a cut. Some just seem to fold while you're letting them go - see the middle piece on the left in my pictures. Just make sure you spread any folds out after you flip the pork, so it gets cooked through.
3. Chop the pork: Cut the pork crosswise into ¼ inch to ½ inch thick strips. Serve.
Serving: The night I photographed this recipe, I served the pork on tostadas,* and had the following as the optional toppings: toasted ancho chile salsa, chopped cilantro, shredded mexican cheese, and lime wedges. We had brothy black beans and a salad as our side dishes.
*As I said, Diane was in class that evening, so I didn't have my tortilla maker available. Making tortillas myself, on top of the rest of the meal, is too time consuming for a weeknight.
Other good toppings include shredded lettuce, shredded cabbage, thin sliced jalapenos, pickled jalapenos, avocado, diced tomatoes, thin sliced onions, quick tomato salsa, and tomatillo salsa. Go with what you like on your tacos - the sky's the limit!
Notes:
*Normally, I don't like having my meats pre-marinated for me. I don't trust the marinades you get at your local grocery store; the pre-marinated pork tenderloins packaged in cryovac just don't taste fresh to me. In this case, I make an exception - the meat isn't marinated at the packaging plant, it's marinated in the store, and I don't get that same overmarinated taste.
*If you don't have a mexican butcher to make it for you, here's how to make the pork yourself. Get a 6 to 8 inch long piece of pork loin, then slice it lengthwise as thin as you can - you're looking for ¼ inch thick, very long slices. Marinate in adobo marinade for at least an hour, and preferably overnight.
*Or, if thin-slicing pork is too much for you, get the thin cut pork chops from your grocery store. Marinate it in the adobo sauce as mentioned above. They'll be a little thicker, probably about ½ an inch, so cook them for 3 minutes on the first side before flipping them and cooking them for only a minute on the second side.
*I want my grill as hot as I can get it for this recipe. That way, I can get some searing on the pork in the short time it cooks. 2 minutes is just long enough, at my grill's highest heat, to get grill marks on the pork before I flip it. I'm not worried about searing the second side, because the pork will be too dry by the time it sears. I want to just cook it through before pulling it from the grill.
What do you think? Questions? Other ideas? Leave them in the comments section below.
Related Posts:
Toasted Ancho Chile Salsa
Slow Cooker Beef Barbacoa
Inspired by:
La Loma Supermarket
Rick Bayless Mexican Everyday


*Enjoyed this post? Want to help out DadCooksDinner? Subscribe using your RSS reader or by Email, recommend DadCooksDinner to your friends, or buy something from Amazon.com through the links on this site. Thank you!