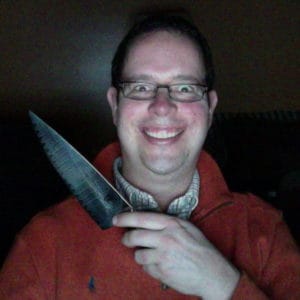 Bwahahahahah!
A quick mac'n'cheese dinner for the kids? How about a macaroni-fennel gratin with chunks of La Quercia's Tamworth bacon that will be finished approximately three hours after the kids go to bed?
"Foodie" Men Are No Help in the Kitchen, Emily Matchar, Chow.com
This article brought back memories. And laughter - I laughed until I was crying.
I've talked about why men should cook…now it's time to talk about the dark side. Years ago, I decided to make dinner every night. How else could I really learn to cook?
Diane was supportive, but dubious. She had good reason to be dubious. I cooked elaborate meals on weeknights. The fire alarm would go off once or twice. When the roast beast on a bed of scalloped potatoes was done at 9PM, Diane would say "This is great, dear. Um...did you make anything green? A vegetable, perhaps?"
Then she'd remind me that potatoes are a starch, not a vegetable.
Weeknight cooking is a completely different skill set from special occasion cooking. It took a long time for this basic fact to work its way through my thick skull. Luckily, I stumbled across Pam Anderson's How to Cook Without a Book. Pam wrote it specifically for weeknight cooking, emphasizing basic techniques with simple flavor variations. As she says in the book, you don't have time on a weeknight to be looking at a recipe. Pam taught me the steam-saute technique. Quick green vegetable side dishes for Diane? Finally!
First Diane had to live through my "saute with pan sauce" phase. I tried every combination in Pam's book, dazzled by the variety you can get from a simple, basic technique. Diane wasn't quite as dazzled. I never caught her, but I suspect that she was feeding the cat sauteed chicken breast with mustard sauce when I wasn't looking. I don't blame her. That was the day after we had pork chop saute with orange sauce, two days after turkey saute with tomato sauce, three days after steak saute with red wine cream sauce…even the cat was sick of pan sauces.
Then the kids came along. Another shock to my system. What do you mean, they're picky? They don't want beef stew with polenta and broccoli rabe for dinner? They'd rather eat the bread, and nothing but the bread?
Eventually, I made it. I learned how to really cook for my family. How to plan out weeknight meals, pick meals that fit into the time available, stick to basic, comforting food, and save the elaborate stuff for the weekends.
Learning to use pressure cookers and slow cookers to bend time in the kitchen also helped a lot.
So, when I read that foodie men are no help in the kitchen, I laughed. "Thank God I'm past all that," I said to myself. "I'm an an evolved Male cook. I don't treat every meal as summit to be conquered, regardless of the consequences."
Then I realized…what do I post on this blog, nine times out of ten? Big, elaborate, production meals. When Diane and the kids see me in the kitchen with my camera, they moan in unison: "Oh, no, is this a blog meal?" Dinner won't be on the table for a while. When I say "five more minutes while I take a couple of pictures" they disappear into the basement to play the Wii. They know what "five more minutes" means.
Fifteen to thirty minutes.
I'm not as evolved as I hoped. I'm more of a recovering Male cook. I've learned my lessons, but I have to watch my step. Backsliding is so easy. There is always a new recipe I have to try, a new technique I just read about. On weeknights, I need to remind myself to keep it simple. Simple doesn't mean bland; I can whip up some pretty interesting meals in a hurry. But if I'm not careful, interesting turns into rolled, stuffed pork loin on the rotisserie with drip pan smashed potatoes. Which is a great meal…just not on a busy Wednesday.
Mark Bittman always impresses me with his ability to strip a recipe down to its weeknight essentials. My favorites involve a fancy restaurant starting point that Mark simplifies for the home kitchen.
What do you think?
What are your kitchen weaknesses? What's the most over the top recipe you tried to make on a Tuesday night? Leave them in the comments section below.
Related Posts:
Why Dad Should Cook
Family Dinners and Small Kids
Weekly Dinner Plans
Inspired by:
Pam Anderson, How to Cook Without a Book
Mark Bittman, Cooking Solves Everything
*Enjoyed this post? Want to help out DadCooksDinner? Subscribe using your RSS reader or by Email, recommend DadCooksDinner to your friends, or buy something from Amazon.com through the links on this site. Thank you!