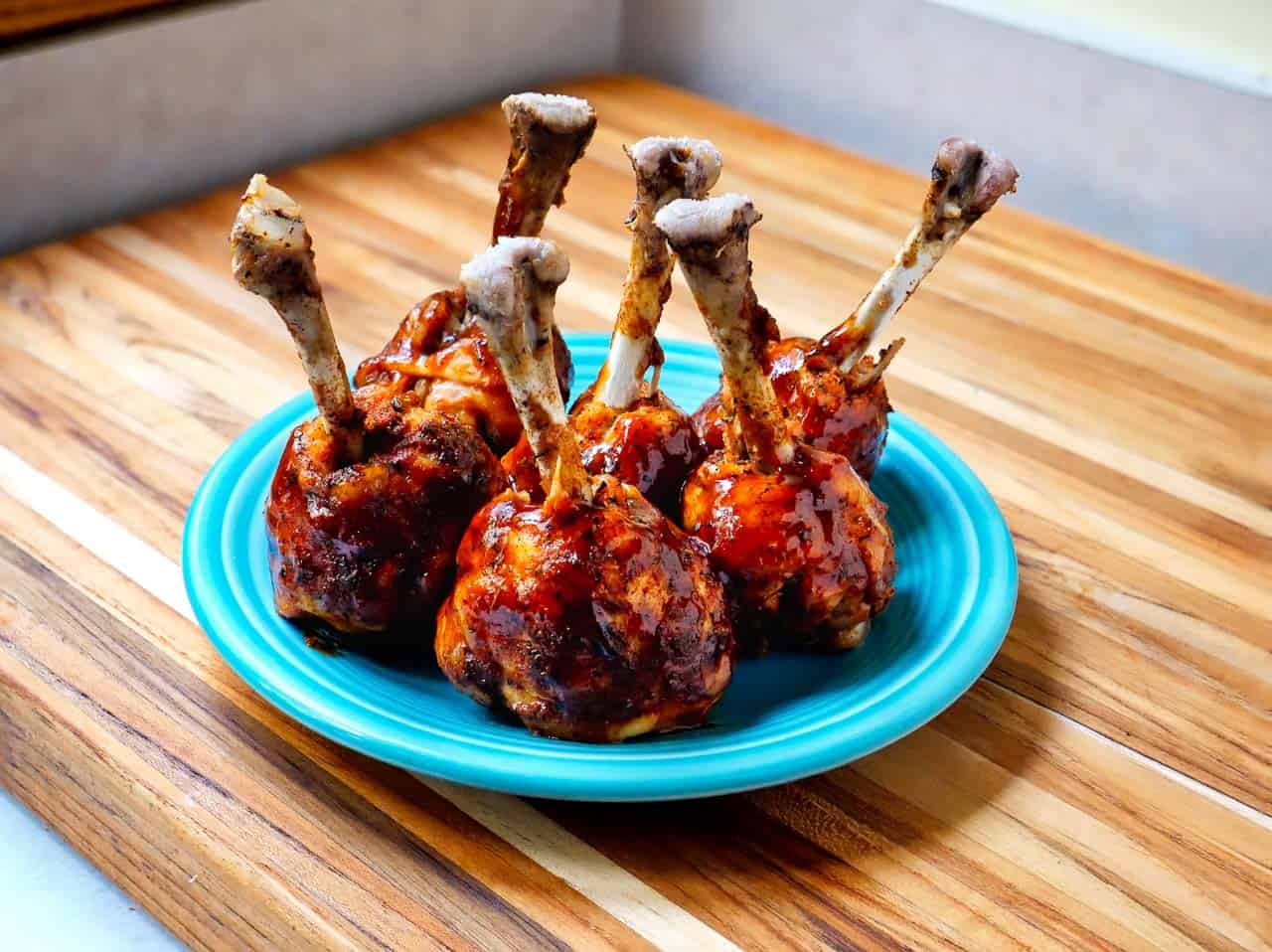 My friends say they enjoy reading about my kitchen struggles. It helps them to know an accomplished home cook has struggles, just like they do. They'll be happy to read about this recipe…
It seemed like such a great idea - a row of photogenic chicken lollipops, glazed with barbecue sauce. It's a huge hit on barbecue internet - all the BBQ friends that I follow have a version of this recipe on their blog. I'll do my own spin on it, I thought. Weeknight lollipop chicken drumsticks from the pressure cooker. What could go wrong?
I'll tell you what could go wrong. Cleaning the @#$%$#@ing skin off of the bottom of the drumsticks, that's what!.
Sure, lollipop drumsticks are an awe-inspiring presentation to turn in to the judges at your local BBQ contest. 3Maybe? I'm not sure chicken drumsticks are allowed at BBQ contests. I think some contests allow chicken thighs...but I've never actually been to a BBQ contest. I'm digressing from my digression. I'll stop now) Chicken skin is slippery, and it sticks tight at the knuckle end of the drumstick. I spent *25 minutes* wrestling the skin off of 12 drumsticks. On a weeknight. While the kids come in, one after the other, and say "when's dinner going to be…oh, it's a blog meal. Never mind."
After struggling with the first couple of drumsticks, I said to myself "Self! This is not a competition. I'm not presenting to a judge. Why am I doing this?"4I did it because it makes good pictures. I'm a sucker for good pictures for the blog. The next time I made the recipe, I used regular drumsticks. The results tasted every bit as good. Sure, you don't have the clean-to-the-bone handle, but it changes this from a chicken wrestling match into an easy weeknight dinner.
Video: Pressure Cooker Lollipop Drumsticks - Time Lapse (1:46)
Pressure Cooker Lollipop Drumsticks [YouTube.com]
Print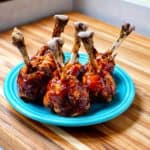 Pressure Cooker Lollipop Drumsticks
---
Author:

Mike Vrobel

Total Time:

1 hour

Yield:

12

drumsticks

1

x
Description
Pressure Cooker Lollipop Drumsticks. The BBQ circuit classic, brought inside to your pressure cooker.
---
INGREDIENTS
Barbecue Rub (4 tablespoons of my Homemade Barbecue Rub plus some salt), or use your favorite store bought rub
1 ½ tablespoons

paprika

1 ½ tablespoons

brown sugar

1 tablespoon

fine sea salt

1 tablespoon

chili powder

1 teaspoon

ground black pepper

½ teaspoon

garlic powder

½ teaspoon

onion powder

¼ teaspoon

dried thyme
Barbecue sauce (1 cup of my Easy Barbecue Sauce), or use your favorite store bought sauce
1 ½ cups

ketchup

½ cup

honey

½ cup

cider vinegar

2 tablespoons

Worcestershire sauce

2 tablespoons

soy sauce

2 tablespoons

Franks Red Hot sauce
---
Instructions
Lollipop the drumsticks: (Optional step) Cut through the skin and tendons where the meaty part of the drumstick ends, then pull the skin off of the drumstick, and clean up any stuck bits of skin. I cut through the skin about ⅓rd of the way up from the knuckle, rolling the drumstick on my board and cutting as I roll to get all the way around. Then I grab the skin with paper towels (for grip) and pull hard, cutting any sticking bits of skin and tendon away from the bone. Repeat until all the drumsticks are lollipopped.
Season the drumsticks: Mix the spice rub ingredients in a small bowl until they are completely combined. Sprinkle the spice rub over the meaty part of the drumsticks - try to avoid getting it on the cleaned bone.
Pressure cook the drumsticks: Pour 1 cup of water into the pot, then put in the pot's rack. Set the drumsticks on the rack, meaty side down. (This works best for me when I do it in circles, like a bullseye.) Lock the pressure cooker lid. Pressure cook on high pressure (manual mode) for 15 minutes in an electric PC, 12 minutes in a stovetop, and then let the pressure come down naturally, about 15 more minutes. (Or Pressure cook for 20 minutes and quick release the pressure.)
Sauce and serve: Whisk the barbecue sauce ingredients in a medium bowl until completely combined. Lift the drumsticks out of the pressure cooker one at a time, and brush the meaty part of the drumstick with barbecue sauce. Serve, arranging on a platter with the cleaned knuckle end pointing up. (Or in a spiral, with the cleaned knuckle pointing out from the edge of the platter.)
Notes
Again, the lollipopping step is completely optional. I've done it twice, and I'm not sure I'm going to ever do it again, unless I wind up in a barbecue competition. But...if you want an impressive chicken drumstick presentation, these are hard to beat.
If you are a chef, you call this "Frenching" the drumsticks, not lollipopping them. But…I'm not a chef. Lollipop, lollipop oooh lolli loolipop….lollipop!
Yes, I'm re-using the BBQ Rub and BBQ Sauce recipes from my Pressure Cooker Baby Back Ribs. Those are my go-to recipes for rub and sauce.
Tools
Prep Time:

30 minutes

Cook Time:

30 minutes

Category:

Sunday Dinner

Method:

Pressure Cooker

Cuisine:

American

What do you think?
Questions? Other ideas? Leave them in the comments section below.
Related Posts
Pressure Cooker Teriyaki Chicken Drumsticks
Pressure Cooker Chicken Legs with Herb Rub
Pressure Cooker Buffalo Chicken Wings
My other Pressure Cooker Recipes
My other Pressure Cooker Time Lapse Videos
Enjoyed this post? Want to help out DadCooksDinner? Subscribe to DadCooksDinner via eMail and share this post with your friends. Want to contribute directly? Donate to my Tip Jar, or buy something from Amazon.com through the links on this site. Thank you.