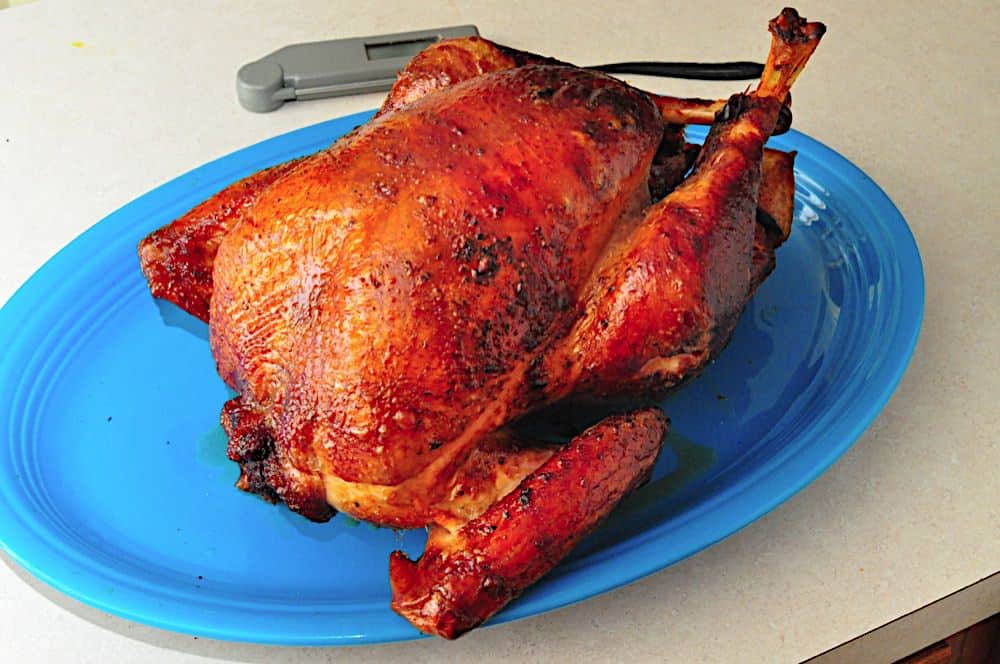 The day of turkey reckoning is coming. Are you ready for Thanksgiving?
Last week, I posted Rotisserie Turkey Wrapped With Bacon recipe and my research on how big of a turkey I could fit on my rotisserie.
Here is my annual Thanksgiving advice:
My favorite Thanksgiving recipes on DadCooksDinner
*What? I don't have a mashed potato recipe? But my favorite part of Thanksgiving dinner is mashed potatoes, smothered in gravy! Oh, well, maybe next year.
Thanksgiving Question:
My question of the year (so far) has been variations on the cooking method:
I want to do your [choose one: Turkey with Orange and Spice Dry brine, Turkey with Cajun Dry Brine] on the [gas grill | charcoal grill]. Will it work?
Of course! Dry brines are a great idea, whether you're rotisserie grilling on charcoal or gas. In general, set the grill up for indirect medium heat (325°F to 350°F), concentrating the heat on the leg side of the bird if possible, and cook until the turkey reaches 155°F in the breast and 175°F in the leg.
It helps if you take the turkey out of the refrigerator an hour or two before cooking and put a zip-top bag full of ice on the breast. This lets the legs warm up while chilling the breast, so the white meat stays juicy and the dark meat is well cooked.

Thanksgiving Meme 2012 - Butterflied Turkey
Butterflied turkey is the "it bird" this year. Everyone is doing it. Even me. I'm cooking at my sister-in-law's house this year, and my brother-in-law wants to cook a turkey in his smoker. So, I get to make the "normal, in the oven" turkey. Of course, I'm using my dry brine with orange and spices...
*And, this will be the first Thanksgiving in...wow, in a long while...where I haven't been in the back yard grilling a turkey. I hope I don't go into withdrawal.
Mark Bittman/NYTimes.com - Split Roast Turkey
Kenji Alt/SeriousEats.com - How to Cook a Spatchcocked Turkey
The Kitchn - Flatten that Bird
Thanksgiving Planning on the Web:
A successful Thanksgiving is one part cooking skill, one part adaptability, one part wine (keep the chef lubricated), and 97 parts logistics. If you have a good plan, everything else falls into place. Here are the best thanksgiving plans on the internet this year. (And yes, some of them start six weeks ago. Darn it, I'm already five weeks behind schedule!)
Kenji Alt - The Food Lab's Complete Guide to a Stress Free Thanksgiving
Cooks Illustrated - Thanksgiving Survival Guide - Schedule Planner
Epicurious - Thanksgiving Planning Checklist
Good luck with Thanksgiving, everyone!
What do you think? Questions? Other ideas? Leave them in the comments section below.
*Enjoyed this post? Want to help out DadCooksDinner? Subscribe using your RSS reader or by Email, recommend DadCooksDinner to your friends, or buy something from Amazon.com through the links on this site. Thank you!