I'm on a mission. If you own a pressure cooker, no more store-bought chicken broth! The best chicken soup comes from homemade broth, and the best broth comes from your pressure cooker.
Now, homemade doesn't mean you should rush out and buy a chicken. Sure, I do that sometimes, but more often my stock is made up from chicken scraps. I don't throw away trimmings from chicken - they all go into a gallon zip-top bag in the freezer. Butterflied chicken? The back goes in the bag. Cutting up chicken wings? The wingtips go in the bag. A leftover rotisserie chicken carcass? Into the bag. If it's got bones and some clinging meat, it's good for stock.
When the bag is full, I'm ready for chicken broth. My wife has a bunch of small potatoes coming out of our backyard garden, so it's time for pressure cooker chicken potato soup. Now, if you've been following my recipes, you should have picked up on my standard chicken soup formula: 8 cups of broth, sautéed aromatics (I like onion, carrot, and celery), a little herbs (thyme), a little wine to deglaze the pan and add acidity, and a starch (my potatoes). After that, it's up to you. Have some tougher root vegetables you want to throw in the soup? Add them with the potatoes, and pressure cook them. Have some tender vegetables you want to add, like green beans or zucchini? Add them at the very end, and simmer until tender. Potato soup is refrigerator velcro - it's perfect for using up the odds and ends from your garden…or your refrigerator's vegetable bin.
If you're looking for a thicker, chicken-forward recipe, try my instant pot chicken stew.
Video: Pressure Cooker Chicken Potato Soup (from Scratch) (2:08)
Pressure Cooker Chicken Potato Soup (from Scratch) - Time Lapse YouTube.com
Print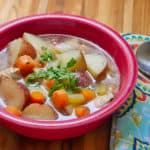 Pressure Cooker Chicken Potato Soup (from Scratch)
---
Author:

Mike Vrobel

Total Time:

1 hour 30 minutes

Yield:

12 cups

of soup

1

x
Description
Pressure Cooker Chicken Potato Soup from scratch. Start with chicken bones, potatoes, and vegetables. End up with a hearty chicken soup, homemade from your pressure cooker.
---
Chicken Bone Broth (Makes about 3 quarts of broth)
3

pounds chicken backs (or the carcasses from

2

roasted chickens)

1

medium onion, peeled and halved

1

stalk celery, broken into pieces

1

carrot, scrubbed and broken into pieces

1

bay leaf

1 teaspoon

salt

8 cups

of water (plus more to cover, or to the max fill line of the PC)
Chicken Potato Soup
1 tablespoon

vegetable oil

1

medium onion, chopped

1

stalk celery, chopped

1

carrot, peeled and chopped

½ teaspoon

salt

½ teaspoon

dried thyme

½ cup

dry white wine (optional)

1

pound boneless skinless chicken breast, cut into 1-inch cubes (or use chicken thighs)

1

pound New Potatoes, quartered (or red skin potatoes, chopped into rough

1

inch cubes)

8 cups

of Chicken Bone Broth (above)
Salt and pepper to taste
Minced parsley to garnish
---
Instructions
Pressure cook the broth for 60 minutes: Add the chicken backs, onion, celery, carrot, bay leaf, and salt to the pressure cooker pot, then add the water. (It should cover the chicken backs – if it doesn't, add water to cover, or up to the max fill line on the pressure cooker). Lock the lid and pressure cook on high pressure for 60 minutes in an electric PC, 50 minutes in a stovetop PC. Let the pressure come down naturally – about 30 minutes. (It takes a long time for all that water to cool off. If you're in a hurry, let the pressure come down for at least 20 minutes, then quick release any remaining pressure.) Scoop the bones and vegetables out of the pot with a slotted spoon and discard. Strain the broth through a fine mesh strainer and discard the solids. Reserve 8 cups of broth for the soup, and refrigerate or freeze the rest for another use. (I portion it into 2 and 4 cup containers, and freeze for up to 6 months.)
Sauté the aromatics: Wipe out the pressure cooker pot liner, then put it back in the pressure cooker base. Add the vegetable oil and heat over sauté mode (medium heat for a stovetop PC) until shimmering, about 3 minutes. Add the onion, celery, and carrot, and sprinkle with ½ teaspoon of salt and the thyme. Sauté, stirring occasionally, until the onions soften and turn translucent, about 5 minutes. Pour in the wine, bring to a boil, and boil for 1 minute to boil off some of the alcohol. Stir in the cubed chicken breast, then the potatoes.
Pressure cook the soup for 4 minutes: Add the 8 cups of chicken broth to the pot, lock the lid on the pot, and pressure cook for 4 minutes on high pressure (same timing for both electric and stovetop PCs). Let the pressure come down naturally for 10 minutes, then quick release the rest of the pressure. (If the steam that is released starts to sputter and spit out starch, shut the valve and let the pressure come down for another 5 minutes before quick releasing again.)
Season to taste: Add salt and pepper to taste, and don't be shy with the salt – taste as you add the salt, and stop when the broth goes from bland to full bodied and a little sweet. (Homemade stock is bland without salt; I add about 2 teaspoons of fine sea salt to get the taste right.)
Notes
You can make the entire batch of broth ahead of time if you need a quick weeknight recipe. Finish step 1, then freeze all the broth in 2 cup containers. When you're ready for soup, grab 8 cups of broth from the freezer, and continue with step 2.
And sigh…if you insist on store-bought broth, replace step 1 with 8 cups of broth. Just don't tell me about it. It makes me sad.
If you have leftovers from 2 roasted chickens, use the bones to make the broth, and about 2 cups of shredded chicken instead of the raw chicken breast.
Don't want to use alcohol? Skip the wine, and add a splash of vinegar (wine vinegar or cider vinegar) in the "Season to taste" step.
Tools:
6 quart or larger pressure cooker. I love my 6 quart Instant Pot electric pressure cooker, but I usually pull out my 8 quart Instant Pot when I use a bag of frozen bones. it's easier to fit the block of frozen chicken pieces below the max fill line in the larger pot.
Slotted Spoon and Fine Mesh Strainer for straining the broth. (A second inner pot for your pressure cooker is the perfect place to strain the broth into.)
Prep Time:

10 minutes

Cook Time:

1 hour 20 minutes

Category:

Sunday Dinner

Method:

Pressure Cooker

Cuisine:

American
What do you think?
Questions? Other ideas? Leave them in the comments section below.
Related Posts
Pressure Cooker Chicken Soup with Rice (From Scratch)
Pressure Cooker Chicken Noodle Soup with Vegetables
Pressure Cooker Tortilla Soup (Sopa de Tortilla)
My other Pressure Cooker Recipes
My other Pressure Cooker Time Lapse Videos
Enjoyed this post? Want to help out DadCooksDinner? Subscribe to DadCooksDinner via eMail and share this post with your friends. Want to contribute directly? Donate to my Tip Jar, or buy something from Amazon.com through the links on this site. Thank you.