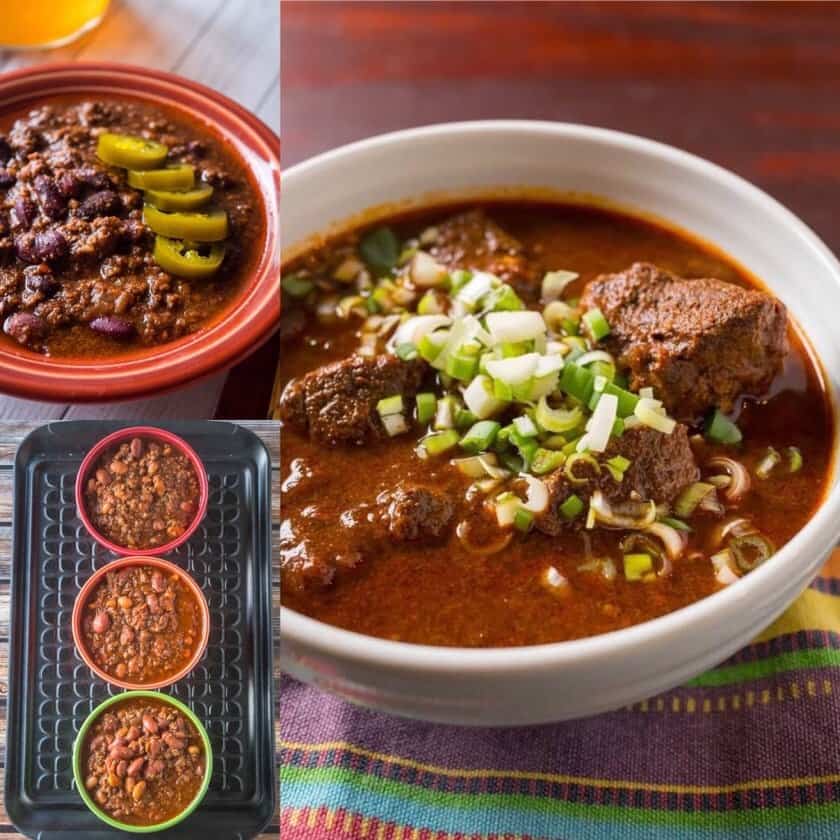 It's time for my annual Super Bowl Chili roundup. Looking to make a big pot of chili? An Instant Pot of chili? I have an embarrassing number of choices for you:
A Bowl of Red, the Texas classic. Nothing but hunks of meat in a chili-laced sauce. If you must have beans, serve them on the side, please.
Recipe: Pressure Cooker Texas Red Chili
Do you insist on beans with your chunks of beef? Try this steak chili, inspired by chef Michael Ollier at Certified Angus Beef® Brand:
Recipe: Instant Pot Steak Chili
Looking for a Midwestern option, ground beef and beans in a thinner sauce? Or, maybe even ground turkey? This is the chili I grew up with - the one I call "wimpy chili" with affection. This is my comfort food, what I need on a cold weeknight. And it's quick, because it doesn't take long to pressure cook ground meat and canned beans:
Recipe: Pressure Cooker Quick Chili with Canned Beans
Recipe: Instant Pot Quick Turkey Chili with Canned Beans
Need a pot of chili to keep the veggies in your life happy? Looking for an all-bean option? Grab a bag of 15 bean mix and make a batch of all-bean chili.
Recipe: Pressure Cooker 15 Bean Chili
Would you eat it in a boat? Would you eat it with a goat? Would you eat it in a tree, eat it, eat it, you will see. You will like Green Chili Verde, you will like it, Sam I Am.
Recipe: Pressure Cooker Chili Verde (Green Pork Chili)

What do you think?
Questions? Other ideas? What's your super bowl of chili? Tell us in the comments section below.
Related Posts - even more chili
Pressure Cooker Pork Chili with Beans
Pressure Cooker Pumpkin Chili
Pressure Cooker Chili Mac
My other Instant Pot Pressure Cooker Recipes
Enjoyed this post? Want to help out DadCooksDinner? Subscribe to DadCooksDinner via email and share this post with your friends. Want to contribute directly? Donate to my Tip Jar, or buy something from Amazon.com through the links on this site. Thank you.