I'm going to celebrate the second anniversary of DadCooksDinner with a motley collection of top 5 lists. Why? Because of my favorite movie
, that's why.
Top 5 moments in Year Two of DadCooksDinner:
Receiving my first Google Adsense check: I am officially a professional writer!
*Until this year, I was just a talented (?) amateur. Now that I get paid for my writing...I'd be a starving artist if it wasn't for my day job. But, even if it's a pittance, I'm getting paid!
Thanks to you, my loyal readers, I earned (checks the numbers...) enough money to buy a couple more cookbooks. Someday this blog is going to make me billions, BILLIONS! But, until then, it supports my cooking habit by paying for things like this, and this, and one of these. Thank you to everyone who clicks on my ads, and buys things through my Amazon links.
Cooking demos at local farmers markets: I've been bringing my kids to my local farmers market since they were small enough to carry in a Baby Bjorn I was thrilled when Beth Knorr at Cuyahoga Valley Countryside Conservancy agreed to let me do a cooking demo. I had a great time, getting away from the computer and the kitchen, taking my grill on the road. I enjoyed being on the other side of the table at the market, and doing my little bit to help promote our great local farmers. I've been to the Stan Hywett market, I just finished a demo at the Seville market, and my favorite was my trip to my "home" market in the Cuyahoga Valley National Park.
DadCooksDinner Sells Out: My blog actually got enough notice that companies asked me to mention their products. I'd like to think I've been choosy, only talking about products I actually use. I don't want to sell my integrity out to The Man just to get more stuff. But I'll have to admit, when All-clad emailed me and wanted me to test out their new D5 cookware, I was excited.
*All-clad! My favorite pans in the world! They want ME to test it out!
And then I was sent a copy of Adam Perry Lang's BBQ 25 for review, and a bunch of turkey legs for a cook-off, and a massive Kuhn Rikon pressure cooker that's quickly become one of my go-to pots. The down side has been the (minor) flood of requests for items that don't interest me. These are sent by publicists who don't seem understand that, when I ignore them, I'm not interested. *That said, if Weber ever calls, I'm selling out in a heartbeat. With full FTC disclosure, of course.
Look - I'm on TV! I'm in the Newspaper! I'm Z-List famous! Thanks to this blog, and all you readers, I got to go on TV very early in the morning to chat about food, and was featured in my local paper's food section. I'd like to say that I'm not in it for the glory, but it was a lot of fun to be on TV and in the paper.
*Also, as a rule, I'm terrified of public speaking. I can do it, but it gets my fight or flight instinct kicked into overdrive. But I'm so passionate about food that it doesn't stop me. I've found that if you give me an interviewer, and they ask me a food question, watch out...they'll be begging me to stop before the next commercial break. After it is over, instead of thinking "oh, that sounded dumb", I think "oh, I should have told them about THIS recipe..."
And I'm Z list famous because of all my wonderful (intelligent, beautiful, tasteful, well mannered) readers. When I wrote this update last year, I was thrilled with the 2,000 visitors I had in the previous month. Today, I've had 10,000 visitors in the last month. Holy cow.
*I say "Z list" because I'm sure not on the A list. Or B list, or C, D, E...
I'm a food writer: My favorite thing is being part of the food community. Because of this blog, I've corresponded with a bunch of my cooking influences: Pam Anderson, Lorna Sass, Jane Snow, and Lisa Abraham. I compare notes with other food bloggers: Dan at Casual Kitchen, Tom at Exploring Food My Way, Tami at GardenGroceryGadgetGirl, and Mike at Another Pint Please. I've been linked to by larger blogs like Three Many Cooks, Casual Kitchen, Cheap Healthy Good, Black Iron Dude and TheKitchn. I've had thank you notes from other writers I admire for mentioning them in my blog. Little old me, writing in my bedroom, grilling on my back deck...and they treat me like a colleague. It's all I can do to not fall all over myself when these people write me. They are my influences, the people who helped me learn how to cook, and how to write about it, and they're thanking ME?
My top 5 favorite pictures from the last year:
*I bought a SLR
for the blog in Februrary, because the lack of natural light was hurting my pictures. Yet another reason this blog will never make me any money - there are too many cool gadgets out there.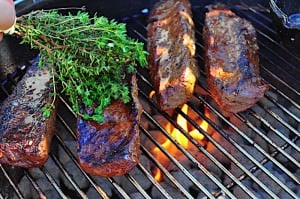 Top Sirloin Steak, Marinated and Butter Basted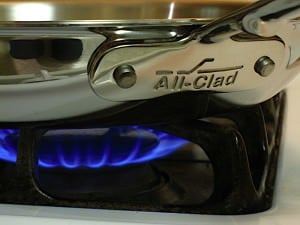 All-Clad D5 Frypan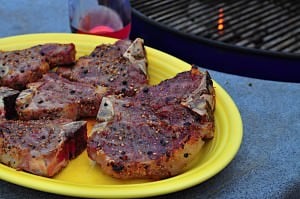 Grilled Lamb Loin Chops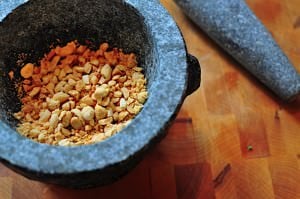 Thai Noodle and Pork Stir Fry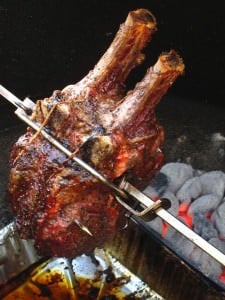 Rotisserie Prime Rib Roast
My top 5 favorite recipes from the last year:
My Top 5 recipes...according to my kids:
The best part of writing this blog? Knowing that people read it. It makes me all warm and fuzzy inside when I get a question about a recipe. I love it when I hear I helped someone make dinner, grill a great steak, buy a new chef's knife, or try something new with their cooking. I'm obsessed about cooking, obviously, so I'd be writing this anyhow...but I'm glad to know that you are out there, reading what I have to say. Thank you!
*Enjoyed this post? Want to help out DadCooksDinner? Subscribe using your RSS reader or by Email, recommend DadCooksDinner to your friends, or buy something from Amazon.com through the links on this site. Thank you!